Hamish Smith chats exclusively with Will Meredith about his move from Lyaness to his new digs at Tattu Group.
---
So, you've moved on from Lyaness. Tell us about Tattu Group...
In May I left Lyaness and joined Tattu Group as head of bars, so I've been in the role for a couple of months – it's exciting times. Tattu is a modern Chinese fusion restaurant group and all the sites have bars. The first site was launched in Manchester seven years ago and the latest was London in Tottenham Court Road and there's also Leeds, Edinburgh and Birmingham. I've spent the last couple of months finding my feet and understanding the company and its vision. I'm based in London but I spend a lot of time travelling between the sites.
What made you want to leave Lyaness?
The Mr Lyan company was fantastic to work for  – I achieved a lot there - but Tattu Group is somewhere new to challenge myself and hang my hat and look at the bigger picture of a group of sites. This is a company that hasn't got a reputation in the bar industry so it's a chance to start from scratch. It's a bit scary but I'm excited to test myself.
What are you doing with the bars?
Prior to me joining they didn't have a concrete beverage programme – a lot of it was outsourced – so this is the first time they've looked to do things internally and upgrade the beverage programme across all five sites.
We're trying to create destination bars. Each bar will have its own identity, so for example the Phoenix Bar at Tattu London and the Anchor Bar at Tattu Manchester. We hope the creation of destination bars, coupled with the growth and development of the teams and drinks, leads to more recognition. We're consumer facing but we're not closing the door on engaging with the industry. The bars are all cocktail led – 45% of drinks – so we want to make sure the drinks are doing justice to the food.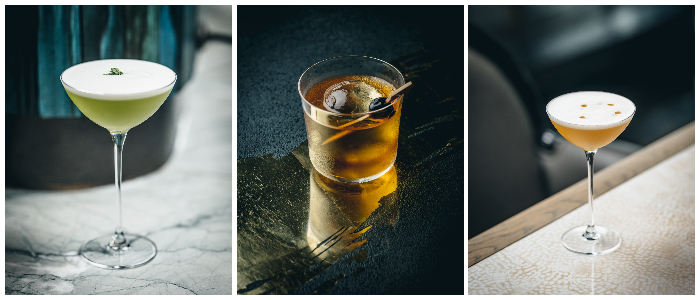 How will the restaurant concept shape the new drinks menus?
Each of the Tattu sites has its own sub genre and will have their own menus. The London site's new menu - which launches later this month - is called the 'Eastern Residence Pantry' – and is based around eight ingredients that are commonly used in Chinese culture. So for example yuzu, which though considered to be Japanese, its etymology lies in China. The drink has mezcal and gin as a base and is a bright, clean, fresh highball, with yuzu providing the acidity and provenance.
The Meridian (pictured left) is inspired by the Chinese meridian system and it's a tequila and basil sour. The Mando Pop Bellini – stone-fruit symbolises the coming of spring in Chinese culture, while Mando Pop is type of pop music in China -  is a riff on a Bellini. The Oolong Old Fashioned (pictured centre) is with brown butter and tea, so is big, rich and punchy and there's the Sesame Sour (pictured right), also with its own ingredient story.
Will there be more Tattus opening up?
Tattu will stick to the five restaurants but the company has ambitious growth plans with a couple of new concepts that will come through. My role will expand with the group.