Hamish Smith interviews Isabel Graham-Yooll, auction director at Whisky.Auction, about the brands and categories that have rocketed in value at whisky auctions – and learns why.
---
What are the most valuable whiskies you see sold at auction?
At Whisky.Auction we sell around 1500 bottles of whisky, spirits and liqueurs in each monthly auction. While each category has seen increased values, it's Macallan alone that continues to outstrip every whisky category in terms of both bottle numbers and values.
This is why we've had to give Macallan its own category, because so much of what is bought and sold comes from the distillery. The old bottles (by which I mostly mean pre 2000s) are usually astonishingly good. These are the whiskies that the brand built its reputation on. More recent bottlings are very popular too.
To share an example, take the last 12 months of Whisky & Spirits auctions on https://whisky.auction/ . If we look at the top 30 highest priced bottles in each auction between April 2022 and March 2023, 37% were Macallan, whereas just 6% were from other Speyside distilleries, showing how far Macallan skews the data if left in the Speyside category.
Keeping the 'most valuable whisky' question in mind however, the data shifts when we take just those lots that have sold for a hammer price of £4,000 or more in the past year (April 2022 to March 2023). Here the highest category is, in fact, Japanese Whisky which makes up 35% of the most high value bottles, compared to 33% for Macallan. These valuable Japanese Whiskies come exclusively from three distilleries: Karuizawa, Chichibu and Yamazaki. We see far fewer of these come through the auction but when they do, they sell for increasingly high prices.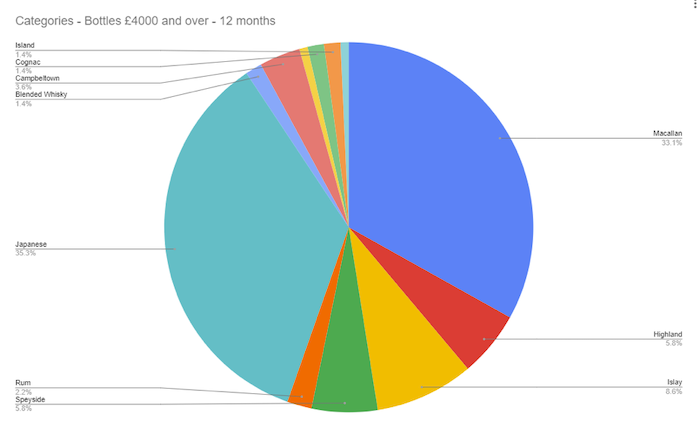 It's reassuring to confirm that it's mostly to do with the quality of the whisky coupled with its scarcity and of course in some cases it's helped by clever marketing. These all combine to achieve the highest auction prices.
Why does The Macallan achieve such high prices?
The Macallan was amongst the first of the big scotch whisky distilleries to focus heavily on pushing the messaging that single malt scotch is superior to blended.
The whisky downturn of the early 1980s led The Macallan to focus on the emerging single malt category. Eventually it began to establish itself as one of the world's most popular and collectable single malts. By the turn of the 20th century the management team had set themselves the task of repositioning the distillery as a 'first-growth whisky' and oversaw an innovative advertising campaign (commemorated in The Archival Series which began in 2015).
Since then, The Macallan has become known for its investment potential as well as the quality of its older whisky, with rare bottles regularly breaking records at auction.
Vintage and luxury whisky has reached new heights, many new releases become instant 'must haves' amongst whisky investors and collectors.
In April 2020 we saw a bottle of The Macallan 1957 15 Year Old Fine & Rare sell for £207,000, the highest value bottle we have sold in the past 12 months.
And why has Japanese whisky become so investable in the last 10-20 years?
Where Macallan's marketing helped it to rocket to fame amongst collectors, Japanese whisky has seen scarcity boost its popularity for investment.
Japanese whisky was flourishing in its home country in the middle of the last century, but demand began to decrease in the 1980s when spirits drinkers turned their attention back to Japan's native spirit, Schochu.
At the turn of the millennium however, interest in Japanese whisky began to grow once more. In 2003 Suntory's Yamazaki 12 Year Old won gold at the International Spirits Challenge, and a year later Hibiki 30 Year Old won the same award. Global interest in Japanese whisky spiked but, due to the low production in the previous two decades, supply was low. Prices soared.
In recent years some of the biggest Japanese whisky producers have been forced to discontinue products due to an inability to sustain supplies. Others have tackled stock shortages with increased usage of imported whisky. While Japanese distilleries are taking advantage of the renaissance to increase production capacity, it might be up to a decade before enough aged liquid is available to start meeting international demand. The net result is that Japanese whisky became a highly interesting investment opportunity.
Japanese whiskies that reach the highest prices at auction are those from closed distilleries Karuizawa and Hanyu, mature age statement whiskies from Yamazaki and limited edition Chichibu that will not be available again.