The Bartenders' Brand Awards, now in its fifth year, is our annual product testing - by bartenders, for bartenders. 
---
---
The BBAs follows a three-step process to mirror buying behaviour, with each product blind-tasted, judged on value for money and finally by design. For more on the methodology behind the BBAs, read more here.

The focus of our serialised results today, is the top-five products in the non-abv spirits category.
---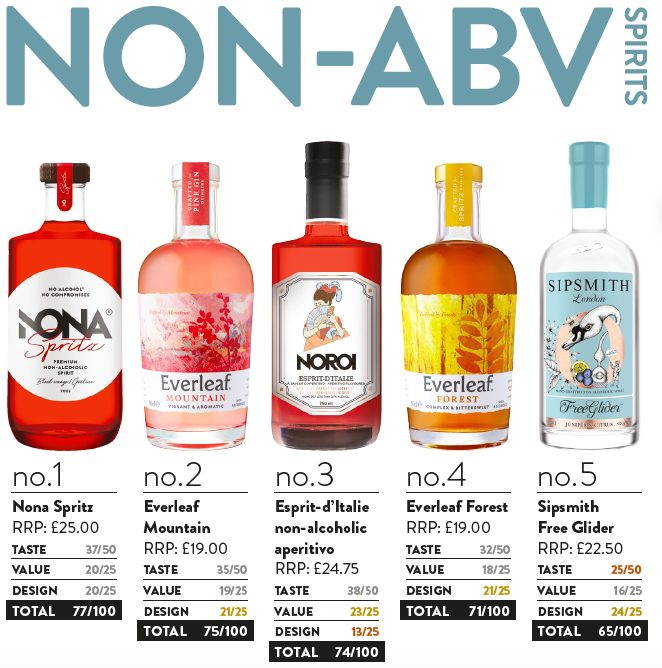 Just a few years ago, this category didn't exist – it's now one of the most popular in the BBAs. 
Topping our tests was Nona Spritz a non-alc blood orange spritz, which took high-scoring silver medals across our three assessments. The judges remarks? "This is a good all-round product" with "great blood orange flavours".
In second was Everleaf Mountain, one third of a trio of alcohol-free spirit expressions that all did well under test conditions. "There's a lovely crisp flavour with this one" said one judge.
It took silvers in taste and value for money, while the range's new packaging earned it a gold.
Esprit-d'Italie non-alcoholic aperitivo completed the podium places, and on taste alone was the top product. "It carried a lot of complexity and it's really well priced," remarked one judge.
In fourth was Everleaf Forest, which once again took silvers on taste and bang for buck, and a gold for design, with one panellist commenting: "I think they've got the branding spot on there, the colour of the liquid matches nicely with the liquid."
In fifth was Sipsmith Free Glider which took medals in taste and value for money, but also most impressed on branding and design. "It's a sexy-looking bottle, but what else do you expect from Sipsmith," one judge said, to the agreement of the panel, which as a collective scored it gold.