The Bartenders' Brand Awards, now in its fifth year, is our annual product testing - by bartenders, for bartenders.
---
---
---
The BBAs follows a three-step process to mirror buying behaviour, with each product blind-tasted, judged on value for money and finally by design. For more on the methodology behind the BBAs, read more here.
Next up in our serialised results is the top-five products in the liqueurs category.
---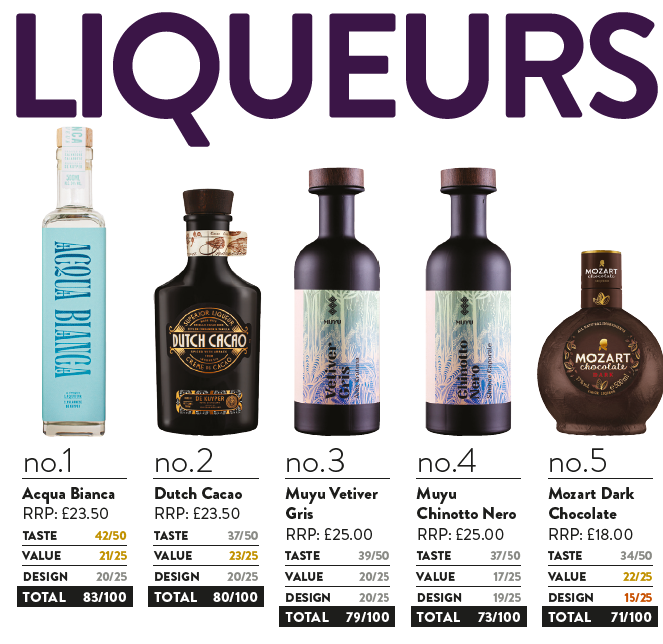 De Kuyper Royal Distillers knows a thing or two about liqueurs and it's no surprise its entries took the top four spots in our tasting.
Category Champion for the second year running is the Dutch distillery's Acqua Bianca, which is produced in collaboration with bar legend Salvatore Calabrese and scored 83/100.
"Perfume in a glass, aromatic, fresh and citrussy," said our panel. It was the only liqueur to score gold on taste with 42/50. It gained a gold for value for money and high-scoring silver for design.
De Kuyper's Dutch Cacao came second with 80/100. Judges described it as a "refined chocolate liqueur, with great sweet-to-dry balance", scoring it 37/50 on taste. It was awarded 23/25 on value for money, while it took a high silver on looks.
Third and fourth were two of the three Muyu liqueurs, which De Kuyper produces with bartenders Alex Kratena, Monica Berg and Simone Caporale.
Kratena's Vetiver Gris was described as having "sandalwood, floral, pine and eucalyptus" notes, scoring 39/50 on taste and 79/100 overall, while Caporale's Chinotto Nero Chinotto, was noted for its "delicious balance of sweet, citrus and bitter notes", scoring 37/50 for taste and 73/100 overall.
Well known to the trade, Mozart Dark Chocolate Liqueur, took fifth.