The Bartenders' Brand Awards, now in its fifth year, is our annual product testing - by bartenders, for bartenders. 
---
The BBAs follows a three-step process to mirror buying behaviour, with each product blind-tasted, judged on value for money and finally by design. For more on the methodology behind the BBAs, read more here.

The focus of our serialised results today, is the top-five products in the beer category.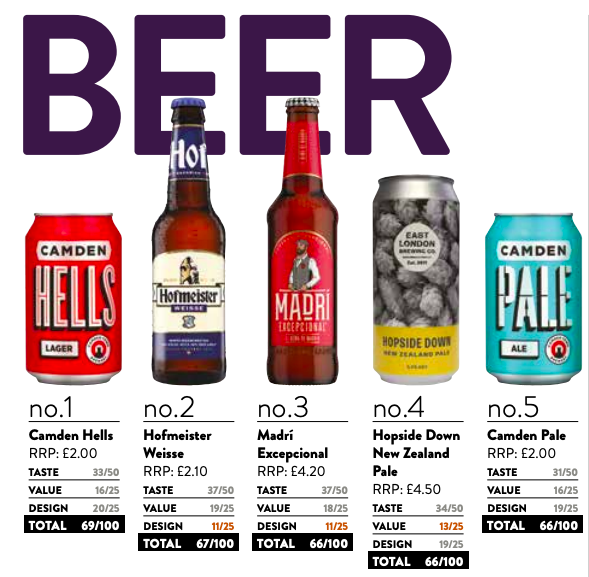 Our beer category saw a range of brews, from lagers to wheat beers to pale ales and IPAs. And this year it was a lager that came out top.
Combining "fruit" on the nose, some "savoury notes" on the palate and a "lengthy finish", Camden Hells scored silvers across the board, totalling 69/100.
In second was Hofmeister Weisse, with its "lemony Weetabix nose", "banana notes" on the palate and "sour finish". It was the joint top-scoring beer on taste, took a solid silver in value but only scraped a bronze for its traditional looks.
In third was Madrí Excepcional, a brewing collaboration between La Sagra and Molson Coors, with judges noting a "light, crisp and refreshing" profile, "good carbonation" and "nice bitter finish".
The joint-highest on taste, and second on value for money, it was pulled up on its design. In fourth, East London Brewing Co's Hopside Down New Zealand Pale took silver in taste, with "strawberry on the nose, an earthy, thick body with a citrus finish".
Despite silvers in taste and design, it wasn't considered to offer as much bang for buck as some others. Camden Pale, another from the AB Inbev-owned London-based brewery, took middling silvers across assessments, with judges picking up on "tropical notes, hoppy bitterness and a nice finish".