The Bartenders' Brand Awards, now in its fourth year, is CLASS' annual product testing - by bartenders, for bartenders. The fast-growing category of non-abv aperitifs, spirits and wines is next. 
---
The BBAs follows a three-step process to mirror buying behaviour, with each product blind-tasted, judged on value for money and finally by design. For more on the methodology behind the BBAs, read more here.
It's not for everyone, but the non-abv trend is growing exponentially regardless. Supercharged by Seedlip (which didn't enter the BBAs this year), the category has a plethora of products in the leading brand's slipstream. We had a good group of the contenders vying for market share, so which impressed most?
Well, the top recommendations for the sensible serve, was the less sensibly named Spritzish and Château del Ish - Sparkling Rosé. Judges remarked on Spritzish's Aperol-esque spritz style, which "delivers on bitter orange sweetness without being overpowering". While Ish Spirits' alcohol-free sparkling rosé was seen to have "a good body, a nice dry finish and good acidity". It's no coincidence that the non-abvs did a better job replicating lower-alcohol serves such as spritzes and wines, than spirits. Both of Ish Spirits' top two scorers got silvers in taste.
In third and fifth were two of the increasingly visible aperitifs from London Botanical Drinks' Everleaf. Sons of the soil perhaps, our panel much preferred the expressions Mountain ("lots on the nose, not too sweet and full of floral nuances" / silver medal) and Forest ("smoke and clove, nice bitterness, barrel aged character" / silver) to Marine (bronze). Whether they thought the products' £18 RRP was worth it or not, depended much on their appreciation of the liquid.
But between the Mountain and Forest was Nonsuch Blood Orange & Bitter Lemon Shrub Aperitif, which finished fourth overall and scored joint-second on taste, with a silver medal-earning 32/50. Judges noted its "intensity" and "ginger and citrus notes". As seemed par for the category, judges weren't wowed by the packaging. Only one product scored better than a bronze in our design assessment.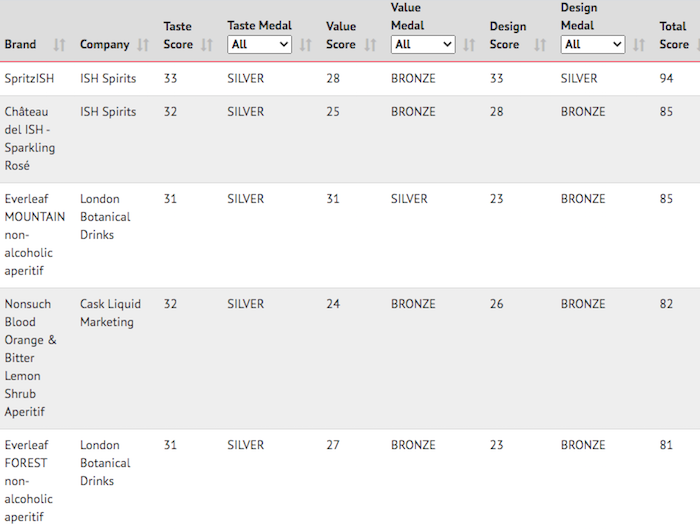 Medal guide: Gold: 41-50/50, Silver: 31-40/50, Bronze: 21-30/50, No medal: 1-20/50