The Bartenders' Brand Awards, now in its fourth year, is CLASS' annual product testing - by bartenders, for bartenders. Next up in our results, is a key category for some of the most popular classic cocktails: American Whiskey.
---
The BBAs follows a three-step process to mirror buying behaviour, with each product blind-tasted, judged on value for money and finally by design. For more on the methodology behind the BBAs, read more here.
The American Whiskey category is awash with quality, but one producer rose above the rest in this year's BBAs: Brown Forman. The American whiskey specialist's Old Forester Single Barrel (64.5%) led from the front, scoring the highest combined total - 123/150 - across our three assessments, which admirably, was the third highest score in the competition.
With 45/50 on taste, it was the joint-second best tasting liquid too. Our judges loved the "smooth" and "buttery texture" and the high abv (64.5%), which "carried the complexity of flavour". Given the taste, they thought the £40 RRP was more than reasonable, scoring it 42/50 for value for money. For design Old Forester took silver.
Jack Daniel's Tennessee Rye Whiskey meanwhile, was second with 121/150. On taste, the rye took a high-scoring silver medal (39/50), with judges describing it as an "easy drinking and smooth" rye, with "spice coming through nicely". With a £26 RRP, it plundered gold on our value for money test (43/50). The brand's iconic bottle was two marks from a gold on design.
Woodford Reserve Straight Bourbon Whiskey, on old favourite of the bartending fraternity, completed the top three for Brown-Forman, with solid silvers in taste and value, and a gold for the brand's looks. Campari's Wild Turkey took fourth but had it not been for a lukewarm reaction to its looks, Wild Turkey might have finished a lot higher – it took high silvers in taste and for its perceived bang for buck.
Jack Daniel's Single Barrel Select also scored well in two of three assessments. Buoyed by a punchy 45% abv, it took silver for taste and gold for design. Its £45 RRP wasn't seen as great bang for buck, scoring a bronze.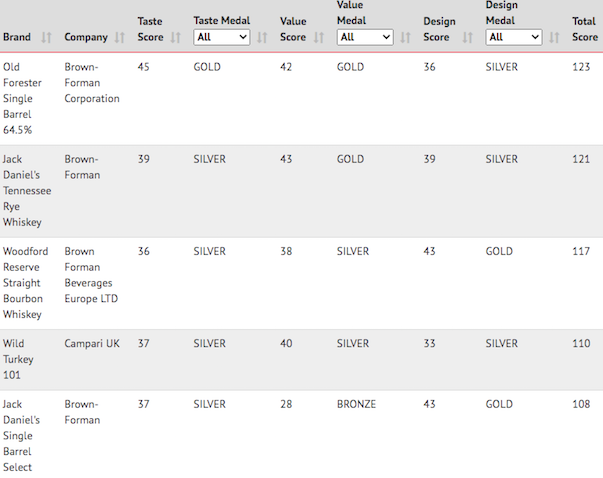 Medal guide: Gold: 41-50/50, Silver: 31-40/50, Bronze: 21-30/50, No medal: 1-20/50
For the complete American whiskey results, visit the BBAs website.