The Bartenders' Brand Awards, now in its fourth year, is our annual product testing - by bartenders, for bartenders. In the third of our serialised results, we look at brandy. 
---
The BBAs follows a three-step process to mirror buying behaviour, with each product blind-tasted, judged on value for money and finally by design. For more on the methodology behind the BBAs, read more here.
Perhaps it's because we have bartenders as judges, but medals are hard won at the BBAs. Unlike some tasting competitions, the issuing of gold medals is by no means a given.
As it played out here in the varied but re-emerging brandy category. Here, it was Mangrove's Vecchia Romagna that came out top, with solid silvers across the board. The Italian brandy, distilled from light and acidic Trebbiano grapes, offered "smooth flavours" that "developed well", with a present but "light structure". A silver for taste, was echoed in the value for money (£24 RRP) test and design assessment. The brandy from Bologna achieved an admirable 106 out of 150.
In second was Torres 15, which also passed the benchmark of 100 points. On taste, the Catalonian brandy was actually the top tipple – scoring a point higher than Vecchia Romagna, with 35/50. This - the best-tasting brandy of the competition - was described by judges as having "layers of flavour which develop on the palate" and that it was "powerful" - "everything you'd want from a brandy". With an RRP of £31.50, the 15-year-old Spanish brandy was seen to represent excellent bang for buck, scoring a high-ranking silver medal, with only the design element thwarting its challenge to become Category Champion.
The lesser known Brancoveanu XO from Alexandrion Group Romania took third, with judges attesting to "complexity on the nose and palate" and a "decent finish". A silver on taste for the Romanian brandy was followed by a bronze on value for money – the RRP being £55 – and in the design assessment.
Avallen, the Calvados from Tim Etherington-Judge and Stephanie Jordan was in the medals too, with solid bronzes across the board. While the top 5 was completed by Brancoveanu VS, which also achieved bronzes in a brandy tasting where medals were few and far between.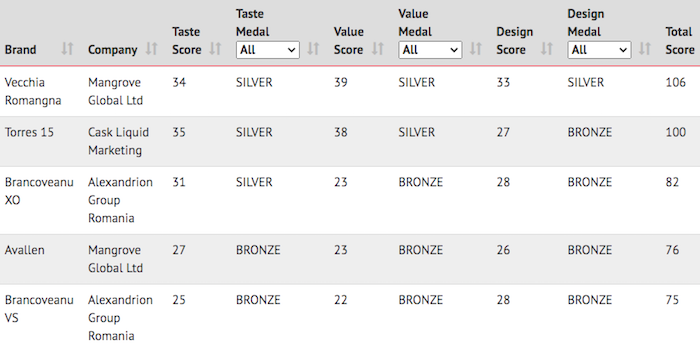 Medal guide: Gold: 41-50/50, Silver: 31-40/50, Bronze: 21-30/50, No medal: 1-20/50