The Bartenders' Brand Awards, now in its fourth year, is our annual product testing - by bartenders, for bartenders. In the second of our serialised results, we unveil the top five vodkas. 
---
The BBAs follows a three-step process to mirror buying behaviour, with each product blind-tasted, judged on value for money and finally by design. For more on the methodology behind the BBAs, read more here.

The Boatyard Distillery's wheat-based vodka made an impressive debut in the Bartender Brand Awards 2021, scoring highest in its category across our three-part judging process. The Northern Irish brand took golds in the blind tasting and design test and a high silver for value for money. Judges remarked at the field-to-bottle spirit's "big character" and that it was flavoursome enough to be a "sipping vodka". They concluded it was a great product with great branding and well worth the £32 RRP.
In second came JJ Whitley's Artisanal Russian Vodka. Another wheat vodka, it was two whiskers from gold on taste - "creamy with a long peppery finish" - but really stood out in value for money, the £16 RRP eliciting comments such as "wow" and "what great value". The packaging – a mid-bronze score – brought it back down to earth.
The BBAs-familiar Belvedere range, has been a historical contender. With this brand, rye is king, and Belvedere's gamut of peppery expressions scored well – all mid-to-high silvers across taste, value and design for its four entered products. Now that's consistent.
Judges picked out the "peppery rye notes", saying the products would mesh well in cocktails, even if they disagreed on which product was the best. 

If the above were the top performers across our three measures, there were other star products when narrowing in on taste alone. Joint top on taste was the little-known Dirty Devil Vodka. Indeed, the corn-based Dirty Devil by Spiritueux St-Lucifer was on for the win with golds in taste and value, before the design award pegged it down. "Great liquid but not great branding" came the consensus.
The same was true of the gleaming gold 3 Kilos from the Netherlands. Bartenders loved the vodka – "delicious and well rounded" – scoring it the joint-top with a taste gold. It impressed so much it was even worth the super-premium price, but the packaging didn't impress for this demographic. Too flash for cocktail bartenders" was the thinking. 


Vodka Top 5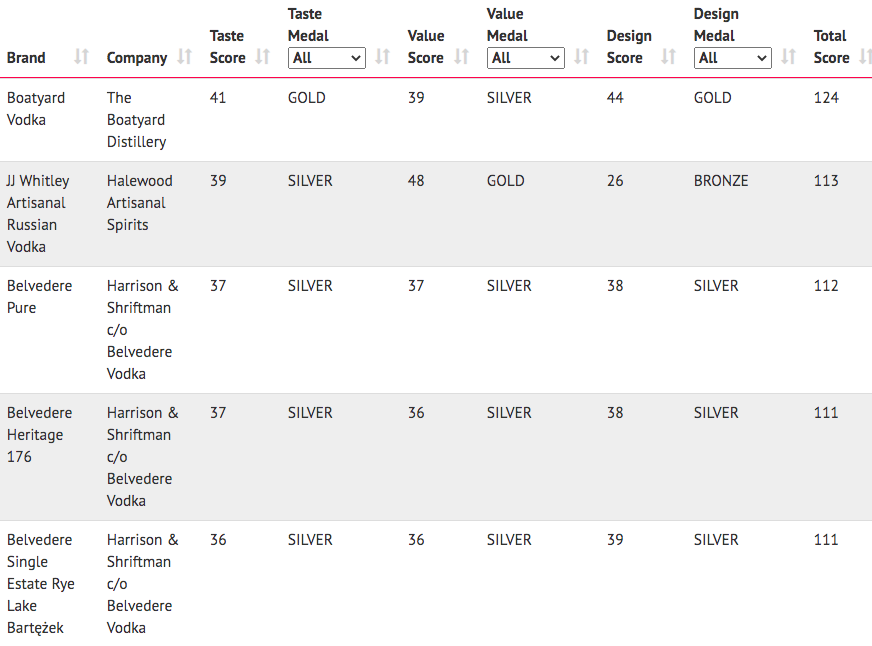 Medal guide: Gold: 41-50/50, Silver: 31-40/50, Bronze: 21-30/50, No medal: 1-20/50