The Bartenders' Brand Awards, now in its fourth year, is our annual product testing - by bartenders, for bartenders. 


---
The BBAs follows a three-step process to mirror buying behaviour, with each product blind-tasted, judged on value for money and finally by design. For more on the methodology behind the BBAs, read more here.

In the first of our serialised results, we present the scotch category. 
The scotch entries this year took in an array of single malts and blends with the former marginally outperforming the latter. Top of the Scots was the little known Glen Scotia Double Cask, which pipped a crowd of brands which gained more than 100 points. The single malt from Loch Lomond Group saw tasting notes of Oloroso sherry, vanilla and molasses taking its blind tasting score to a high silver medal. Performing equally well across value for money – the RRP was £40 – and packaging – "a nice high neck and in-keeping Scotch category design" – Glen Scotia's consistency across our measures made it the Scotch champion.
Johnnie Walker Black Label 12 Year Old was also a silver on taste, with bartenders noting a "mellowness" that "slowly ramps up on the palate", with "peat and sherry" notes prominent. The sub £30 RRP impressed and once unveiled, bartenders talked of the expression's iconic branding and design. Three high-ranking silvers made Black Label, the second best scotch in the BBAs.
Only two points separated first from third, which was Kingsbarns Distillery's Dream to Dram.  Judges noted "fresh aromas", a "high abv (46%) but balanced, light profile", which would bring mixing "versatility". As the others on the scotch podium, Dream to Dram bagged three solid silvers.
But if the taste scores are your only concern, the overall 4th and 5th placed Peg Whisky expressions are your drams. In fourth spot (and first in taste with a score of 42) was Peg Whisky's Limited Edition 1, which the judges loved for its funky, rancio off notes which pointed to a "long fermentation". The giddily high abv of 64.9% was unsurprisingly not a turn off among our bartenders. Its stablemate meanwhile - Small Batch Exclusive Series 1 – was noted for its easier going blended style with hints of peat. Both Peg whiskies scored highly on value – with the panel feeling the liquid was well worth the price, but they also fell down on design.  Judges felt these two great liquids didn't have the branding detail that craft spirits have become so known for.
SCOTCH TOP 5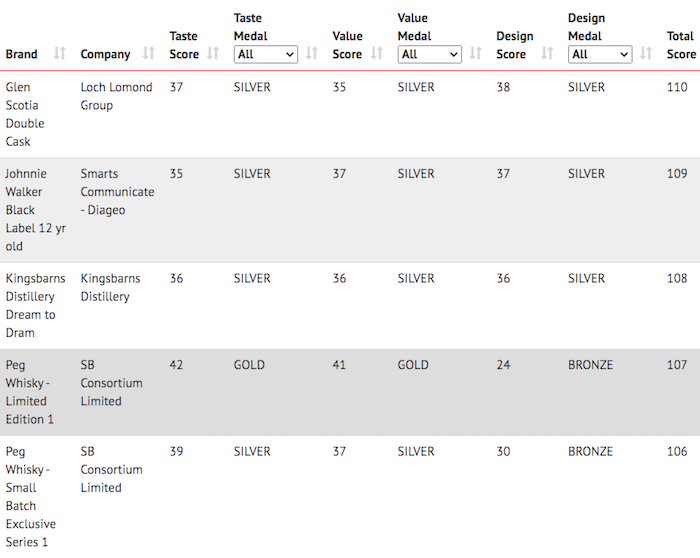 Medal guide: Gold: 41-50/50, Silver: 31-40/50, Bronze: 21-30/50, No medal: 1-20/50