Filippos Filippopoulos is gaining a following in Leeds for his Tabula Rasa aperitivo bar. He tells  Hamish Smith how it all came about
---
Sometimes it's not just what you're selling, it's the person who sells it. You see, aperitivo culture – with all its sunny, continental connotations – shouldn't really work in the north of England. Indeed, Tabula Rasa has to be one of the first attempts in Leeds. But in the right hands, with the right accent and a little bit of that southern European brio, Filippos Filippopoulos is making the all-day bar concept work.
 "Sometimes customers want an Americano so early in the day, I don't know whether they are asking for a coffee or a cocktail," he says, holding court in front of an already assembled group of regulars. 
The bar, expertly designed by his wife, Danai Christopoulou, has high ceilings, wide windows and white marble. It takes you there: to the Med, to pre-dinner Spritzes and small-plate grazing. And Filippopoulos, the self-styled Greek Bartender, is the quintessential host. He's all arms and gestures, mischievous smiles and slightly mad moments. You buy into what he's selling, and if that's a midday aperitivo under leaden skies, amid the drudgery of November, you're all in.   
If you're wondering, tabula rasa translates to "scraped tablet", or in other words: clean slate. And while Filippopoulos' first solo bar marks a change in pace from his and Dariush Afshar Haghighi's breakthrough venue The Watermark, its meaning goes a little further than a fresh start. "British philosopher John Locke's tabula rasa theory was that people are born with a blank slate, with all knowledge coming from experience in daily life," explains Filippopoulos.
And this – the forming of experiences – is at the heart of the bar. "Most bars in Leeds are party bars, set up for night service, but the concept here at Tabula Rasa is all-day, with different experiences throughout service," he says. "A coffee in the morning, aperitivos from midday until evening and at night we move on to signature and classic cocktails. The bar transforms itself throughout the day."
During Covid, there was never a good time to launch a bar. "You had to be crazy or rich to want to open a bar – I was the former," says Filippopoulos. And in these circumstances, it would have been easy to follow the pack with something tried and tested – something that's known to work in the city. "To open an aperitivo bar in Leeds in the pandemic was even more crazy," he says.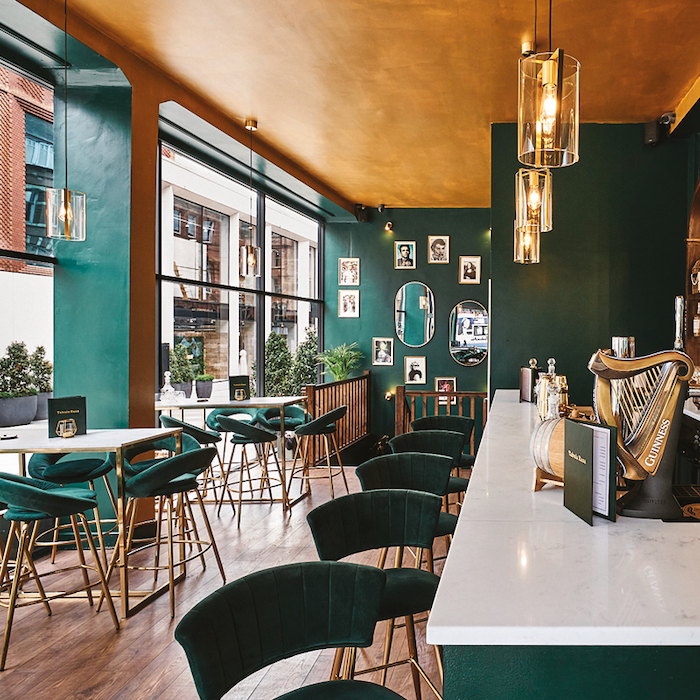 Trends align
Actually, when you think about it, trends have been starting to align. Covid taught us many things, one of which was how to drink outside. "The Romans made aperitivo great, but the alfresco movement made aperitivo greater," says Filippopoulos, smiling ear to ear. Within a few months of opening he gained permission for a seating area that wraps around the bar. It says continental café culture, even if the weather doesn't.
For an all-day bar, the drinkers are different. So choosing a location right in the centre of town, near to shopping centres, was also a smart move. Now, there's a regular crowd that makes pitstops for apertivo after shopping – sometimes during. They mostly seem to get the concept, he says, but you still have some who pop in and ask what the venue is – a bar, a café, a restaurant? "One time, holding a shaker, in front of a packed bar, I replied: 'We are a hairdresser, would you like an appointment?' I lost one customer but gained some regulars." 
Being close to a number of high-profile restaurants – not least Michelin-starred Man Behind the Curtain – has also brought in customers looking for a pre or post-dinner drink. Let's not forget that aperitivo is derived from the Latin 'aperire', the tradition being 'to open' the stomach. And that new-found appreciation of lower-abv drinks – before dinner or not – is an ever-widening trend that lends itself, conceptually at least, to aperitivo. 
For the first time, Filippopoulos is seeing interest in bitters and amari – Montenegro, Averna, Bitter Bianco. People are trying vermouths and fortified wines – Lillet Blanc and Cocchi Americano. He sells a lot of Aperol Spritz and Campari Milanese Spritz, but there are seven of his own creations on his aperitivo list. The Janis Joplin (Tanqueray Seville, Luxardo Bitter Bianco, apricot liqueur, lemon, Fever-Tree White Grape & Apricot Soda) and the Frida Kahlo (Ocho Reposado tequila, Suze, yellow Chartreuse, lime), are flying, while the Renaissance (Campari infused with raspberry, Cocchi Rosa, Fever-Tree Raspberry & Rose Soda) is going great guns too. All occupy that sweet spot of a lick under a tenner.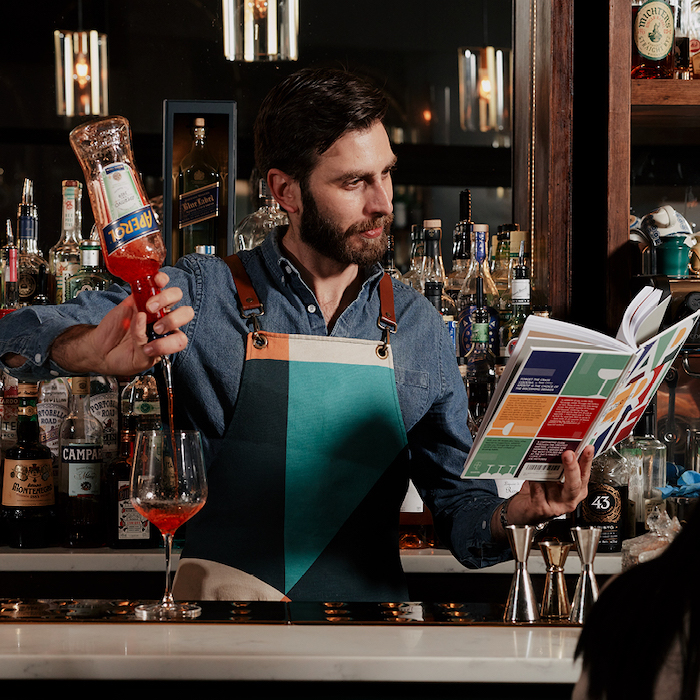 Selling an experience
The drinks are great, but also what Filippopoulos sells is the lifestyle and the culture that surrounds them. "They want good service, nice glassware, water on their table," he says. They also want him. "An aperitivo bar could not stand without an international bartender behind it. Think Elon Soddu at Amaro bar in London – it's the same here, being Greek and having a Latin personality."
He knows he's not just creating an experience, he is part of the experience.  "People want to justify what they are spending – they're looking for more than a couple of pints in a pub. Also, because so many people work from home for part of the week, by Wednesday, Thursday, people are itching to go out and experience something."
The idea that the host is part of the attraction is something that's been slightly lost as the industry has crept towards a community of expert drinks makers. Cocktails at the back end of the 20th century were mostly dreadful, but the hosts were stars. To think that Peter Dorelli mostly sold Gin & Tonics at the American Bar – his reputation came from his hosting. 
In his bar, Filippopoulos has that air.  "A bar's hospitality is made by the bartender who works there. It's a bubble for people to escape into, so we have to give them a great experience," he says. It's one of the reasons many of his customers are regulars. "I do have a regular clientele that follows me to venues – it's kind of my USP. It was nice that the day we opened, I knew I would have ten people at the bar. A year after opening and people are waiting to come in at 11.45am."
As we enter the deepest recession on record, bars and their owners are going to have to work hard to get people to part with their precious money. Tabula Rasa's pitch is fresh – and it's all day long.  
Photography: Tadas Daujotas