Filippos Filippopoulos aims to bring aperitivo culture to Leeds with the launch of an all-day café and cocktail bar, CLASS can reveal.
---
The Greek bartender, who left the Watermark Bar earlier this year, has secured a site and licence for Tabula Rasa on 8 East Gate in Leeds city centre and, subject to building works, will open in late August.
Opening from 9am until midnight (2am Thurs-Sat), the ground-floor bar will serve coffee (through Union) and pastries, transitioning to aperitivo and small plates (salads, sandwiches) in the evening and classic cocktails with cheese and cured meats at night.
Filippopoulos said he believes the all-day service model is "the future of hospitality" and has taken inspiration from day-night venues such as The Clumsies in Athens and Dante in New York.
Once distancing measures have been phased out, the site could seat up to 55 according to Filippopoulos, while a successful application for an outdoor terrace could take the capacity closer to 100.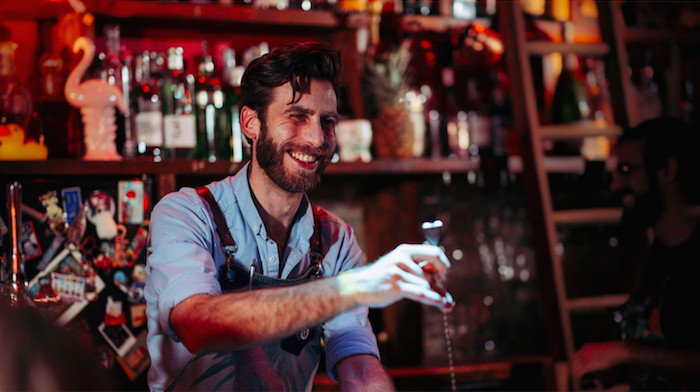 Filippos Filippopoulos at his former residence, Watermark Bar
Filippopoulos said the aperitivo and cocktail focus is on "classics done well", each honed over his "17 years of hospitality experience" and mixed with his favourite "high-end spirits". The coffee programme extends to a house Irish Coffee and a signature Mextaxa-coffee cocktail.
The name Tabula Rasa refers to a philosophy. "It's Latin for clean slate and a theory traced to Aristotle that people are born without preconceived ideas - knowledge is collected through experiences in life," Filippopoulos told CLASS.
Filippopoulos said the new bar will create "new experiences" for its guest each day, as its transitions from day, to evening and night.
Plans for the interior are inspired by Death & Co in Denver and by Swift in London, with "chic" styling and "modern art-deco" design, taking in dark green, white and gold. "The tables will be marble and gold, the stools green velvet, the bar wooden with a marble bar top, while glass bi-folding doors will bring lots of natural light," said Filippopoulos.
The Leeds bartender says Tabula Rasa will engage and support local businesses. "Our ingredients will come from Leeds' Kirkgate Market – one of the biggest indoor markets in Europe," said Filippopoulos. "And we will establish relationships with other suppliers from Leeds – local gin distillers and I am talking to a Leeds-based company about making aprons from recycled bottles."
The venue will also showcase local art and music and Filippopoulos hopes it will act as a hub for community events.