The Bartenders' Brand Awards, now in its fifth year, is our annual product testing - by bartenders, for bartenders. 
---
The BBAs follows a three-step process to mirror buying behaviour, with each product blind-tasted, judged on value for money and finally by design. For more on the methodology behind the BBAs, read more here.

The focus of our serialised results today is best of the rest - the best-performing brands from outside of the major categories.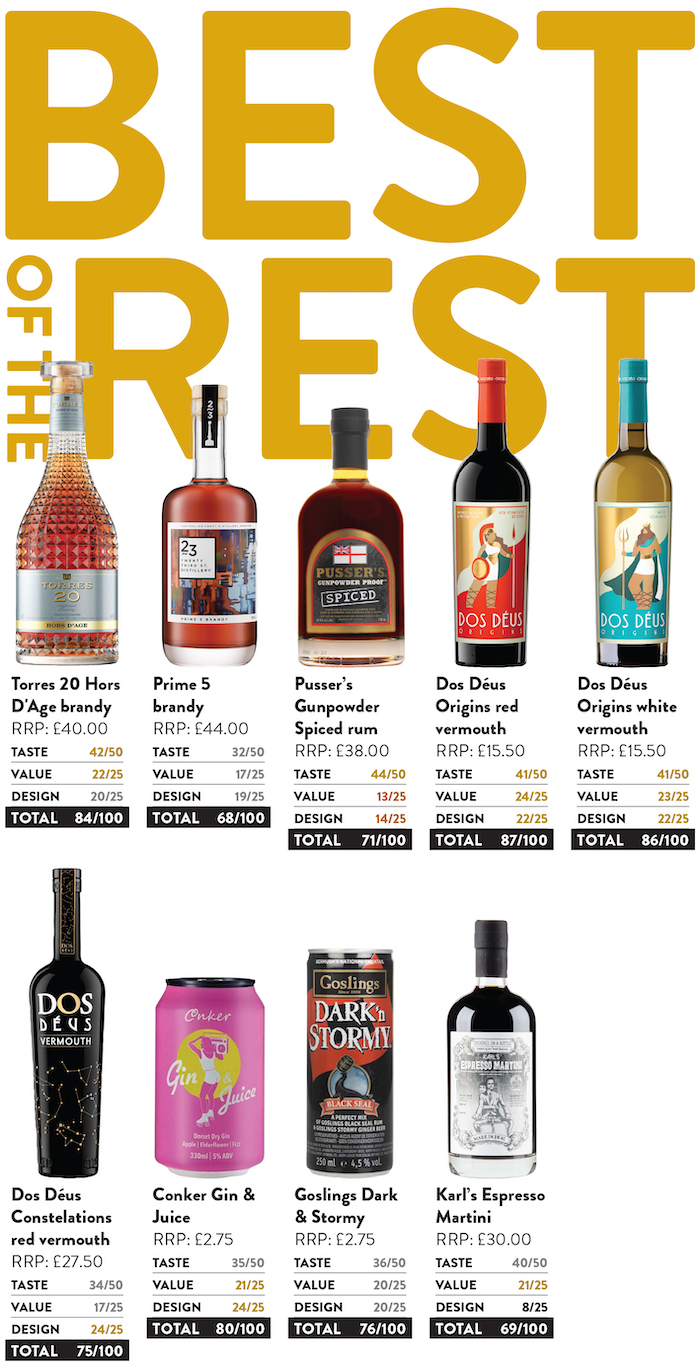 For the smaller categories of the BBAs, we don't create top five lists, or crown category champions, but that's not to say there aren't brands outside of the major flights that didn't impress our judges.
Among our brandy entries, Torres 20 Hors D'Age was a whisker off three golds, with a high-scoring silver in design. Judges were impressed with the Spanish brandy's "layers of fl avour" with "dark fruit and chocolate".
They added that there was a "nice balance of sweetness to bitterness", "a smooth abv" and a "long finish". It was the highest scoring brandy, though Prime 5 from Vok Beverages was also commended, with judges awarding silvers across the assessments and picking out "intense nuttiness" in the blend.
Of the dozen or so spiced rums that entered the BBAs, one stood out. Paragon Brand's Pusser's Gunpowder Spiced scored a gold and two bronzes. Indeed, it was the joint highest-scoring of all rums tasted. The panel noted strong spiced aromas on the nose and a big and bold taste profi le: "just what you want from a spiced rum", one said.
Vermouth, though a category with fewer entries, produced some of the highest scores around. Dos Déus Origins' red and white vermouths both took triple gold, with 87 and 86 out of 100 respectively. One judge said of the red vermouth: "It's an amazing looking bottle and the liquid is really interesting too."
The white vermouth was similarly appreciated in and outside the bottle. Dos Déus Constelations red vermouth is worth a look too  according to our judges, with silver medals in taste and value and a gold in design.
Finally, the ever-emerging pre-mixed category threw up a few corkers. Or conkers. Love Drink's Conker Gin & Juice took a silver and two golds, landing it 80/100.
It was best summed up by: "I'm going to drink [the rest of this] as soon as we finish the tasting." Gosling's Dark & Stormy pre-mixed, meanwhile, took silvers across the three assessments.
But the highest scoring pre-mixed on taste was Karl's Espresso Martini, with a taste score just a point off the top prize, and a gold medal for value for money. "There's a coconut fl avour which is really alluring – it's banging," said one judge.