The Bartenders' Brand Awards, now in its fifth year, is our annual product testing - by bartenders, for bartenders.
---
---
The BBAs follows a three-step process to mirror buying behaviour, with each product blind-tasted, judged on value for money and finally by design. For more on the methodology behind the BBAs, read more here.
Next up in our serialised results is the top-five products in the American whiskey category.
---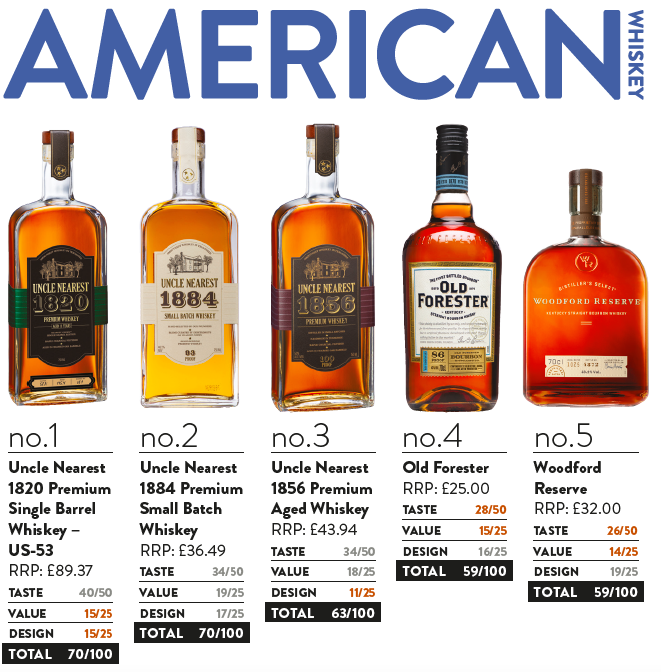 Nearest Green would be proud. The Tennessee brand that carries his name – and legacy as the first African American whiskey distiller – only launched in 2017 and five years later it's won countless awards, now sweeping the board at the BBAs.
With silver medals across our three measures and a total of 70/100 (a high score among our bartender tasters), the brand's 1820 Premium Single Barrel was the session's favourite on taste, scoring a point short of gold.
Tasters described a "big nose, with banana, tropical wood – almost rum-like in character".
While the higher abv and tannins were "beautifully integrated". Uncle Nearest 1884 Premium Small Batch was on level points, but pipped on taste score.
Our panel noted "a soft, whiskey that was "mature without over extraction", a "pleasant citrus nose, with accents of pear". Uncle Nearest 1856 Premium Aged completed the podium. Judges described notes of "spice, vanilla with a rounded mouthfeel".
Old Forester, Woodford Reserve and Maker's Mark occupy positions 4-6 and all finished on equal points, with only their taste scores separating them on tiebreaker. With bronze medals in taste and value for money, it was the reveal of the bottles in the design round that prompted higher scores.