The Bartenders' Brand Awards, now in its fifth year, is our annual product testing - by bartenders, for bartenders.
---
The BBAs follows a three-step process to mirror buying behaviour, with each product blind-tasted, judged on value for money and finally by design. For more on the methodology behind the BBAs, read more here.
Next up in our serialised results is the top-five products in the Cognac category.
---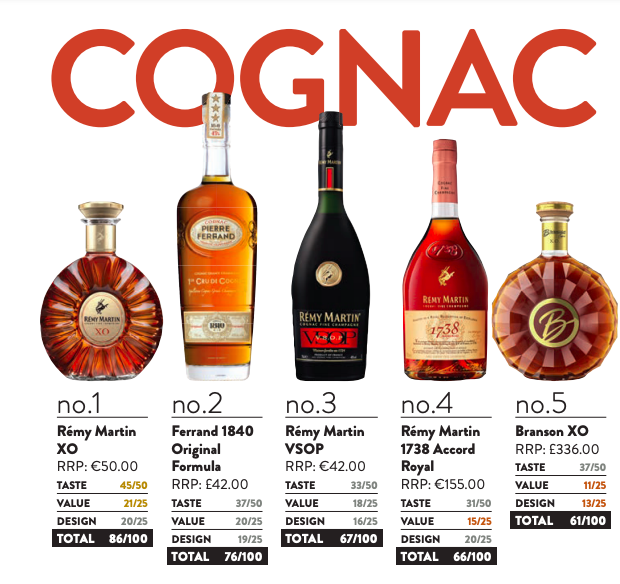 Rémy Martin dominated the upper echelons of our cognac table, with its flagship XO taking the top plaudits. Scoring 45/50 for taste, judges described it as "almost fl awless", with good flavour "from beginning to end".
Given the reaction to the liquid, the Rémy Cointreau-owned cognac was considered excellent value for money – with a score of 21/25 – but failed to make it an all-gold showing with a high-scoring silver (20/25) for its design.
With a total of 86/100 Rémy Martin XO was the best cognac tested – by some distance. In second was a product that has broken up the Big Four cognacs' dominance of the bar channel – Ferrand 1840 Original Formula.
The Maison Ferrand brand, which uses Grand Cru grapes and has notes of honey, dried fruit and spice on the finish, took 37/50 on taste and impressed with silvers across value for money (20/25) and design (19/25), for an overall 76/100.
Two further Rémy Martin expressions took third and fourth: VSOP scored solid silvers, and (VS-level) 1738 Accord Royal took silver in taste and design but only bronze in value for money.
Completing our top five was a slightly less well-known house, Branson, with its XO. Described as "intense" with "good structure", it was the joint second highest ranked cognac on taste.