The Bartenders' Brand Awards, now in its fifth year, is our annual product testing - by bartenders, for bartenders.
---
---
The BBAs follows a three-step process to mirror buying behaviour, with each product blind-tasted, judged on value for money and finally by design. For more on the methodology behind the BBAs, read more here.
Next up in our serialised results is the top-five products in the rum category.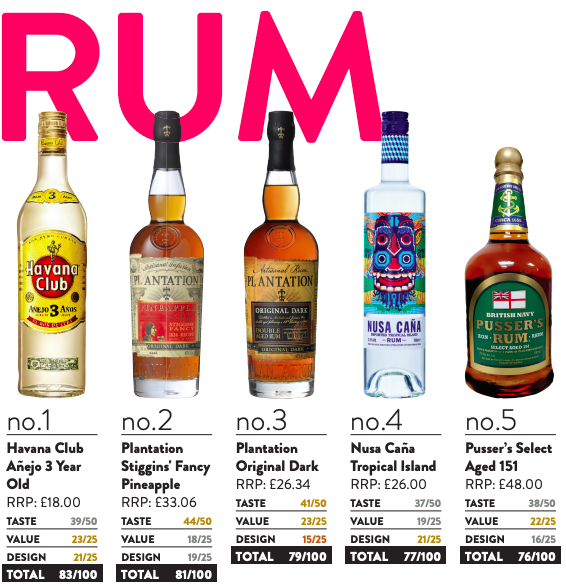 While a number of rums did receive gold medals in our taste assessment, the category champion wasn't one of them.
Havana Club 3 Year Old – something of a well-worn fixture of the back bar – was a couple of points short of gold on taste (39/50) but secured golds in value for money (23/25) and design (21/25).
The rum panel described it as having "subtle notes and a gentle funk" and said it was the perfect young rum for mixing – not least for a Daiquiri.
So, not entirely unexpected and nor was the brand that made up the podium places – bartender favourite Plantation. Taking the joint score on taste was Plantation Stiggins' Fancy Pineapple (authentic pineapple flavour, molasses and tropical notes), scoring 44/50.
It took silver medals in value for money and design, earning it 81/100.
In third, Plantation Original Dark won gold for taste and value for money, but only bronze for design. Made with aged rum from Trinidad and Jamaica, it is blended and further aged in cognac casks for fruity richness.
In fourth was Indonesian Nusa Caña Tropical Island, which has notes of banana, vanilla pod and toasted tropical fruit. It scored well across our three measures, with the highlight being its gold medal for design.
One point back in fifth was pot still rum Pusser's Select Aged 151, which was enjoyed for its "high abv, banana and fruit notes and grippy mouthfeel".