Aiming to ensure employment opportunities for underprivileged members of BAME communities, Hacha's new Brixton outlet is a project with a social conscience, finds Hamish Smith
---
In 2002 Jamie Oliver's Fifteen opened with a team of trainee chefs from underprivileged backgrounds, who weeks before had barely lifted a wooden spoon. The non-profit venture – which would later open a second site in Cornwall – enjoyed 14 years of service before closing in 2016. It didn't fail. To paraphrase Oliver's reflections: Fifteen was about social mobility. The young people who graduated were the profit.
Karmic royalties are still rolling in. "We took a lot of inspiration from Fifteen," says Emma Murphy who, alongside partner Deano Moncrieffe, is on the eve of opening a bar with a kindred vision. "Ours will have more of a focus on addressing diversity in the bar industry and will be a smaller project, but it's underpinned by those same values – we want to help people learn, to get back into work, or set them up for careers in hospitality."
That bar is Hacha Brixton, the sequel to their Dalston agaveria, but this time set in the vibrant cultural melange of Brixton Market Row. The bar is not a charity, more a business with a philanthropic wing. It will work alongside Equal Measures, the non-profit founded by Moncrieffe that aims to provide opportunity to underprivileged members of BAME communities.
Up to now Equal Measures has sought to educate and mentor – through a link up with Hannah Lanfear's Mixing Class WSET courses and a band of industry mentors – but Hacha Brixton will provide a tangible route into the experience of a service environment and potentially employment. "We wanted to create a venue in which we could incorporate Equal Measures," says Moncrieffe. "It's a natural progression for Equal Measures to be constant and present. It's really exciting to be able to do this."
Hacha Brixton will offer interviews and paid work experience to out-of-work members of the Equal Measures scheme. "We want to offer paid part-time work experience to two to three people at a time, that way maximise impact," says Moncrieffe. "It's always easier to get a job when you have one – and there is the confidence you gain from employment." Moncrieffe is also in talks with the charity Springboard, which aims to give a second chance to former hospitality professionals who've fallen out of the profession and on hard times.
One day a week, Hacha Brixton will also close to play host to the Equal Measures Community Day. "It'll be a day that's open to the local community and others from the BAME community and an opportunity to showcase products and services from people from diverse backgrounds," says Moncrieffe. "That could be masterclasses, seminars, panel discussions, or a networking event – everything will be free to the community. If brands are putting on masterclasses, we'll ask that they engage with the community, buying ingredients locally."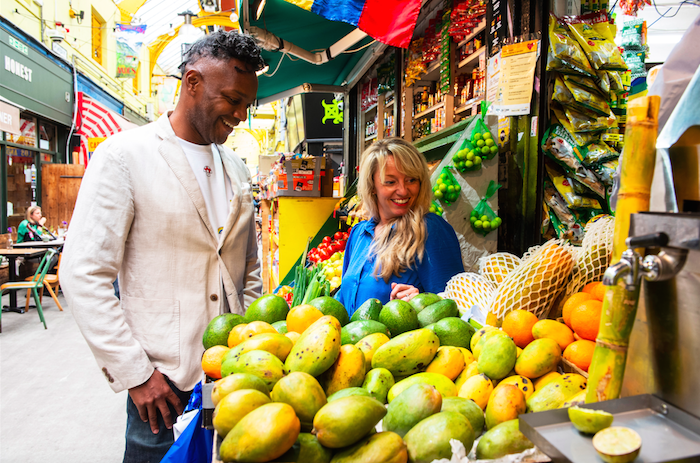 Next stop Brixton
South London hasn't always been the first-choice destination for craft cocktail bars. But if the neighbourhood bar trend was bubbling along before the pandemic, it's been brought to the boil since. And Brixton isn't just any place outside of Zone 1 – Murphy and Moncrieffe have done their homework on the area. "A lot of the people here are our age, have moved outside of the centre of London but still like a premium food and drink experience," says Murphy. A few stops down the Victoria line, Brixton is South London for beginners. And besides, Murphy and Moncreiffe have already proved the neighbourhood agave bar concept works. In Dalston, they've pulled in the locals of the street, and the agave lover from further afield. If American tourists are willing to venture into Kingsland Road's onslaught of sirens, they'll come to Brixton too. "There's synergy between the Dalston and Brixton," says Murphy. "Dalston is raw, gritty and has a strong sense of community with lots of independent businesses. Brixton has that energy, opening its doors to new things."
If Brixton Village has been in long-term transition from standing to sitting custom, with cafes, bars and restaurants now the dominating feature of its colourful, arched arteries, Market Row is a few years in its rear mirrors. Here, units with natural wine neighbour those selling grandma's bloomers. "Market Row is the next part being developed and it's now seeing a flurry of new openings," says Murphy. "Near us we have a new high-profile chef opening a restaurant, joining the likes of Salon Wine Store, Black Bear Burger and the original Franco Manca."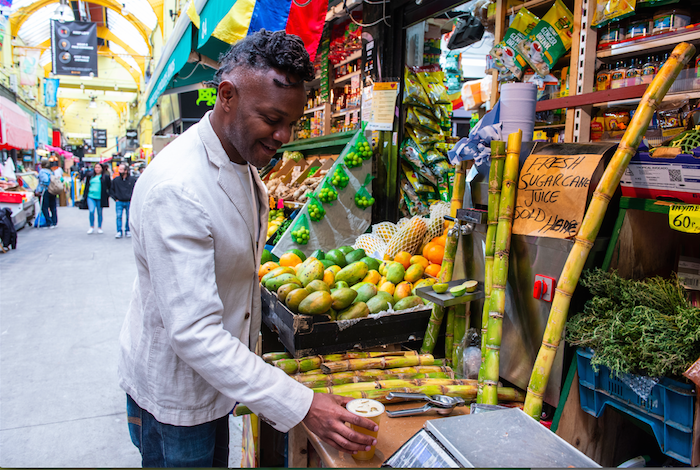 The grocers with all manner of exotic fruit and vegetables, delicatessens and informal restaurants, bring supply to their doorstep. "We will source a lot from the market," says Moncrieffe, holding a sugarcane juice in his hand, squeezed moments before. "Every time I walk around here, I'm thinking of what ingredients I can use with my drinks. We'll also pair ingredients with our flights – there's a cheese shop, and a sushi shop underneath us. We want to give back to our operators in the market and build relationships."
The bar
Opening in August, Hacha Brixton is entered through a ground-floor staircase that scales to a large oblong space overlooking the market. With a kitchen and bar to its front and a long expanse of lounge with large windows offering views on both sides, it has the same interior designer as their Dalston site – Murphy herself. That means a nod to Mexico rather than all-out Tequila Town souvenir shop, with elegant rattan furniture providing structure to a floor which leads to small mezzanine of sofas.
A team of 10 will be assembled, with Moncreiffe and Murphy straddling the two venues and Robyn Evans installed as bars manager. In the kitchen is a permanent residence for their Dalston chefs of Maíz Azul (Blue Corn). "You can't say you do authentic Mexican food if you don't have Mexicans in the kitchen," says Moncrieffe. "Their food is specific to Guadalajara, with dishes changing regularly. We're going into a long-term partnership with Maíz Azul for both the Brixton and Dalston sites."
The drinks
The rotating list of 25 agave spirits – a pillar of the Dalston site – will make its way across London, with tequila, mezcal and mixed agave flights to suit the agave lover. "On the menu I'm also going to have Hacha twists on Mexican classic cocktails," says Moncrieffe. "So an El Diablo, which will have smoked hibiscus and a Ginger Bug replacing the ginger beer. Ruso Negro (Black Russian) will use a homemade coffee liqueur with mole and cola.
"But the one that I think could be popular is the Bandera. I'll be representing the colours of the Mexican flag – normally agave, lime and Sangrita – differently. It'll be a flight of three cocktails in elegant glassware, with the green coming from asparagus – which is the same family as agave – mixed with mezcal. The white will be from aloe vera, sherry and tequila, and the red will be spiced Agua de Jamaica (Hibiscus Iced Tea) and bacanora."
We need to talk about the Mirror Margarita. The crystal-clear lime and tequila mix, which won Cocktail of the Year at the Class Bar Awards 2020, has all grown up. According to Murphy, it's a "standalone brand". It has its own dedicated bottle cocktail programme, which kept Hacha Dalston afloat during the pandemic and its sales, in and out of venue, have set the foundations for the Brixton expansion. At Hacha Brixton the Mirror Margarita multiplies. "There will be the versions with tequila and mezcal and also soto, bacanora and raicilla. I've been perfecting them over lockdown – it's been a nightmare to get them right, but we're there now."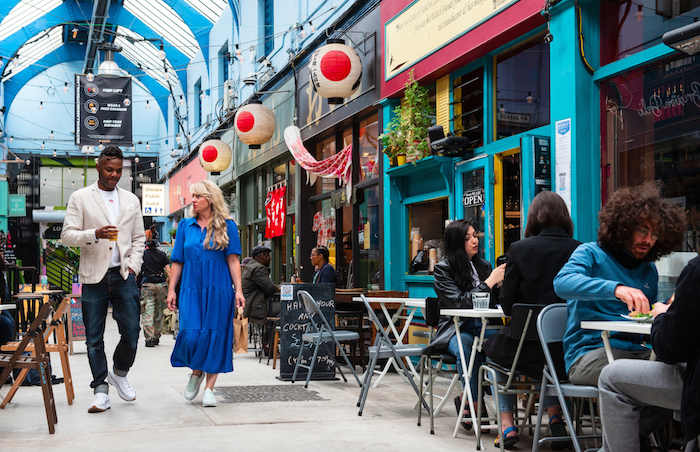 The shop
There can't be too many cocktails that have their own shop, but below Hacha Brixton, in a separate unit, is just that. "It'll be our ground-floor visibility for the bar but will be a standalone shop which will feel like a mini bar experience," says Murphy. "We've got eye-catching mirrors, a one-man bar unit and a floater table with a couple of stalls. We'll be selling flights and also bottles. There'll be the range of Mirror Margaritas, with new limited-edition bottle designs and some new infusions."
And amid the sugarcane, grannies' bloomers, the biodynamic wine and the budget suitcases, why not a shop selling Margaritas below a societally benevolent agave bar? Nothing here is in sync, and yet nothing is out of place.