The Bartenders' Brand Awards, now in its fourth year, is our annual product testing - by bartenders, for bartenders. We finish this series with the best of the best, including the BBA's 2021 Supreme Champion. 
---
The BBAs follows a three-step process to mirror buying behaviour, with each product blind-tasted, judged on value for money and finally by design. For more on the methodology behind the BBAs, read more here.
The BBAs tested nearly 300 products across its ten digital sessions, but only one can be ordained Supreme Champion. This year that product was Acqua Bianca – a liqueur of the mind of bar legend Salvatore Calabrese and the knowhow of De Kuyper Royal Distillers.
Acqua Bianca was one of the few products in the entire competition to receive three golds, scoring 127/150. It's highest score was in taste: our panel described "elegance on the nose, with fresh, citrus and floral notes on the palate", with notes of "bergamot and mint", which "linger on the palate".
Boatyard Vodka from The Boatyard Distillery was only three points behind, on 124/150. Judges remarked at the field-to-bottle wheat spirit's "big character" and that it was flavoursome enough to be a sipping vodka. A great product with great branding and well worth the £32 RRP, they said.
Brown Forman's Old Forester Single Barrel (64.5%) came third, scoring 123/150. With 45/50 on taste, it was the joint-second best-tasting liquid too. Our judges loved the "smooth" and "buttery texture" and the high abv (64.5%), which "carried the complexity of flavour".
Appleton Estate 8 YO came fourth overall. One of two products to score gold across our three measures, the Campari-owned brand was described as "amazing on the nose" "complex" on the palate, with a "long finish", scoring 41/50 on taste, value and design.
Completing the top-five across all categories was Asahi's Nikka Coffey Grain, which judges loved, describing a "lingering, caramel richness". So that's quite the spread - a liqueur, vodka, bourbon, rum and a Japanese whiskey - for our best-of-the-best table.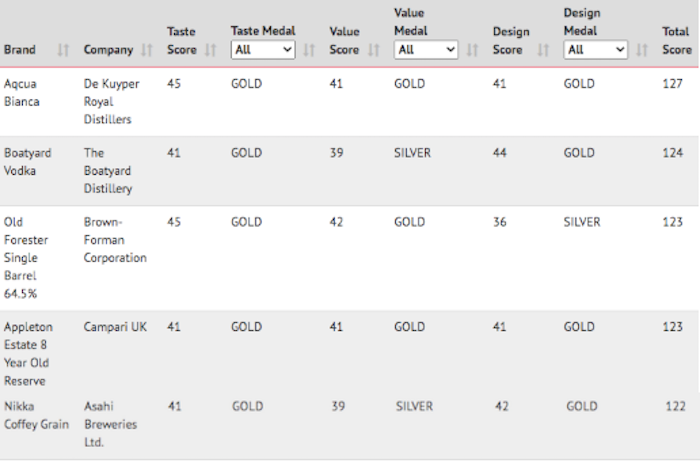 Surprisingly though, these allrounders don't include the top product in each of our three measures. For taste, with 46/50 was the French cherry brandy liqueur, Merlet Soeurs Cerises. On value for money, the highest score (48/50) was JJ Whitley Artisanal Russian Vodka, which wowed judges with its bang for buck. In our design assessment, the corn-embossed bottle of Nixta Corn Liquor took the BBA's best, with 46/50.
Medal guide: Gold: 41-50/50, Silver: 31-40/50, Bronze: 21-30/50, No medal: 1-20/50