The Bartenders' Brand Awards, now in its fourth year, is CLASS' annual product testing - by bartenders, for bartenders. Our penultimate article of the series rounds up the highlights of the smaller categories in this year's BBAs.
---
The BBAs follows a three-step process to mirror buying behaviour, with each product blind-tasted, judged on value for money and finally by design. For more on the methodology behind the BBAs, read more here.
Not all the sessions of the BBAs were large enough to merit the publishing of a top-five list and the crowning of a champion, but that didn't mean these smaller categories didn't throw up some great products along the way.
Indeed, look no further than Japanese whisky, where four products took at least one gold medal. Nikka Coffey Grain took two, with gold in taste and packaging and a high-scoring silver in value for money. Judges picked up on "lingering, caramel richness", remarking that that it would make for an excellent "dessert whiskey". Indeed, Coffey Grain was the fourth best scoring product in the BBAs this year. Taketsuru Pure Malt also scored gold on taste ("cherry fruitiness and a long finish") and design, with a silver on value for money – Japanese whiskies are may things but they aren't cheap. While Nikka Single Malt Miyagikyo was a point off its stablemate on taste and that prized gold medal.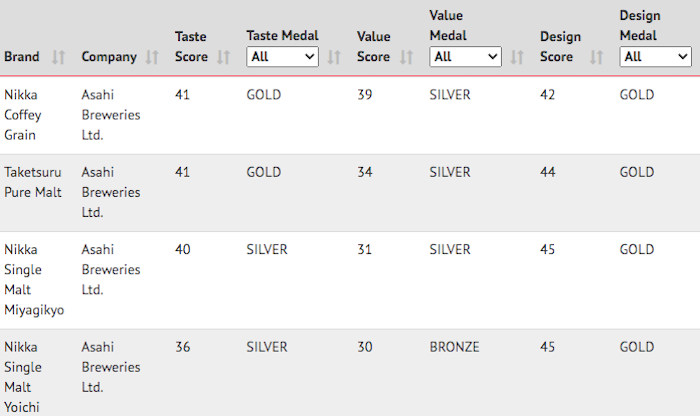 In Irish whiskey, Roe & Co Cask & Keg Citra IPA stood out, with bartenders associating the spicy, dry profile with rye whiskey. That meant a gold on taste and high silvers on value and design. The Busker's range all took silver on taste but its Pot Still whiskey was the pick, with the panel immediately spotting the pot distilled profile and likening it to a single malt. Its more-than-reasonable price point grabbed attentions too, earning it a gold on value for money.



In Agave spirits, entries – and gold medals – were rather thin on the ground - but The Lost Explorer Mezcals, both the Salmiana and Espadin, took silver medals on taste. The brand's Tobala and Montelobos Espadin were within a few points, while in Tequila, Curado Cupreata was the pick.



In the world of syrups, look out for Funkin PRO Oleo Saccharum, which was the top scorer in taste and overall, while the bartender favourite Coco Re'al was second. Both took high-grade silver medals on the blind tasting.



Medal guide: Gold: 41-50/50, Silver: 31-40/50, Bronze: 21-30/50, No medal: 1-20/50