Mark McClintock has been named Diageo World Class GB Bartender of the Year 2021.
---
The London-based bartender – currently unattached due to the pandemic – will go on to represent GB in the World Class Global Final taking place from July 4-8 2021.
This year's GB final took place virtually last night at a live awards ceremony hosted via the World Class Facebook page.
The GB final consisted of two key challenges: Alive with Freshness and The Scotch Box, designed to showcase "creativity, craft and personality" using Tanqueray No. Ten, Johnnie Walker and Talisker.
The Alive with Freshness challenge saw competitors tasked with creating two perfectly balanced cocktails of contrasting styles, using one modifier that "celebrates the whole fruit freshness" of Tanqueray No. Ten.
The Scotch Box challenged bartenders to create a "dream whisky bar" considering all elements from the drinks and menu style, to atmosphere and hosting skills.

Competitors had to create a memorable guest experience for the judges, welcoming them into their ideal bar, sharing with them a carbonated welcome drink using Johnnie Walker Black Label, and a second cocktail to draw the evening to a close, using Talisker 10 – taking inspiration from the natural environment. The cocktails were presented to judges alongside a box including a menu and playlist, plus another item of choice.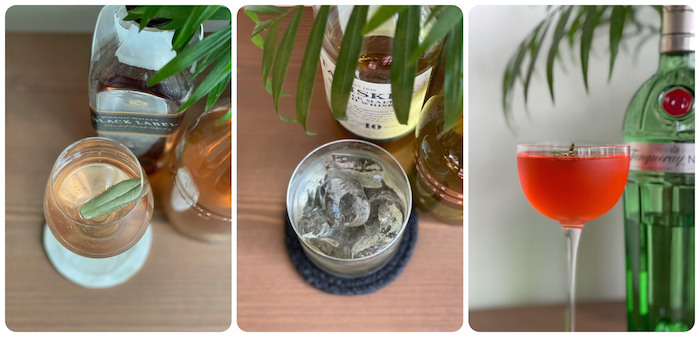 McClintock's winning drinks (left to right): The Shampagne Johnnie (Scotch Box 1), Dulsée de Leche (Scotch Box 2) and Strawberry Hill (Alive with Freshness). 

Diageo Reserve World Class GB Bartender of the Year 2021, Mark McClintock said: "I was not expecting this at all, in any way shape or form! I am genuinely shocked and so honoured to go on and represent GB on the global stage. I am elated to have been chosen – thank you to all of the BAs, my fiancé India Blanch, and those who have supported me along the way - their advice and support has been invaluable. I can't wait to go on and do everyone justice in the global finals."

This year's judging panel included previous World Class GB winner, Cameron Attfield, Diageo GB Brand Ambassadors including Pippa Guy and Jason Clark; and Sandrae Lawrence (The Cocktail Lovers); Andy Ives (BarLife UK); and Dan Dove (Global Bartending).
Jo Last, World Class Ambassador, said: "McClintock showcased impeccable skills and hospitality throughout both challenges, presenting delicious drinks every step of the way and we are thrilled to have him crowned as our winner."
Pippa Guy, added: "Mark has demonstrated a consistently high quality of drinks, knowledge and personality ever since he stepped into the World Class programme. I can't wait to see him continue to develop as he steps up to representing Great Britain on the global stage."
As well as representing GB in the World Class Global competition, Mark McClintock, will also win:
• 12-month contract with Global Bartending
• WSET Level 3 Spirits Course & Qualification – a course carefully developed by and for professionals working closely with spirits
• Personalised Cocktail Kingdom kit
• Professional signature serve & profile photo shoot
A recording of the competition will also be broadcast on Facebook on April 23 2021 showcasing highlights from the challenges and the serves created by the talented top eight.



Recipes
Alive with Freshness – Tanqueray No. Ten Challenge
Strawberry Hill: Tanqueray Ten, fino sherry, rosemary tip garnish
Ruby Fizz: Tanqueray Ten, egg white, champagne
Scotch Box – Johnnie Walker Black Label & Talisker 10 Challenge
Shampagne Johnnie: Johnnie Walker Black Label, watermelon, olive, mint, champagne acid
Dulsee de Leche: Talisker 10YO, fig leaf, apple, dulse, coconut milk