The Bartenders' Brand Awards, now in its fourth year, is CLASS' annual product testing - by bartenders, for bartenders. It's cider's turn to go under the microscope - here's our top five. 
---
The BBAs follows a three-step process to mirror buying behaviour, with each product blind-tasted, judged on value for money and finally by design. For more on the methodology behind the BBAs, read more here.
It says something of the progress of non-alcoholic ciders that our Category Champion is Galipette Cidre 0%.
Not only was this the top cider overall, scoring 120/150, it was the top-tasting cider with a score of 40 – one point off gold – out of 50. Judges said the cider "carried flavour very well, with good texture and complexity, despite having no alcohol". With an RRP of £1.59 for 33cl, the panel thought this was outstanding value, giving the French cider a score of 45/50. The packaging didn't disappoint either, scoring a solid silver medal with 35/50.
Malvern Gold didn't quite manage gold on taste, taking silver, but the English cider impressed overall, taking second. The medium dry Herefordshire cider carries an RRP of £2.25 per 50cl, which set against the taste, made for a gold medal 44/50. Its bottle - combining a green label and a clear bottle that showcases its golden cider - was considered gold standard too.
It was another no/low cider that took third - Kingstone Press Low Alcohol Cider. With a high-scoring bronze on taste, this Aston Manor-owned 0.5% cider impressed most on value for money – it's RRP for 50cl is just £1.35. It took a silver on design.
Friels 5.5% Vintage Cider meanwhile took silvers across the board, just pipping Henry Westons Vintage Rosé by a point.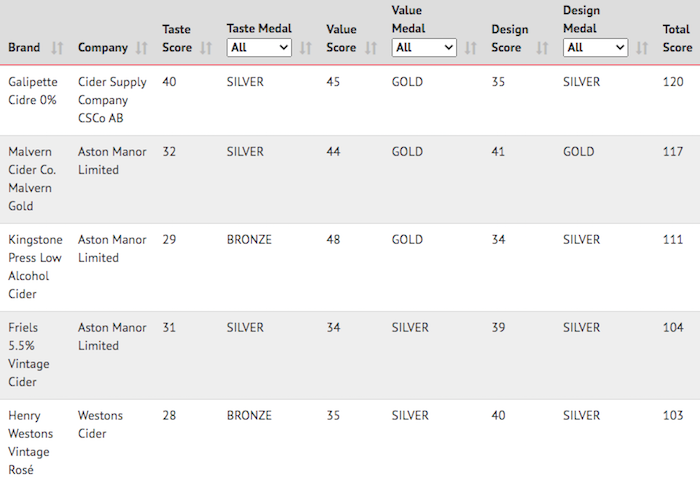 Medal guide: Gold: 41-50/50, Silver: 31-40/50, Bronze: 21-30/50, No medal: 1-20/50