The Bartenders' Brand Awards, now in its fourth year, is CLASS' annual product testing - by bartenders, for bartenders. Up next is the beer top five. 
---
---
The BBAs follows a three-step process to mirror buying behaviour, with each product blind-tasted, judged on value for money and finally by design. For more on the methodology behind the BBAs, read more here.
Once again it was Camden that took the silverware in the beer category – this time their annual speciality brew Camden Beer 2020. Judges described Camden's latest winner as having "great citrus notes" and that is "sessionable considering the high ABV". "It has a great finish – I could drink a lot of this," said one judge. That appreciation earned it a solid silver medal on taste, with golds following in the value for money and design assessments taking the London-brewed beer to 122/150.
Lowlander White Ale was actually the joint-top beer on taste, scoring a high-ranking silver medal, with 39/50. Judges noted "really delicate flavours," "tea notes" and a "lovely creamy texture". "That's a cracking beer," concluded one. Another high silver on value for money and a gold on design, saw the beer finish on 120/150.
The Westons Cider-owned brand also contributed the third placed beer too. Lowlander IPA was joint-top on taste – an impressive 39/50 – with bartenders describing its "complexity", "inviting nose" and detected its botanical brewing style, picking out "spicy notes". With 40/50 on value for money and design, it finished a point behind its stablemate on 119/120.
But perhaps the brand's finest achievement was taking fourth spot with a zero-abv beer. Lowlander 0.00% Wit took a high silver medal on taste – no mean feat for a non-alcoholic beer – and followed up with a sliver and gold on value and design respectively.
Camden completed the top five with two silvers and a gold for its Hells Lager – the highest scoring lager of the competition.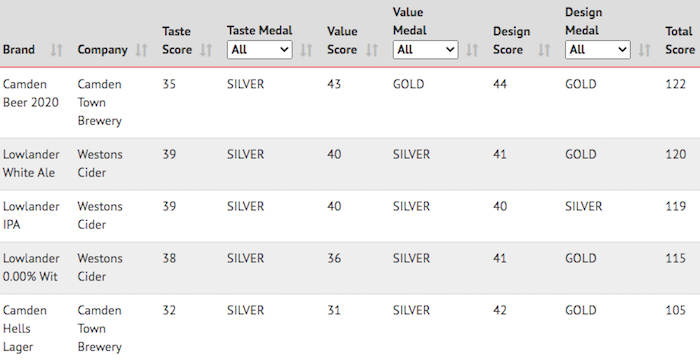 Medal guide: Gold: 41-50/50, Silver: 31-40/50, Bronze: 21-30/50, No medal: 1-20/50