The Bartenders' Brand Awards, now in its fourth year, is CLASS' annual product testing - by bartenders, for bartenders. Here we unveil the results for cognac.
---
The BBAs follows a three-step process to mirror buying behaviour, with each product blind-tasted, judged on value for money and finally by design. For more on the methodology behind the BBAs, read more here.
It says something of the exacting standards of our judges that gold medals are never liberally given out in the BBAs. In the cognac category, albeit one of our smaller flights, products achieved very respectable silver and bronze medals, but none achieved the gold standard.
With every point hard earned, the top five were bunched at just under the 100 mark (out of 150). Rémy Martin has the most to shout about, taking both first and second places, with its flagship Rémy Martin XO and VSOP expressions. Impressing for its rounded oak-edged profile – scoring 30/50 on taste - and with a mark of 27/50 on value for money, it was the XO's cylindrical bottle that pushed it on to 96 points and the title of Category Champion. Its stablemate VSOP was consistent across the assessments – taking silvers in taste (look out for sweet cereals, dried fruit and spice), value for money and design, totalling 95 points.
Frapin 1270, an amber-hued VS-equivalent cognac, came third, but was actually the top scorer on taste – it features floral notes with vanilla and dried fruit - with a silver medal-earning 34/50. It performed well in terms of value and design, earning high bronze medals and overall finished on 92/150.
Its family member and arguably richer-flavoured Frapin VSOP took fourth. It was the second best in its category on taste, said our panel, but its £60 RRP pulled it back on the value for money assessment.
Ferrand Cognac 1840 Original Formula from Maison Ferrand was also a favourite on taste profile (with grape and floral notes), scoring a silver and with value and design added in, it reached 91 points.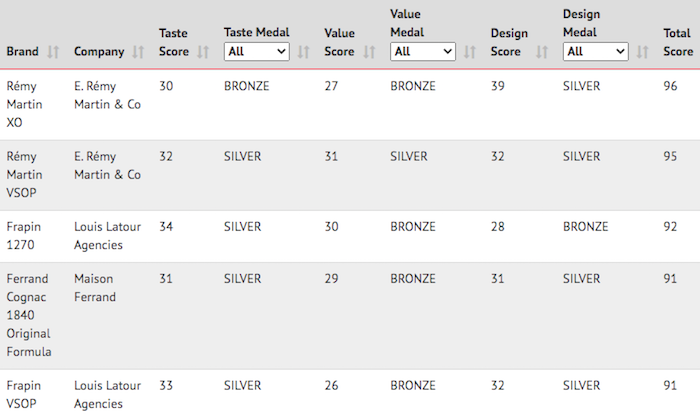 Medal guide: Gold: 41-50/50, Silver: 31-40/50, Bronze: 21-30/50, No medal: 1-20/50