The Bartenders' Brand Awards, now in its fourth year, is CLASS' annual product testing - by bartenders, for bartenders. Next up in our results, is the UK's biggest bar category battleground: gin.
---
The BBAs follows a three-step process to mirror buying behaviour, with each product blind-tasted, judged on value for money and finally by design. For more on the methodology behind the BBAs, read more here.

---
No category is more important to the cocktail bar than gin, so it was no surprise to see the BBAs had the highest number of entries for the gin tasting. Bartenders are known to favour the classic, juniper-forward styles, yet this year two barrel aged gins and – though an outlier - a flavoured gin featured in our top 5.
Edinburgh Gin Cannonball, no stranger to this competition, took the top overall score with 121/150. Its classical juniper, spice and citrus botanicals, impressed judges, scoring it gold on taste. A high RRP of £40 didn't put the panel off when it came to the value for money assessment – the high scores on taste and the 57% ABV were arguments in mitigation. But the brand fell short of three golds, with a silver medal on design.
Next up came Hernö Juniper Cask Gin, which was the joint top on taste and offered notes of pine, citrus and juniper. While the unique use of juniper wood no doubt contributed to the taste, it will have also contributed to the price - £58 RRP – which was just a touch too dear for our panel. Still, it was a high silver on value for money and was two points from gold on design.
In third came Marylebone Cask Aged Gin, which took high silvers across the board. Another barrel aged expression, its taste profile a blend of sweet floral and citrus notes, earthy spices, vanilla and juniper with a peppery lasting finish.
While fourth in the gin charts was Sipsmith Lemon Drizzle gin which boast zesty citrus notes, zesty, warming juniper and hints of liquorice. In fifth, a London Dry makes a first appearance. Boasting all the expected juniper-forward character, Salcombe Gin Start Point which was the fourth best-tasting gin according to our panel, scoring 42/50. It followed up with silver medals in value for money and design.
Not in the top 5 across overall, but on taste alone, Lumbers Bartholomew Navy Strength was actually the joint-top product with Edinburgh Gin Cannonball and Hernö Juniper Cask.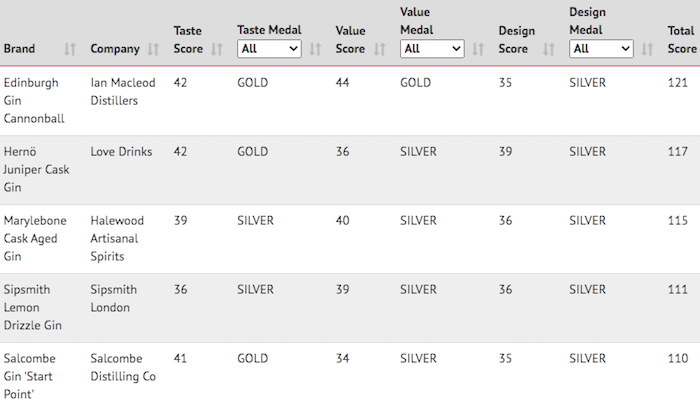 Medal guide: Gold: 41-50/50, Silver: 31-40/50, Bronze: 21-30/50, No medal: 1-20/50