The Bartenders' Brand Awards, now in its fourth year, is CLASS' annual product testing - by bartenders, for bartenders. In our next instalment of results, the top scorers in the rum category.
---
The BBAs follows a three-step process to mirror buying behaviour, with each product blind-tasted, judged on value for money and finally by design. For more on the methodology behind the BBAs, read more here.
Perhaps an indication of the fervent popularity of rum in the bar industry, this category always makes for one of our busiest tastings. From the old favourites to the emerging, from all corners of the rum-making world, our team of bartenders were treated to the good, the great and the not so great of category.
It was reassuring then, to see an old favourite come out on top. Appleton Estate 8 YO was the clear winner, scoring gold across our three measures. The Campari-owned brand was described as "amazing on the nose" "complex" on the palate, with a "long finish", scoring 41/50, aka gold. With 41s also in the value for money assessment (its RRP is an affordable £30) and design, the Jamaican Applelton took 123/150, making it the fourth highest scoring product across the BBAs 2021.
But despite its overall dominance, Goslings Family Reserve Rum edged Appleton on the taste scores, taking 44/50. Judges said the Bermudan rum had "great colour", a "complex body" and detected "natural sweetness". One judge remarked: "I love this rum." With a higher RRP - £55 – Goslings took silver on value for money and also a mid-silver on design.
La Hechicera Reserva Familiar took third with high-scoring silver medals in taste and value for money. The Colombian rum was described as having "great aromas" and was "well balanced" on the palate. While new rum brand Equiano Gold Rum Aged 8-12 – dubbed the world's first African and Caribbean rum – made an impressive debut, joining La Hechicera on three straight slivers. Angostura 1919 was only a point behind Equiano but impressed judges enough to take silvers too and a very respectable 100 points out of 150.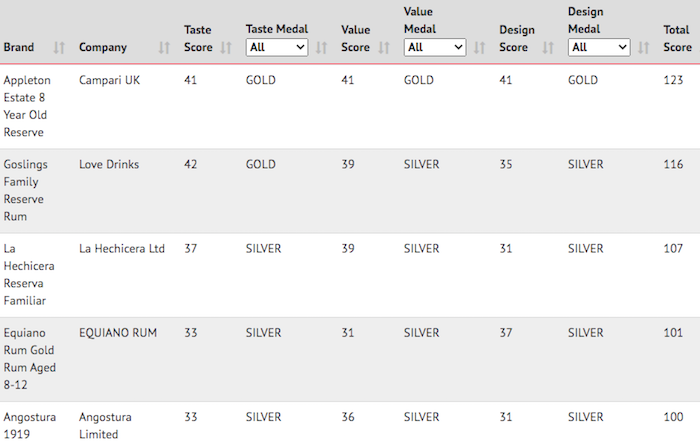 Medal guide: Gold: 41-50/50, Silver: 31-40/50, Bronze: 21-30/50, No medal: 1-20/50