Schofield's Bar – the long and globally anticipated debut venue of bartender brothers Joe and Daniel Schofield - will open for service on Wednesday 14 April.
---
Set on the ground floor of the Art Deco-styled Sunlight House on Little Quay Street in the heart of Manchester, Schofield's Bar is inspired by some of the industry's legendary institutions such as Harry's New York Bar in Paris and The American Bar at the Savoy in London, aiming, similarly, to one day be considered a classic.
Though Schofield's Bar is the brothers' first owned venue, their combined 26 years in hospitality have made them well known figures to the international bar trade. Daniel Schofield has worked at bars featured in The World's 50 Best Bars, including Coupette in London and Little Red Door in Paris. While brother Joe has held posts at comparably distinguished venues: Tippling Club in Singapore and London's American Bar at the Savoy, on top of receiving accolades such as International Bartender of The Year (Spirited Awards) and the Bartenders' Bartender (The World's 50 Best Bars).
But their first venue together – which has been "ten years" in their heads and close to three years in planning – takes them back to where it all started: Manchester.
Speaking exclusively to CLASS, Daniel Schofield said: "It was always going to be Manchester. It's our closest big city, having grown up on the outskirts. We love the bar and restaurant scene here and we've always found that Northern people have such a genuine sense of hospitality so it's good to be home."
The concept
Schofield's Bar is an all-day venue, majoring on classic cocktails. "We took a lot of inspiration from legendary bars of the past," Joe Schofield told CLASS. "So while we will serve great cocktails we will be more than a cocktail bar – we'll also have a great wine list, spirits selection, draft beer and British tapas with great local charcuterie and cheeses.
The bar aims to cater for "anyone and everyone", with a more "high energy experience" at the bar, a "relaxed table service" area, and a terrace outside. The brothers are confident, their classical, no gimmicks, approach will find its niche in Manchester. "There are a lot of discerning drinkers here in Manchester – people that love great drinks and venues," Joe Schofield said.
Schofield's will open with a list of 12 classic cocktails – their takes on the Bellini, Bloody Mary, Clover Club, Daiquiri, Gin Fizz, Irish Coffee, Martini, Manhattan, Negroni, Old Fashioned, Penicillin and Sazerac. "We thought, 'why do we have to have one signature drink, why not 12 drinks on the menu that will never change and are made to the best of our abilities'?" Joe Schofield said.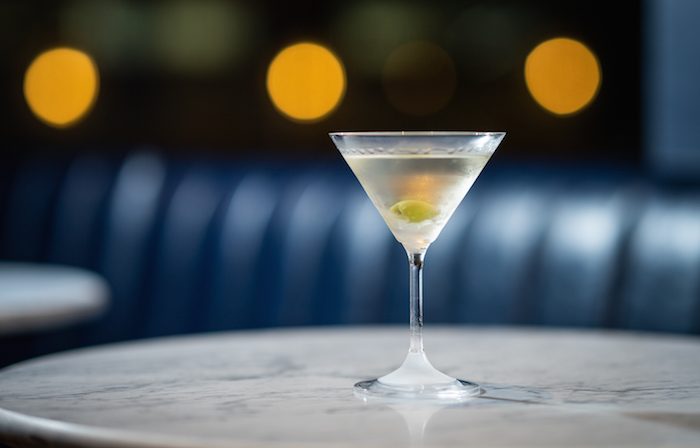 The list of classics will be joined by 12 seasonal drinks – split into lesser-known classics and the brothers' own creations, they will change every three months. "All of our creations are made in a very classic way – we don't have any lab equipment like rotovaps, centrifuges – they all will have the DNA of classic cocktails," said Daniel Schofield. His brother added: "The approach is an embodiment of how Daniel and I like to drink cocktails – we've always been passionate about classics and we don't think you need a lot of lab equipment to make great drinks that your guests will enjoy."
Classical roots
The classic theme runs through the project – from the name of the bar, to the site's history.
Schofield's (note the placement of the apostrophe) refers to the brothers' great grandfather's business. "The branding is inspired by our great grandfather's company Schofield's – we're the first generation to not go into the family business, so we used the family logo, which is over a hundred years old," said Joe Schofield.
The site, Sunlight House, was a flagship 1930s design of architect Joseph Sunlight, and in later life became The Old Grapes, a pub owned by actress Liz Dawn (Vera Duckworth from Coronation Street), frequented by local celebrities.
"It has beautiful heritage characteristics: the little green door and there are stunning stone arches running through the exterior and interior," said Joe Schofield. "In terms of décor, there are dark woods and hints of green. We've been talking about this for ten years so we knew how we wanted the venue to look and worked very closely with the architect."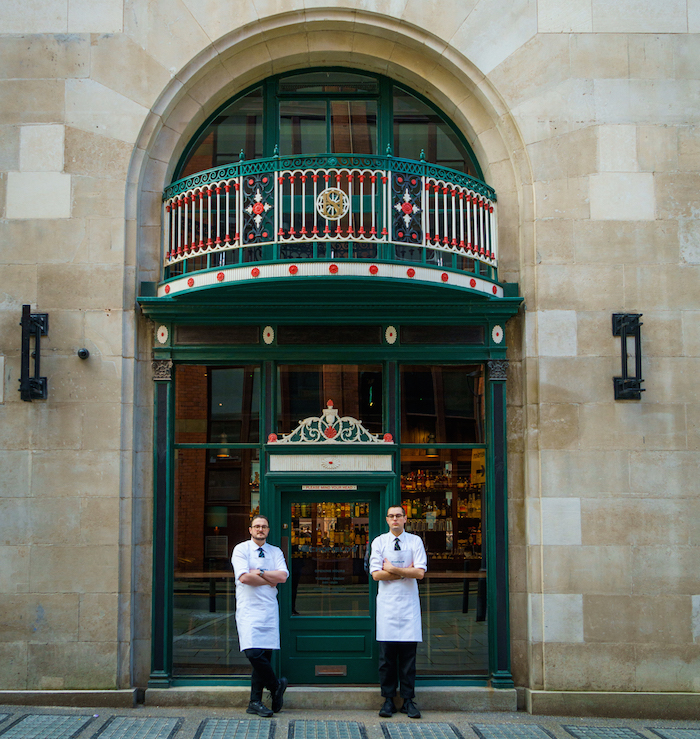 Outside of Covid restrictions Schofield's has the capacity for 70 guests inside the bar and 58 on the terrace, but with distancing restrictions will open with tables and chairs for 40 outdoors in April and 50 indoors in May.
On what seemed an interminable wait to find a site, Daniel Schofield said: "We needed a venue that ticked all the boxes and sites like this don't come up every week. We had to be patient but we're really happy with it."
The opening team numbers six, with the Schofield brothers being on site and nearly always on hand.  "Our ambition is to always have one Schofield at Schofield's at any one time," Joe Schofield said. "Our head bartender Rachel Orange (ex-Hawksmoor Manchester), we can't speak highly enough of. She's been so patient with us in the run up to the opening. We'll also have Ferdia Murray coming up from the American Bar to be assistant head bartender and two bartenders."
Schofield's terrace will be open Wednesday - Friday from 9am-11pm, 10am-11pm on weekends. Inside service is planned for May 17, with opening hours to be confirmed.