The Bartenders' Brand Awards, now in its fourth year, is CLASS' annual product testing - by bartenders, for bartenders. In the fourth article of our serialised results, we reveal which liqueurs fared best.
---
The BBAs follows a three-step process to mirror buying behaviour, with each product blind-tasted, judged on value for money and finally by design. For more on the methodology behind the BBAs, read more here.
---
From floral to berries to citrus to menthol to cream – the liqueurs category is always a bright, flavourful, if zoological, category. Though judging can mean comparing apples and oranges (quite literally), the products that showcase flavour with most clarity always stand out.
Entering for the first time was De Kuyper Distiller's Acqua Bianca. A new product to the market (particularly when you discount 2020), Acqua Bianca was conceived in collaboration with the UK bar scene's very own Salvatore Calabrese. Not bad Maestro, Acqua Bianca was one of the few products in the entire competition to receive three golds. Judges described it as "elegant on the nose, with fresh, citrus and floral notes on the palate". The panel noted "bergamot and mint", which "linger on the palate". On taste the liqueur was the second highest scoring in the competition, but with golds for value for money and design, adding up to a score of 127/150, Acqua Bianca was the Category Champion and the Supreme Champion of the entire BBAs.
Grand Marnier, the French blend of cognac and orange that has long positioned itself as the premium-end orange liqueur, had a reputation to uphold. The judges, took to it, picking up the cognac, the strength of which, "shines through" and picking up notes of "toffee and cinnamon" among the citrus. With high-scoring silver medals in taste and value for money, the iconic packaging, recognisable to any bartender, saw gold.
It was another citrus number that took third spot – the ruby red grapefruit liqueur, Pampelle. This aperitif-style botanically flavoured French liqueur was admired for its bright profile, making it "versatile and great for a spritz". At just £20 a bottle, it was seen as great value for money, earning it a gold, while its squat, colourful bottle was received well too, this time a silver medal.
The liqueur that came fourth in the overall liqueurs table was in fact the highest scoring product on taste in the entire competition. Merlet Soeurs Cerises was described by the BBA panel as a "cherry brandy that delivers everything you want it too". With "complexity" and an imposingly " big ABV", all for RRP £23, the panel said this was "a great price for the flavour".
Merlet's work wasn't done there. Its C2 Café liqueur also received glowing reviews: "lovely aromas, with coffee coming through and a dry, powerful profile." Scoring gold for taste and silver for value (RRP £30), one judge remarked: "Whatever it is, I want to buy it."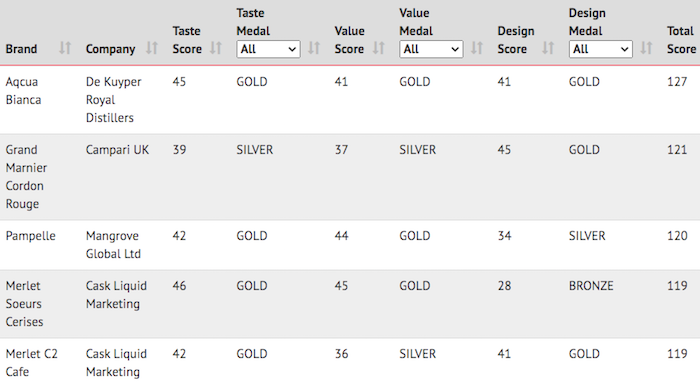 Medal guide: Gold: 41-50/50, Silver: 31-40/50, Bronze: 21-30/50, No medal: 1-20/50