The Class Cocktail of the Year 2020 is that beautiful thing: simple. Here, creator Deano Moncrieffe shows us how he makes this clear Margarita, without lab equipment.
---
My motivation for creating the Hacha Mirror Margarita was to reimagine the classic Margarita cocktail. The idea was to create a Margarita that is instantly recognisable in taste and name but very different in its appearance. I wanted to extract the absolute maximum from the three main ingredients that make up the Margarita.
To do this I went back to basics and built this cocktail around the flavour profile of the agave plant. I researched and looked deeper into the flavour compounds and properties of the agave plant at the different stages of its lifespan and also during tequila production and realised that an often underused ingredient in Margaritas is malic acid, which naturally exists in the plant.
Malic acid is released by the agave tequilana weber (blue agave) plant at night time and is responsible for some sour and bitter notes that can be found in raw agave.
I wanted to create something of a hybrid Margarita that tasted like a classic, straight-up Margarita but was served on the rocks (Tommy's style) where all of its full flavour could be released. The next and most important ingredient was a tequila that had the right level of being agave led but with a light, peppery finish and multiple citrus notes. I tried quite a few and the only one that works perfectly with my homemade Hacha sour mix was Don Julio blanco.
We pre-batch the Mirror Margarita so we can ensure consistency and speed of service. So far, since May 1 when we opened, we have sold more about 5,000 Mirror Margaritas and the cocktail is now available by the bottle to take away, which has been a huge success.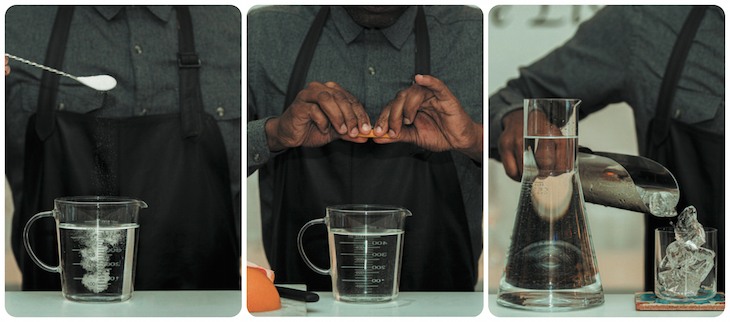 To make a litre of Mirror Margarita
» Pour half a bottle of of Don Julio blanco into a large jug

» Add the oils of red, white and pink grapefruits to a malic acid solution to create 300ml of our Hacha sour mix, and pour into the jug of Don Julio blanco
» Mix 125ml cane syrup, 25ml Cointreau and 200ml filtered water together, pour into the large jug and stir well
» Pour over ice into a rocks glass, stir for around 10 seconds and serve