Sian Buchan takes a tour around the bar jewels in the Scottish capital's crown.
---
If you catch the train into Waverley, you're immediately in the thick of it. You'll be welcomed by the sound of bagpipes and the stunning view of the castle – take it all in. Lunch at Timberyard is a great way to begin a visit to the Old Town, the southside of the city. A family-run business, the old props and costume warehouse has chunky tables, a wood-burning stove and serves some of the best of Scottish produce. Even if you don't eat here, there's an amazing wine list and it's worth popping in to soak up the atmosphere. After lunch, have a little walk up and down the Royal Mile and its surrounding areas.
On Advocates Close, you'll find Devil's Advocate, a great place for whiskies, beers and excellent food. Just down the hill a bit you'll find Market Street – the home of The Cocktail Geeks, a small but perfectly formed bar which changes its theme regularly. Whether the inspiration is Lord of the Rings, Stranger Things, Jurassic Park or Star Wars, the drinks are clever and delicious and there's usually some cool merch to match.
For pre-dinner drinks, head to Hey Palu, an excellent, modern aperitivo-style bar, and try the Negroni flight or the Blood Orange Sgroppino. I don't think anyone has managed to go to Palu and stay for just one – it's a welcoming, cosy wee bar. Just down the road as well is Dragonfly – one of the oldest cocktail bars in town but, after re-establishing itself in 2018 with a new owner and team, it's worth popping in for a cocktail or wine. Pizza is always a good way to break up some booze stops and in the Old Town we have Civerinos on Hunter Square. A neon pink beacon with amazing Italian classics done well – whatever you have, get the Burrata ball on the side, a cheese-pull worthy of an Insta post if ever I've seen one.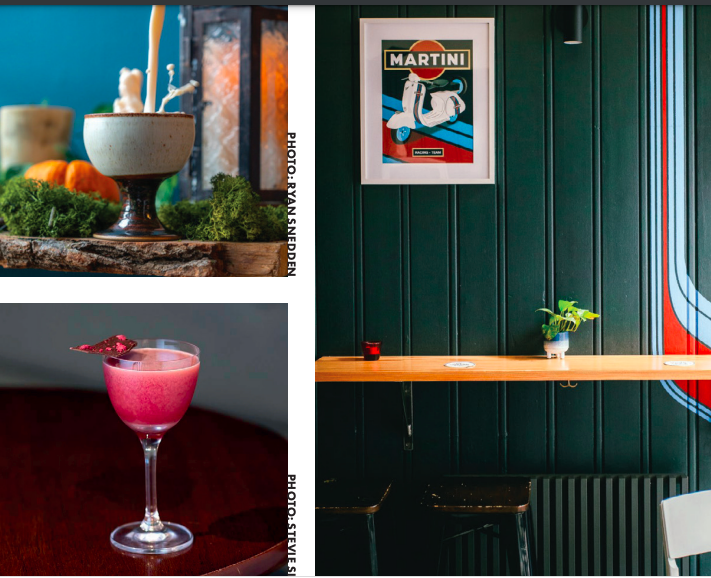 Day two
Starting off a day in the New Town, breakfast spots Papii and Urban Angel are both on Hanover Street and excellent, but if the night before got to you and you wake up late, go for lunch at Chez Jules – three courses for under £12 is a bargain. While you're in the area, pop across to Thistle Street and visit Bon Vivant. With one of the best wine and champagne lists in town, they also know their way around an excellent cocktail – I love their Americano, so simple and delicious and served with a side of olives.
Back on to Hanover Street there's a couple of bars you can check out. First, East Finch – an American-style bar with amazing Gumbo and a delish Irish Coffee. Second, closer to Princes Street is Hoot the Redeemer, a fun dive bar with alcoholic ice creams and slushies, all based on a New Orleans funfair – it's always a must-do for me when visitors come. Rose Street is close by, and with about 20 bars to choose from on the one street, walk down towards the West End passing tourist bars and shops until you hit The Black Cat. Excellently priced whiskies and beer are this bar's bread and butter – you'll find lots of locals enjoying this bar as well as lucky tourists who have picked this particular Rose Street bar to hang out in. 
Now head down to Queen Street to Panda & Sons and start what's affectionately known as the 'Queen Street crawl'. Panda is super well-established now, having featured on The World's 50 Best Bars list. The cocktails and garnishes are interesting and fun and it's always a great way to start the night. Try the switched drinks (a technique where the water is taken out of the alcohol and replaced with something else – more on this on page 52) – the switched Daiquiri is great.
If you walk east you'll hit Lucky Liquor, where the team change their 13-drink menu every 13 weeks and focus on 13 spirits. Drinks here are always innovative and they've brought out some of my favourite drinks ever – the Margherita Margarita (nominated for Class's Cocktail of the Year in 2018) lives rent-free in my head. Keep walking and on the corner of our old friend Hanover Street you'll find Bramble. Bramble needs very little introduction – it's 16 years old and it is still one of the best bars in town. Its mix of hip-hop, dim lighting, first-class service and amazing drinks has kept tourists and locals coming back in their droves. Try the Grand Central – it's a banger.
Another couple of blocks down and within stone's throw of each other you have two late-night bars: Nightcap and Uno Mas, both open until 3am. Nightcap on York Place is an intimate cocktail-led venue, while Uno Mas – my venue – is larger and has live music and DJs. Visit Uno Mas after 1am and you'll be surrounded by most of the other bar staff you've been served by that evening. You'll have tables drinking Dry Martinis and Mezcal Last Words sitting beside their pals having a beer and bourbon or a wee afterwork glass of wine. What an end to the night, and with five top class bars on one street offering five completely different offerings, this to me exemplifies Edinburgh.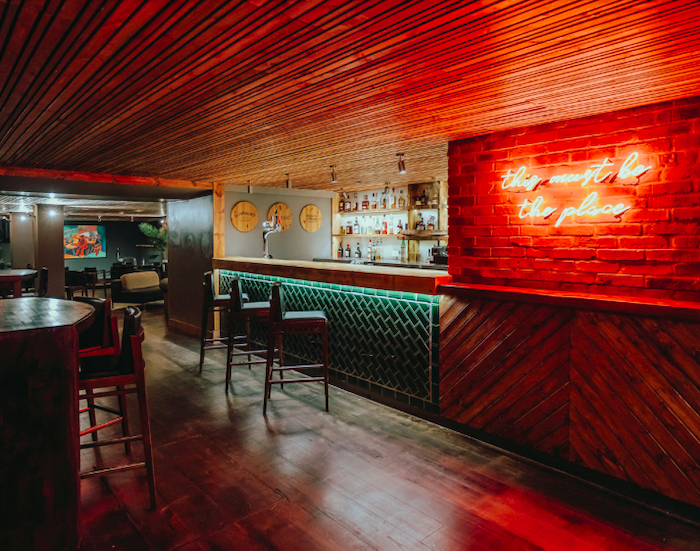 I've already run out of space to talk about how incredible Edinburgh is and there are still a few neighbourhoods to discuss, but quick shout-out to: Stockbridge, St Stephen Street, for the Antiquary Sunday roast, followed by The Last Word Saloon for a couple of post-lunch drams and cocktails; Leith: Nauticus and Mother Superior for drinks and drams, Bodega for tacos and Margs. 
Edinburgh is incredible – your only problem is going to be trying to limit your stay in each amazing venue, just so you can have the time (and the drinking stamina) to see the rest.