Liam O'Brien of Brass Monkey is your tour guide to Nottingham.
---
I don't know who you are or where you're travelling from, but a few things seem likely. You're probably arriving in Nottingham after mid-morning to avoid peak fares and you're almost certainly in disbelief at how quickly you've got here. The north thinks it's the south, and the south thinks it's the north, but Nottingham is in the glorious Midlands – two to three hours from anywhere in England.
Let me introduce you to the city. Nottingham has a history of rebellion, from stealing from the rich to give to the poor (no need to mention names here) to fighting for the rights of the working classes. The city saw the start of the Luddite rebellion and was at the heart of the Chartist movement; the English Civil War started in Nottingham and rebel writers such as Lord Byron and DH Lawrence hail from Nottingham, making it a UNESCO City of Literature.
All this is to say, Nottingham goes its own way. Which is great for some things, although not always when it comes to drinks. But, as your very own rebel writer and guide to the city, hopefully I can show you to the best we have on offer – because when you know where to look, there's a great night out to be found here.
Getting around
Right. So, you've arrived. Rule number one: Nottingham is pretty small, so leave you Uber mentality at the station. Not only do we have a totally wack one-way system, you can walk from one side to the other in 15 minutes. By now I'm assuming it's past midday, you've not come on a Monday (anything any good is closed on a Monday) and you're hungry. First stop is five minutes from the station: Pizzamisù. You will not regret it. You're also going to want to take note of the bar next door, which we'll be returning
to later.
If you're here for the day, take the time to walk over to the Nottingham Contemporary and soak up some culture – it's our Tate Modern – or hot-foot it through the famous lace market to Kigali for a coffee. Now you're fed, caffeinated and getting your bearings, pull out your phone and look up World Service Restaurant. Your walk will take you past the market square and over towards the castle (which isn't actually a castle – story for another day). Take the Bridlesmith Gate and Castle Gate for the more scenic walk and, while you're over here, get a quick shot with the Robin Hood statue and pop a peeper into two of the oldest pubs in the country – Ye Olde Trip to Jerusalem (1189) and Ye Olde Salutation (1240).
It might well be time for a snifter. World Service is the last of a fine dining dynasty after Hart's (RIP) and many others closed after years of service. Here, you will find a totally world-class team and some of them have been here since the venue opened. You can sit in the Japanese garden or inside in the lounge – my favourite spot is by the fire, even if it's sunny. The team will help you choose some of the amazing wines from the list or one of the meticulously considered cocktails or classics. Perhaps even a Field Marshall, Ed Belshaw's contribution to the UK Bacardi Legacy final of 2019. If it's still afternoon, the bar's Bloody Mary could be an idea too. But do stay hydrated, we have a long journey ahead.
Now head to Junkyard Bottle Shop & Pour House, but by 5pm swing by my place Brass Monkey [pictured below] for a pre-dinner cocktail. Is it ethical to promote your own bar? Morally vague, my wife would say. Anyway, the bar long predates me – it celebrates its 23rd birthday this year – and deserves the recognition as a Nottingham institution. The team can make you most things off-menu, but you've got a pretty good list of classics to go off and the HiFive menu (£5 cocktails) to keep you busy. Don't forget the water.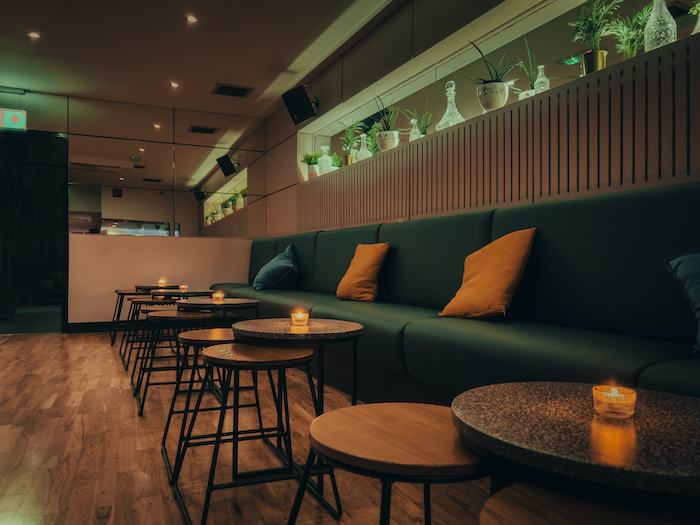 On point
Cottonmouth [pictured below] is your next stop, but maybe one more coffee at Café Coco Tang en route and, while you're detouring, a snack at Bar Iberico. I digress: Cottonmouth is one of the nicest and most stylish venues in the city – there's meticulous detail in everything that happens inside this building. I spend a lot of time here – not just because my friends own and operate this little beauty, but because the music is great and the drinks are always on point. And there's always water. So sit at the bar and get your hands round a Buster Keaton, Pony Girl, or whatever milk punch is flexing that day. Oh, and the Piña Colada is to die for.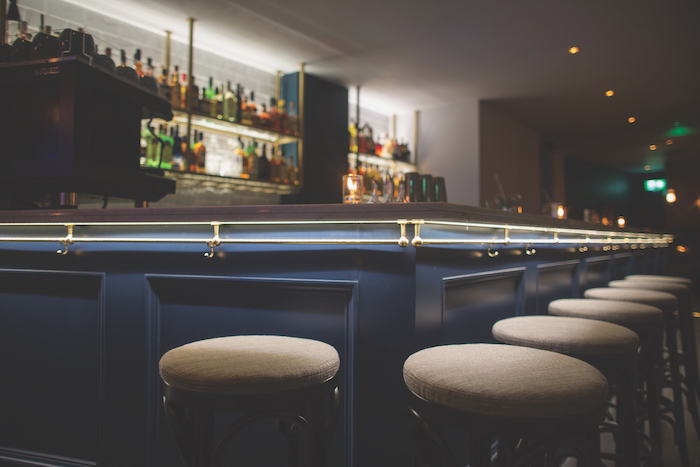 It's dinner time. Mesa just across the road is knocking out superb dishes, and on the other side of town – a whole seven minutes' walk away – is Kushi-Ya for some yakitori. Owners Simon – who I know from my catering college days – and Tom have been feeding me delicious scraps for eons.
In this part of town is The Dragon pub if you want to wind down, or visit Kushi-Ya's sister bar Yokocho. You will know you're in the right place as you will be able to hear LCD Soundsystem. Roll with it and smash some sake or highballs. Just over the way you have 400 Rabbits [pictured below]. Give Jules a high five and grab a tequila and a beer at the bar if you can, and watch out for the spicy red.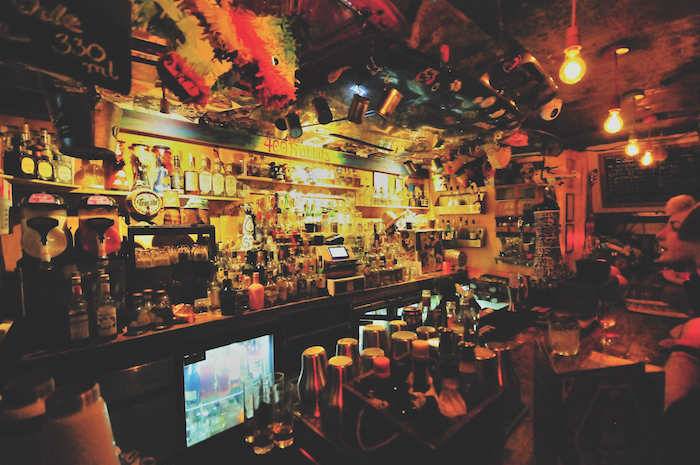 Now hightail back over to Hockley. Jam Café is a great live music venue with a banging beer list, some great drams and good hospitality – with regular pop-ups and collaborations there is always something cool happening. From here, head to your hotel, you've had a busy day. Or head to any of your favourites from earlier in the night. But be careful, in Nottingham all roads lead to Brass.