The Bartenders' Brand Awards, now in its fifth year, is our annual product testing - by bartenders, for bartenders.
---
---
The BBAs follows a three-step process to mirror buying behaviour, with each product blind-tasted, judged on value for money and finally by design. For more on the methodology behind the BBAs, read more here.
Next up in our serialised results is the top-five products in the World Whisky category.
---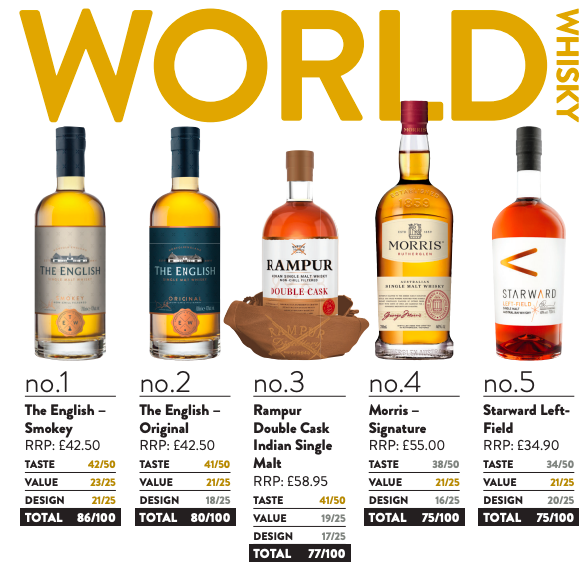 Well, fancy that – two English whiskies top our World Whisky chart.
Now, it should be pointed out we separate out Scotch, Irish and American, but progress it remains. The English – Smokey from the English Whisky Company (St George's Distillery) in Norfolk took a mammoth 86/100 in our test, with gold medals across taste, value for money and design – a rare thing indeed. Judges noted "subtle smoke" and "grilled tropical fruits".
The Mangrove-distributed brand also took second (80/100) for The English – Original expression with gold medals in taste and value and a silver in design. The panel picked out candy notes, banana, pear and honeydew melon.
In third came Rampur Double Cask Indian Single Malt from Radico Khaitan in India (77/100). Here the profile was described as being "woody, rancio and fermented tropical fruit" with "honeyed sweetness".
Then came two Australian whiskies on identical scores (75/100). We gave the nod on the taste score tiebreaker to Morris – Signature, which took silver with "beautifully defined flavours of morello cherry, earthiness, mushroom and smoke".
Starward Left-Field completed our top five. It was descried as "easy drinking and easy to mix".