The Bartenders' Brand Awards, now in its fifth year, is our annual product testing - by bartenders, for bartenders.
---
The BBAs follows a three-step process to mirror buying behaviour, with each product blind-tasted, judged on value for money and finally by design. For more on the methodology behind the BBAs, read more here.
Next up in our serialised results is the top-five products in the Irish whiskey category.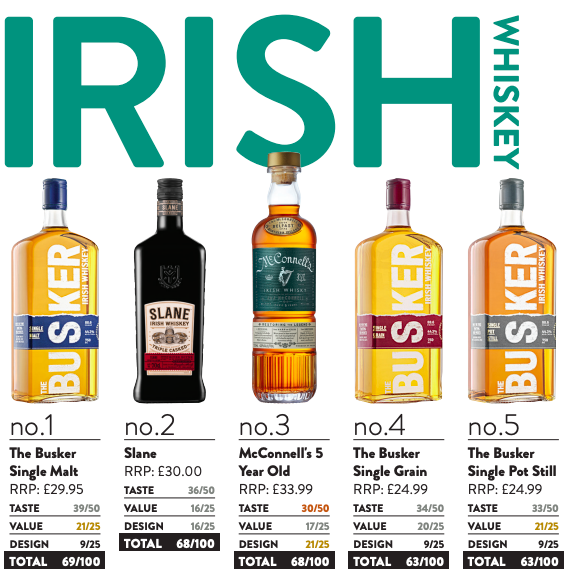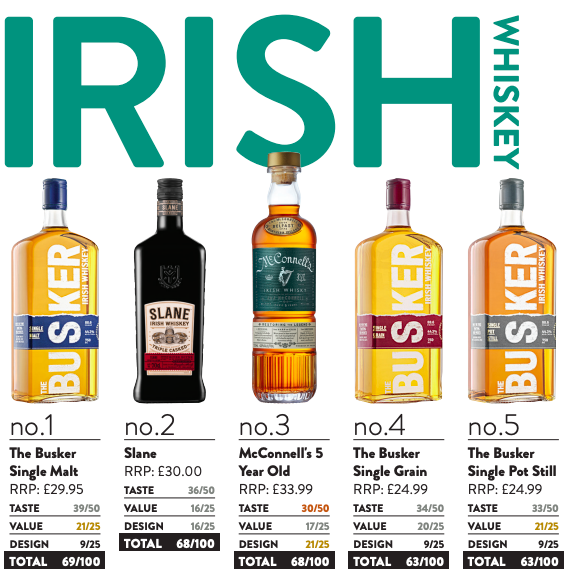 Irish whiskey has been quite the nursery of exciting new brands in recent years, and if the BBAs is anything to go by, The Busker is right up there among them.
Four expressions have been released by the Royal Oak Distillery, with three of them featuring in our top five Irish whiskies.
The brand's Single Malt took top honours with a high silver for taste (39/50) and a gold for value for money. "I think the price point is spot on, a solid price for the quality of liquid," said one judge to the panel's consensus.
In second was Brown-Forman's Slane, which took the second highest score in the taste assessment with 36/50 – one of three silver medals.
It pipped McConnell's 5 Year Old by the Belfast Distillery Company on tiebreaker. McConnell's took medals in taste and value for money but it was the bottle design that really caught the panel's eye. "That bottle isn't cheap – they've clearly invested here," was one comment.
The Busker Single Grain took silver in taste, which, given it was a single grain, was unexpected by the panel. One judge remarked: "I was impressed with this one, for a single grain it has nuanced fl avours."
Its sister expression, The Busker's Pot Still rounds off our top fi ve. It was noted for "good spiciness that is balanced and not overpowering", receiving a silver medal for taste and a gold for value for money.