The Bartenders' Brand Awards, now in its fifth year, is our annual product testing - by bartenders, for bartenders. 
---
The BBAs follows a three-step process to mirror buying behaviour, with each product blind-tasted, judged on value for money and finally by design. For more on the methodology behind the BBAs, read more here.

The focus of our serialised results today, is the top-five products in the vodka category.
---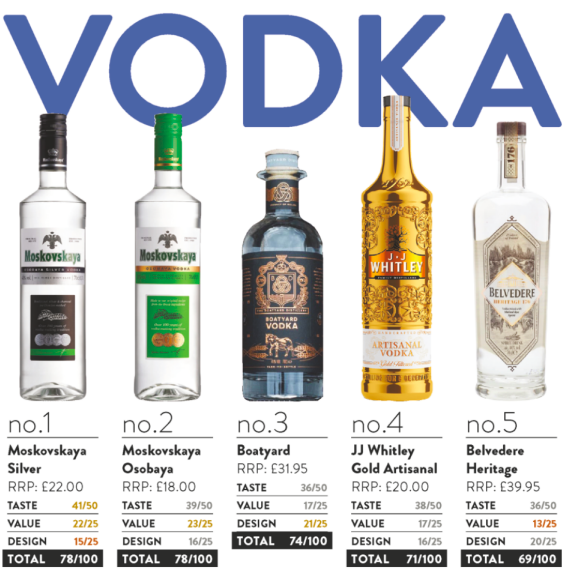 Well, the BBAs occasionally throws up a curveball. This year there were two – Latvian-owned brand Moskovskaya took the top two spots in the vodka category.
Moskovskaya's Silver expression, filtered through silver no less, did one better than the silver medal, taking gold in taste – the only product to do so in the whole category. Scoring 41/50, the panel said it "tastes great on the palate, with a lingering, spicy finish. A really good product".
78/100 was its total score, along with its stablemate Moskovskaya Osobaya, which it edged on taste. Osobaya scored 39 on taste – not far off a gold medal. Judges thought it was "well-balanced, complex and peppery on the palate". Both took golds in value for money, but performed less admirably on design.  
Boatyard Distillery's wheat vodka took top spot last year and this year followed it up with third, taking strong silvers in the value for money and taste test, but struck gold on design.
Meanwhile J.J Whitley Gold Artisanal vodka, the production of which is moving to England, took fourth, with three silvers. 
Moët Hennessy's Belvedere, which has pedigree in this competition, took fifth with silvers in taste and design – its higher price scoring a bronze medal for value.