The founder-owner of Callooh Callay, Richard Wynne, is to launch The Duchess of Dalston, a "banging neighbourhood cocktail bar with great music and good vibes".
---
With a soft launch pencilled for July 6 and full opening July 13, The Duchess of Dalston is located on 392 Kingsland Road.
It follows a bevy of high-profile launches in the area over the last few years, with The Duchess of Dalston just a few doors from Hacha and walking distance to Three Sheets to the north, and A Bar With Shapes For A Name to the south.
As Wynne's other bars - Callooh Callay (two sites) and Little Bat - his latest venue takes its name from Alice in Wonderland, called after the little sister of the Queen of Hearts, the Duchess.
Wynne told CLASS the bar is underpinned by a mission to promote gender diversity in the bar industry and that his latest venue would "promote an egalitarian philosophy" and that the bar would seek to "push women into management positions within the business".
He said he hoped this approach would inspire the wider industry.
The opening team of seven will see five women take up positions, including Juliette Combeau, formerly of Ever After, as bartender, and Freyja Morum who is promoted from within the group to the new site's assistant general manager. Naz Rodriguez, ex-Callooh Callay, joins as GM.
The venue will have capacity for 50 under current Covid restrictions, but could see up to 90 without distancing.
On the menu are drinks such as Ridley Me This, a highball made with gin, Lillet, absinthe, house strawberry kombucha, camomile lapsang souchong tea, fat washed in lemon olive oil.
Meanwhile, Her Name is Rio is a crisp and tropical low-alc spritz, combining Tio Pepe, Luxardo Bitter, passion fruit tepache, avocado leaf syrup, lime, saline solution and Franklin & Sons Mandarin Tonic.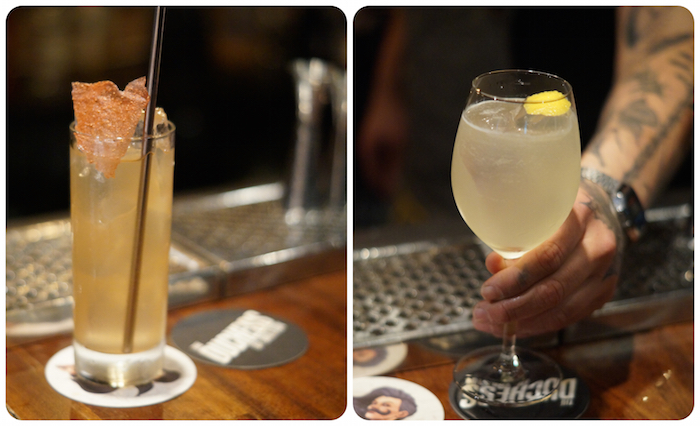 Left: Ridley Me This. Right: Her Name is Rio
Collaborating on the food at The Duchess of Dalston will be Don Miyagi of Carlito Burrito, where "South East Asian flavours meet South American street food".
Dishes include Oysters with Mezcal & tomato consommé shots and fish tacos with wasabi mayo, chipotle relish & kimchi. Chicken & Waffles with homemade Korean sauce and pickled cucumber with a fried egg, is among the brunch options.