The sequel to Ciarán Smith and Aaron Wall's Homeboy will open in April, with the promise of the same modern take on Irish hospitality but a bigger – much bigger – venue.
---
At capacity – when restrictions are relaxed - Homeboy Embassy Gardens in Nine Elms near Vauxhall in South London will serve 350-400 guests, with 140 seats indoors and an 85-seat terrace.
"We'll open on April 12 at 12 o'clock," Smith told CLASS. "The team – currently 12 but growing to 16 - will be onboard from April 7 and we can't wait to get going. We have awnings and heaters ready - there's going to be a great buzz."
Much of the formula of the Islington site will be rolled out to the second, with Guinness on tap and the family of Irish coffees taking starring roles. The House Irish Coffee, which became the original site's signature drink, is made with Jameson Black Barrel, and is joined by a Pot Still Irish Coffee with Redbreast 12 and the Belfast Coffee, with cold brew and Bán Poitín.
The site's backbar – taking in 350 bottles – will be led by Irish whiskey, with 150 expressions, while, with the American Embassy nearby, bourbons and ryes will play a supporting role, among a wider cast of spirits and a 20-strong wine menu.
Homeboy's founding cocktail menu at the original Homeboy, which straddled contemporary, Irish and classic cocktails, will underpin their new programme, which is reinforced with "some banging new drinks". Among the additions are playful takes on the Hurricane, Woo Hoo and Grasshopper. 
The food offering - which launches with a paired back menu but will eventually be served from 12pm-10pm and include brunches on Saturday and roasts on Sunday - will be "approachable and traditional with a modern Irish nuance". Or in other words: "the great pub grub back in Ireland done to a better standard."
Decked out in woods, olive green leather seats, with a long bar to its rear, the bar is built for volume, which doesn't daunt the Irish owners. "People might say it's a very big site but Homeboy for us is the smallest venue we've run," Wall told CLASS.
"Ciarán's background is in big F&B departments in 5-star hotels – The Waldorf and the Dorchester for example – and the bars I've run in London have been far smaller than the ones I've run in Dublin. So a food and drink operation running together is more along the lines of what we're used to. We're back in our wheelhouse."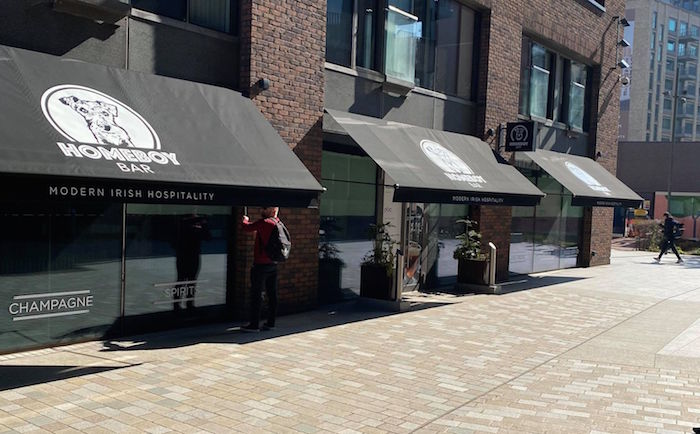 The site is part of a development by Ballymore, which wants to create a social hub for the Embassy Gardens area. "So, we'll be serving locals cocktails, pints, lunch and dinner," said Wall. "We're north of Clapham, besides Vauxhall and Battersea and just across the river form Chelsea. First and foremost, we're a neighbourhood bar – bringing Modern Irish Hospitality to the area."
Smith added: "We'll have live music two nights a week and DJs on the weekend. We think we'll be a neighbourhood bar during the week and a destination bar on weekends."
Five bars in five years
The launch is the next step of its owners' ambitious "five bars in five years" plan.
"We said from day one we wanted to grow quickly," explained Wall. "We have no investors, so site one pays for site two, site one and two will pay for site three – and so on. It's been a tough year for everyone but from day one we operated with the ethos of not owing anyone any money – no debt – and paying our suppliers on time. We had enough money in the bank to go hard into something."
Smith added: "Lockdown has given us time to work on the business rather than in the business, but we know what we have ahead of us opening such a big venue. We'll be in the building on shift for the first six months to lead and support the team. We've been working with this project for a year and we've put our names on the line with this venue. I can't wait for people to experience Homeboy on steroids."
On the subject of further sites, Wall added: "We need to be logical about our next steps. We're not in any rush. Hopefully this time next year, we'll be in a position where we're looking again. Our aspirations are quite lofty. Site four and five we want to do in Dublin and New York. We want to dream big. What was it Oscar Wilde said? "We are all in the gutter, but some of us are looking at the stars."