Erik Lorincz's award-winning Kwānt has finally reopened in a new location. Hamish Smith wasted no time in heading there to review. 
---
Why grade bars out of 10 if your ceiling is nine?" someone once asked. He was right – we've given a few threes and fours, some fives and sixes, a lot of seven and eights, a dozen or so nines, but not one 10 out of 10.
I didn't have an answer. Not one that didn't sound like I was a fairy-tale prince waiting to meet my princess. The truth is, I've just never quite had the nerve to pull the trigger.
Outside of love and mathematics, I'm not sure I understand perfect. Kwant, in its second coming, is as close as I've come.
Everywhere you look, it feels an upgrade on the original basement 'five-star tropical bar', which shuttered in late 2021 after its partner restaurant went out of business.
The new digs, a large, high-ceilinged space with floor-to-ceiling windows a few steps from Green Park station in Mayfair, is brave – and exposing. With these rents, this location, Erik Lorincz has nowhere to hide. Nor should he need to.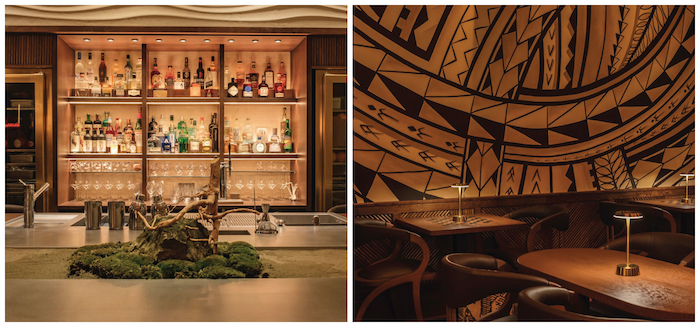 The space is splendid. Large palms fan out around the windows, which pour light on to an expanse of hand-painted Polynesianstyle art, before which woollen armchairs and chessboard tables, palm tree carpets and Indian green marble look up to a Vietnamese cane webbing ceiling.
Lorincz has spent the past 18 months planning, sourcing and designing it, not least the huge rectangular bar – his island in the tropics. Think Buck & Breck, Tayer, Sips – with floating bartenders, sartorially Savoy, but with perhaps more independent licence.
The drinks are all Lorincz – and not one of them has crossed over from the former venue. Take the Skin Contact (pictured below / £17), with Kinobi gin, Tío Pepe fino, tomato water, liquid shio koji, or the Arandas (£17) with Altos tequila, banana, sauternes wine, agave – both come in shallow, elegant glasses, with beautiful decorated ice surrounded by harmonious, perfectly balanced, delectable liquids. Tasting notes: yes, just yes. Lorincz has always had a knack for tastiness. 
Elsewhere on the menu it's mostly signatures, with a few adjusted classics thrown in. If you open a Mayfair bar and you put parsnip in your Martini, it shows a certain confidence. As does a Cosmo Highball.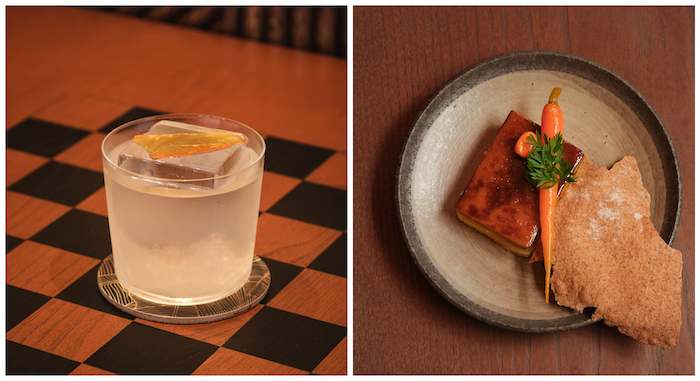 In the kitchen is Joni Ketonen, with a CV that reads The Fat Duck, Jason Atherton, Quay in Sydney, St John's. The food tastes every bit of it. Cheddar (pictured above £10) - Barbers 1833 vintage cheddar, brown cheese, carrot, seabuckthorn - is absolutely filthy, and Beef (£19) - beef tartare croustade, seaweed butter, sea vegetables - elicits involuntary groans. Expensive, maybe, depending what price you put on pleasure. This is bar food from the mind of a Michelin-star restaurant chef.
As day turns to night, the atmosphere is controlled by a mixing board – with 13 lighting moods and just as much control over music.
This, more than his former Kwant, is a bar befitting one of the best bartenders of the modern era. A place for the suave Slav to call his home.
52 Stratton St, London W1J 8LN
SCORE 10/10