Sean Muldoon and Jack McGarry, the Northern Irish founders of The Dead Rabbit in New York, have announced a parting of ways.
---
McGarry will continue to lead The Dead Rabbit as it embarks on an ambitious roll out plan across the US, while Muldoon and beverage director Jillian Vose will move to Charleston in South Carolina to open Hazel and Apple. 
Muldoon and McGarry rose to fame at The Merchant Hotel in Belfast, winning countless awards including membership of The World's 50 Best Bars 2011, before launching Irish bar The Dead Rabbit in 2013, which was named the World's Best Bar in 2016.
The parting is consensual and amicable. "We all realised we want different things," Muldoon told Class' sister title Drinks International. "It's nobody's fault - it's just a natural development."
They remain though, loosely entwined. Muldoon will retain his shares in Dead Rabbit, in effect making him a silent partner, while the bar's parent company is an investor in the Charleston venue. 
The Dead Rabbit redefined the international Irish bar, through traditional styling complemented by sharp and disruptive marketing and industry-leading drinks.
In the years that followed opening, the bar doubled in size – taking over the premises next door – while spin-off books were published (now counting five) and a Dead Rabbit Irish whiskey launched. 
"It was a phenomenal ride – I'm delighted with what we achieved," McGarry told Drinks International. "It's the end of one chapter and the beginning of another special chapter."
That second chapter almost opened in 2020, the trio having first announced an aggressive expansion across the US the year before. The pandemic not only slowed progress but it also gave rise to second thoughts.
"The more I thought about it, the more I realised it's not who I am," said Muldoon. "I was up for expanding to a couple more bars, but I'm at my happiest with different concepts - two or three maximum. I like doing unique things. The Dead Rabbit needs someone with fresh eyes – Jack is younger with different ideas."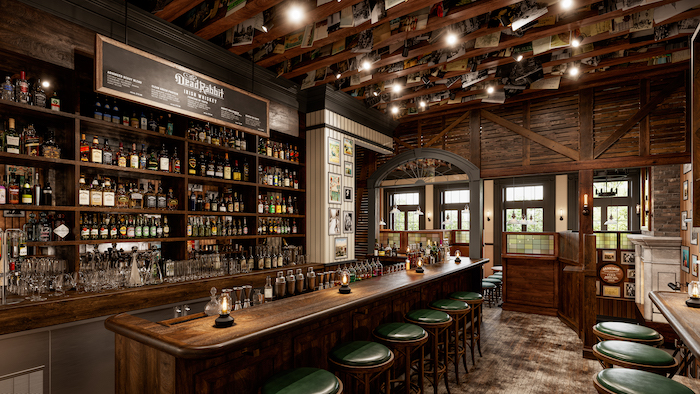 A render of The Dead Rabbit New Orleans, which opens Feb 2023
For McGarry, the delay only heightened his ambition. "My focus is to scale the company. By the end of year three, the plan is to have six locations, including New York. So it's pretty aggressive. New Orleans is signed and will launch for Mardi Gras [Feb 21st] 2023. We're at the final stages of signing for Austin, Texas, which will be [later] in 2023 – we're insistent on a six-month separation. 
McGarry's vision for future Dead Rabbits is that they will further pull away from the traditional, retrospective nature of international Irish bars. "We want to be the beacon of what Ireland is today," he said.
Hazel and Apple
Initially earmarked for The Dead Rabbit's expansion, the Charleston site will now be taken over by Muldoon and Vose in their first venture as a duo.
Opening in late 2022 or early 2023 on 549 King Street, Hazel and Apple straddles two rooms, an outside space and has a capacity of more than 300.
Its name, inspired by a WB Yeats poem, refers to its owners. "I wanted the name to be about the two people running the bar – Jillian and I - but didn't want to call it Jill and Sean's," Muldoon told Drinks International. "In Ireland the hazel represents wisdom and maturity – so me - and the apple is meant to represent vigour and youthfulness – Jillian."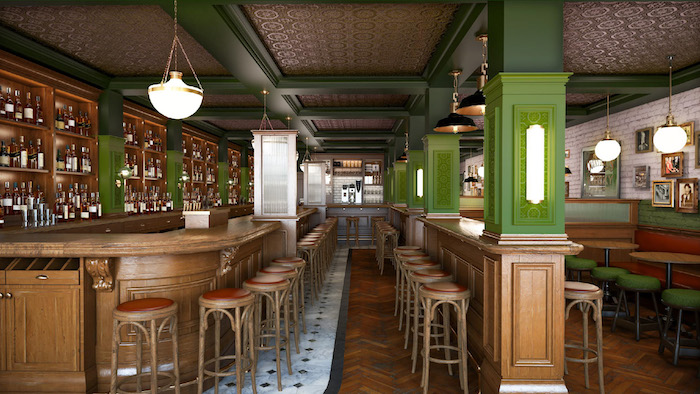 A render of The Hazel
The front room (pictured above) of the venue is named The Hazel. "It will have space for about 120 people," said Muldoon. "It's taproom-esque – an Irish pub meets a diner." 
Through to the back is The Apple (pictured below). "It's is a cutting-edge cocktail bar," said Muldoon. "Outside there will be space for another 90. It's a big bar – all in 270 seated and probably another 50 [standing]."
The décor will pick up on the theme, with hazel wood and green and red tones taking inspiration from apples.
For Vose the next step is to plan the drinks programme and start the search for chefs. Initially, she is thinking Irish/British fare but drawing on local ingredients, including seafood. "Being down here and focusing on the one venue, it'll be great to focus on local producers and collaborations," said Vose. "We're looking forward to getting open and having a solid programme – then we can look into special bottlings and things like that."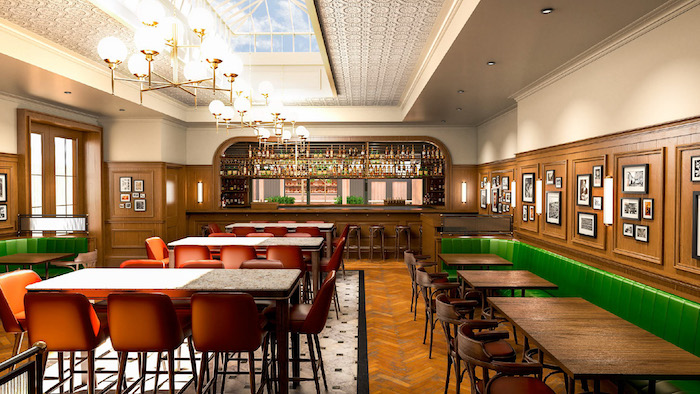 A render of The Apple
The move represents a change of pace for Muldoon and Vose who move to Charleston to open the bar. "Jillian and I have been close for a number of years now and I really have confidence in her as a beverage director," said Mudloon. "To be able to get her on board as a full partner meant a lot me."
Vose, who had been with Dead Rabbit for eight years, is ready for the move too. "I've been in New York for 12 years and in the industry for 19 years," she said. "This is the best outcome – New York is a grind. I went from Clover Club to opening Maison Premiere to opening a night club to running Death & Co to Dead Rabbit for eight years – that's a lot."
Muldoon agreed: "Charleston is a beach town – it's beautiful. It doesn't have the edginess of New York. When I walk the streets I feel lighter. It's got a great food scene but could do with a couple of more bars to really bring the scene to life. We're getting in at a really good time."
But things will be different to Muldoon's entry into New York, when the Dead Rabbit founders made no secret of their ambitions. "We aren't coming in all guns blazing," said Muldoon. "We want to fit in and respect the community. We're going to familiarise ourselves with what people are eating and drinking.
"We're going to see how Charleston goes. If there are opportunities to buy another place and do another concept in Charleston, we'd be into that, but it has to be local."