The Bartenders' Brand Awards, now in its fifth year, is our annual product testing - by bartenders, for bartenders. 
---
---
The BBAs follows a three-step process to mirror buying behaviour, with each product blind-tasted, judged on value for money and finally by design. For more on the methodology behind the BBAs, read more here.

The focus of our serialised results today, is the top-five products in the tonic water category.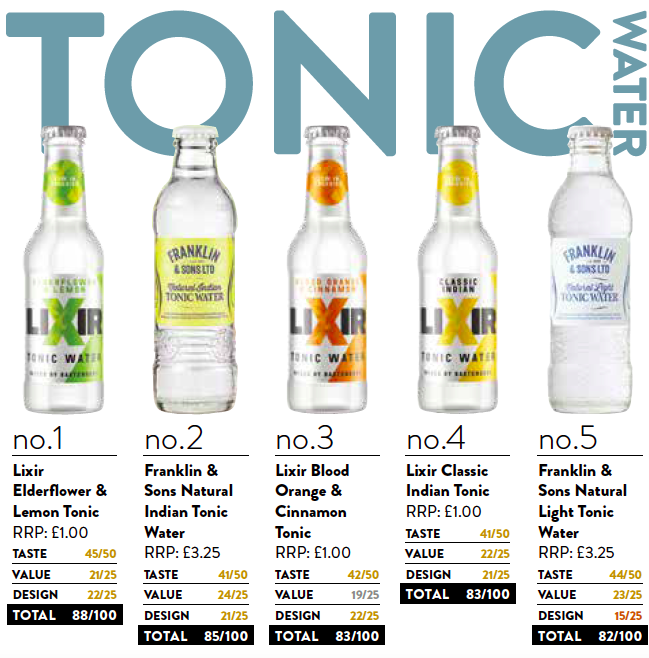 Bartenders Jordan Palmer and Matt Mahatme promised to shake up the mixer category when they launched Lixir in 2018, and little about our 2022 tonics tasting suggests they were wrong.
In one of the most competitive categories across the BBAs, they took three of the top-5 places. Their Lixir Elderflower & Lemon tonic came top, ahead of established brands Double Dutch, Fentimans, Schweppes and Franklin.
Judges remarked on the balance and clarity of flavour, adding it would "work well with so many spirits". It earned 21/25 on value for money, and the packaging "popped, with "bright, impactful" label design.
In second was Franklin's Natural Indian Tonic, which scored three three points less with 85/100. Judges noted "lively" tonic with "sweetness and citrus". "I could drink that over ice," said one. In third and fourth was Lixir.
Its Blood Orange & Cinnamon was celebrated for its aromatic "Christmassy" notes, while the Classic tonic was described as "light, fresh and easy on the quinine".
Completing the top five was Franklin's Light tonic – a boon for a segment that often fails to impress against full-sugar counterparts.
Outside of these highlights, Goldberg's Mediterranean tonic is worth a mention. Judges were fans of its flavour and more widely the range's retro design.