Silverleaf has probably been the most talked about London launch of 2022. Hamish Smith makes the Pan Pacific bar his latest in-depth review. 
---
I THOUGHT WE HAD REACHED PEAK MENU. About five years ago, there were the avant guard concept menus of Little Red Door in Paris and at The Dead Rabbit in New York, new ground had been broken with its fantasy-world menu books. Its sister Black Tail served up an opus of Cuban history – inconceivably with essays from the daughters of Che Guevara and Raúl Castro. And around this time London's City Social created an augmented reality menu. More recently, it has felt like the industry was in de-escalation. 
There was, I think, the collective realisation that, as wildly creative as the menu allows a bar to be, the more overblown or complex the concept, the more it struggles with that most basic of menu functions: to effectively communicate its drinks. The menu, I'd suggest, is the gateway, not the attraction. The aim, perhaps then, is to add layers to the experience without complicating it.
Which takes us to Silverleaf at Pan Pacific, one of London's latest launches. Here, in Devonshire House, a hard-to-find outhouse to a skyscraper hotel that looms over Liverpool Street Station, Martin 'Simo' Simpson, Chris Tanner and Liam Broom have made quite a stir. On the industry clapometer, this has been the launch of the year. 
It certainly looks the part: a dark and intimate space, with a sleek bar proud of a gold-glowing behind. Around the perimeter are camel suede booths and pitch-black leather sofas separated cleverly by large, muted lamps. Look carefully and you'll see the "naturalism" that inspired the design – and the menu.
I'LL HAVE A…
The menu here isn't just a drinks list. As you open it, there are symbols – a sort of key. Each links to a flavour profile – dry, fresh, floral, fruit, mineral, herbaceous, wood, rich aromatic and smoke – which is then repeated, where appropriate, as a sub-header to each cocktail: the language of taste but written in hieroglyphics. For each cocktail page there are prints of acrylic modern art, splodges of textured colour, each designed to connote flavour, playing with the idea of synaesthesia. 
It's all rather handsome, or at least, it would be if we could see it. Against the dimmed lighting, this menu has to be appreciated under torch light. And the flavour code? For all its ingenuity, seeing four abstract symbols on one page, then translating them on another, feels, in a bar, like a mental exercise too far.  
---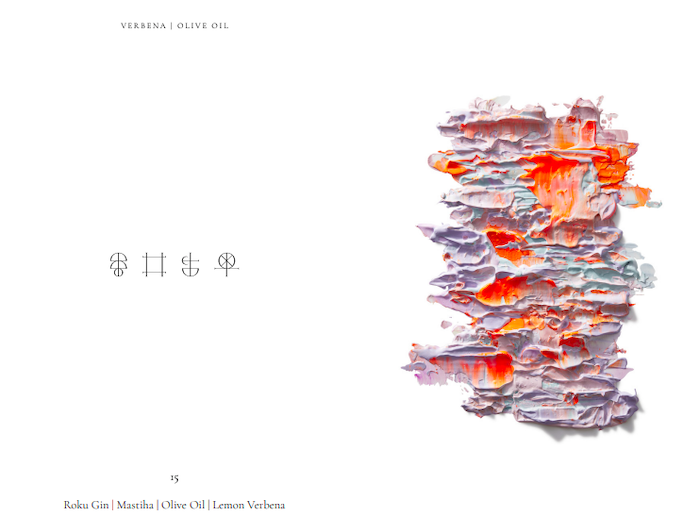 ---
Mercifully, the menu uses words too. And it is using these that precipitates the arrival of Pineapple & Miso (Craigellachie 13, pineapple caramel, miso, brown butter/all cocktails £15), a fat-washed Old Fashioned leavened by like-minded friends. It's thick and luscious, rich and harmonious.  
Brenda, my long-time review companion, has the long Apple & Woodruff (Ocho Blanco, Zubrowka Bison Grass vodka, Pink Lady whey, woodruff), which is grassy, fresh with green aromatics. A lick too sweet for her, it just stays in play for me. The Poached Pear & Anise (Rémy Martin 1738, cider brandy, poached pear, star anise) meanwhile, is sweeter still, but with a fermented funk, it has a primal complexity. It comes with a brush stroke of red edible paint across the outside of the glass, which is pretty to the eye and sticky in the hand.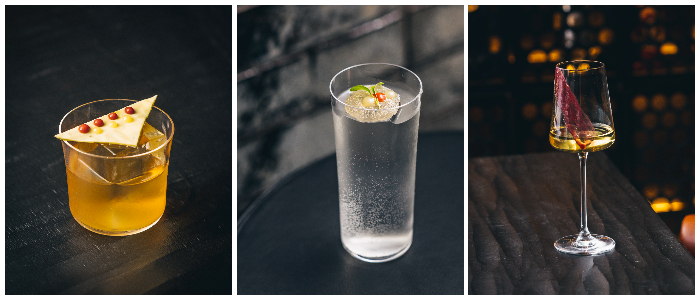 Silverleaf's Pineapple & Miso, Apple & Woodruff and Poached Pear & Anise
Brenda's Heartleaf & Kombu (Haku vodka, Dolin Dry vermouth, heartleaf distillate, kombu distillate, red wine vinegar) has the desert-like austerity she seeks, with minerality and puckering acidity. She finishes off with Verbena & Olive Oil (Roku gin, Citizens of Soil olive oil, Axia Mastiha Dry, lemon verbena cordial, orange bitters), which, with its globules of oil, is curious and rather pleasant.
Peach & Toasted Cream (toasted cream Michter's bourbon, lacto fermented peach cordial, puffed rice syrup), is another curvaceous short drink, with fat-washing again at play, but this time balance is found with astringency and woody tannins.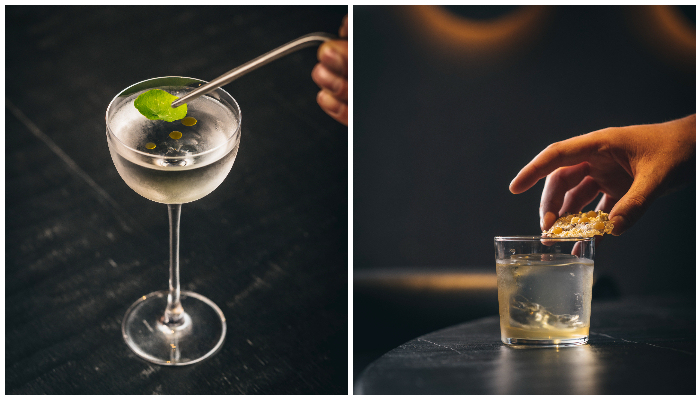 Heartleaf & Kombu and Peach & Toasted Cream
If not a pass with flying colours, the drinks-making at Silverleaf is of more than merit, with a few minors along the way. The food, though, failed with majors. If you could pierce through the rubbery rice wrappers of the Vietnamese spring rolls (£10) you are rewarded with lifeless vegetables. The pulled beef croquettes (£12) were dry old balls, while the beef rendang bao buns (£14), decent if a little burger-shabby, were not worth the price, nor the six-hours it took to cook them. 
But you're probably not here for the food, and perhaps Silverleaf isn't either. You're here for the atmosphere, the décor and the drinks – and perhaps the menu. It's beautiful, cerebral and utterly superfluous. But you can choose how much of yourself you give to it. There's plenty more here to admire.


Scores
Hospitality 9/10
Drinks 7/10
Food 7/10
Atmosphere 8/10
Decor: 8/10
Value for money 6/10
TOTAL 7/10