Ben Alcock, of HMSS and Filthy XIII, steers us through the drinking highlights of the gateway to the south west.
---
Before I begin what is essentially a local's guide to the city's bar scene, it is probably worth mentioning that I am not actually a Bristol native. I moved here in 2015, one day before picking up the keys to a venue for which I'd recently taken over the lease, a site I had only visited a single time.
The trip down to see the bar that would later become HMSS was itself, in fact, only my second time visiting the city at all, the first having taken place a year before during Bristol Cocktail Week and having been passed almost entirely in the basement of Rich Tring's Red Light – RIP – getting bevvied up by Emilio Di Salvo. I didn't know anybody else here. My business partners were in London and Worcester. Looking back, it was a pretty optimistic move and I certainly jumped in with both feet, but I now have no intention of leaving.
The bar scene in Bristol at the time had a pretty solid reputation; it's what drew me and the guys from Cocktail Trading Co to open HMSS here in the first place. Dimly lit speakeasies serving down and brown cocktails were, in those days, the fashion and leading the pack were Hausbar, The Milk Thistle, and, of course, Red Light.
While it would appear that the city has retained its appetite for the escapism of the speakeasy – see Mugshot's latest venture, the exquisitely furnished Library on St Nicholas Street for the most recent opening in this vein – the city is also a hub of creativity, which I believe has supported, encouraged even, the arrival of new faces and of different venue styles on to the cocktail scene. It is a testament to the community – on both sides of the bar – but particularly to the locals' fierce allegiance to independent operators that the bar culture over the past six years has diversified to such an extent. Okay, on to the tour.
Before you land in the city, I should warn you that everything is uphill. In both directions. It's quite amazing really. However, if you hold a valid driver's licence then you can pick yourself up a Voi scooter from any reputable pavement and whizz from place to place (I should point out drink driving laws do apply).
Let's start at the train station. Now, I'm assuming you're coming in via Temple Meads, but even if you're not then this is still the best place to start, heading first to the newest kids on the block: Bank. While Bank's operating hours make it a sensible spot at which to begin – opening at 9am daily to serve speciality coffee and small plates – it is also a geographically logical choice.
Located in Totterdown, which is entirely in the wrong direction for, well, everything, it is worth the journey for this place alone. Bank has a refreshingly clean look and a modern feel. The bar hosts a variety of local spirits and offers some incredibly delicious cocktails which perfectly fit the style of the space: clean cut, minimalistic in presentation and uber tasty. Word is their brunch is also killer, though I must admit I haven't had a chance to experience that for myself just yet.
Prime position
After finishing up at Bank, grab an Uber to your accommodation and ditch your bags. Surprisingly for a city that's in prime position for a weekend away – with incredibly easy transport routes from London, Cardiff and Birmingham – there aren't a tonne of hotels, making Airbnb one of your most cost-effective options. Wherever you end up staying, let's reconvene on King's Street. This 17th-century cobbled stretch is laden with old-school boozers which share classic pub-style benches up the entire length of the pedestrianised road.
At the base of the street is the most 'Bristol' establishment of the lot, The Apple barge, which does exactly what it says on the tin: it's a boat that sells cider. While an unmissable destination on any Bristol pub-crawl, do be wary of the strength of some of its offerings and perhaps limit yourself to one or two halves of Old Bristolian before that stag do you'd been eyeing up so dubiously begins to look like it could be a laugh to join after all.
Speaking from experience, it's easy to lose hours and hours on King's Street, but there's a lot more to see, so if you can, prise yourself away and take a short stroll through the old city.
Avoiding the carnage of the harbourside, get yourself to the safe haven that is Loose Cannon Cocktail Bar. Good value for money and one of the few independents in that area of town, Loose Cannon is not only a respite from the chaos that often accompanies a night out in the centre, but also a perfect example of the refreshingly lighthearted attitude that the city has increasingly adopted in its drinking culture.
Akos Rabi and the team prove that you can absolutely serve a cocktail in a bedazzled unicorn cup or a hollowed out Irn Bru can and still call yourself a quality cocktail bar as long as what's inside the cup is delicious and the service that accompanies the drink is personable and attentive.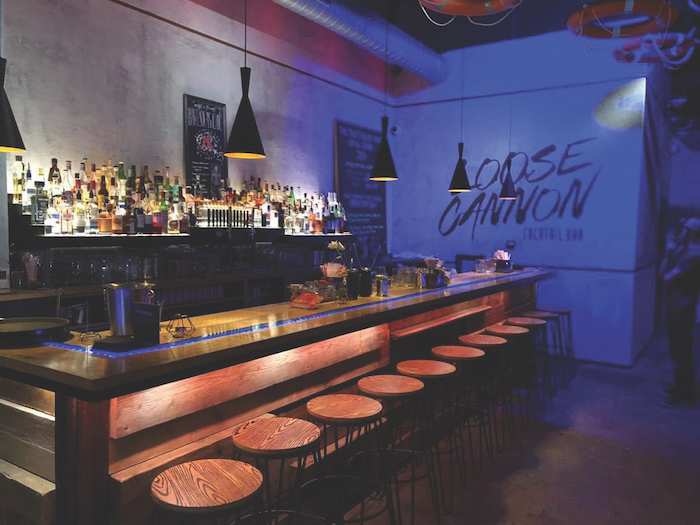 Loose Cannon
While the centre can become a little claustrophobic, particularly on weekend nights, Bristol is conveniently broken into several different boroughs, which, though close in proximity, each maintain a very different identity to the next.
One of the most dramatic transitions can be experienced moving from the mostly commercially-led harbourside just down the road to Stokes Croft, an area whose spirit can perhaps be best understood by reference to the political party to which it is home: the People's Republic of Stokes Croft, a party for the people, funded by local artists and fronted by a bone china shop (go check it out.) The area that surrounds it is populated by similarly liberal establishments, a trail of Caribbean restaurants, numerous Banksy artworks, and our next stop, Filthy XIII.
Filthy's is my second bar, which finally opened in 2019 after a series of painful delays. The vibe is laid back, the music largely hip hop, and the menu a continuously developing mix of classics and house cocktails largely centring on sessionable Spritzes from the taps.
If you're new to Filthy's, we'd have to recommend the Lychee Martini and the Absinthe Frappé, which have become by now our biggest house favourites. The aim of the bar has always been to make tasty drinks in a casual, unpretentious setting, but feel free to pop in some time, grab a side of nachos, and decide for yourself.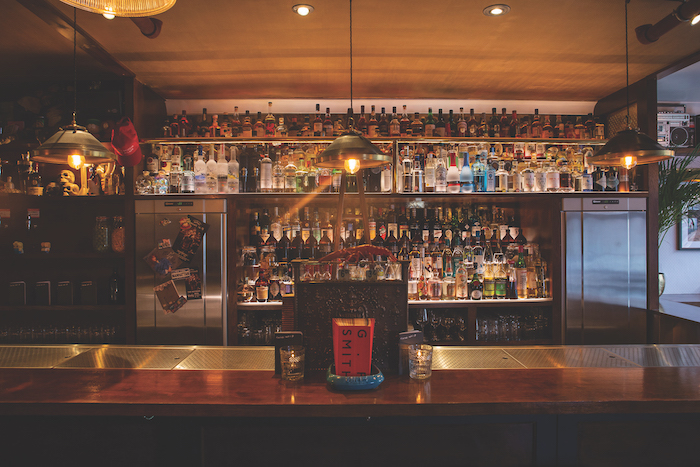 Filthy XIII
If you need another reason to come by, then let it be Sam Master Grill, a Persian restaurant and recent discovery – to us at least – which sits just across the road. Whatever the weather, head in and ask for the ice cream. They only do one. It's a house-made soft serve which uses saffron and rose water and is absolutely outstanding.
Borough-hopping again, let's head over to Clifton and Whiteladies Road. The area around Cotham Hill is continuously up and coming, increasingly filled with boutiquey shops and intimate cafes and restaurants. You'd be hard pressed to find somewhere to eat badly here, but a couple of my favourite spots would have to be Pasta Loco and Bravas. Booking in advance at both is essential but definitely worth the forethought.
Neighbouring both venues is the next stop on our tour, Crying Wolf, sister bar to the famed Dark Horse in Bath. While the styling and architecture of the venue, and of the city of Bath itself, provide the Dark Horse with a certain sense of grandeur, from Crying Wolf expect a cosier neighbourhood feel, well-tailored to the surrounding area.
With a full menu of house cocktails to get you started, the staff are also some of the most knowledgeable in the city when it comes to old-school and obscure classics, so don't be afraid to go rogue here. That said, if you've only got time for one, then it's got to be the Piña Colada. An extremely indulgent, salted coconut take on the classic, you will not regret this one.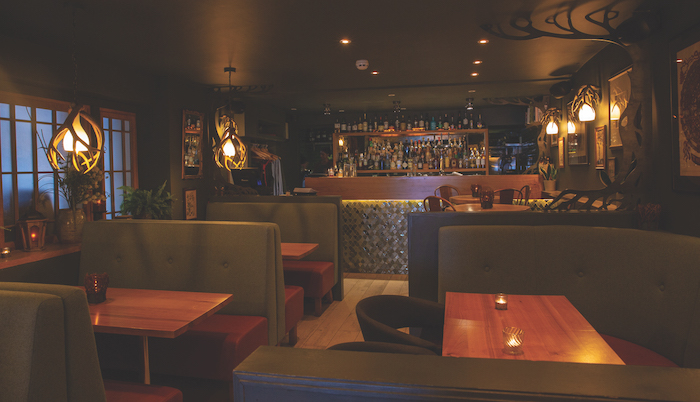 Crying Wolf
Novelty and playfulness
While we're in these ends, we really ought to swing by my first bar, HMSS, to see the team. Matt Jonah, Benji Shelmerdine and Ashleigh Cilliers are guiding HM through a phase of rejuvenation. While the menu drinks will always retain their extravagantly playful nature, there will also be a larger focus on lesser-known classics, supported by updated decor that pays tribute to the evolution of cocktail culture. If you've visited HM before, don't expect to find the telephone box in its original form, though you will still be able to fill up on Twisters.
Continuing with the theme of novelty and playfulness, just down the hill you will arrive at Clifton Triangle. The Triangle is home to some of the more lively late-night drinking outlets: Be At One, London Cocktail Club and a littering of local nightclubs. Discreetly tucked away down a side road you will also find one of Bristol's OG cocktail bars, Hyde & Co.
This speakeasy has been home to many credible names in its past and keeping up that tradition at present is Dan Bovey. You won't always find Bovey on shift here (as he now looks after the wider Hyde & Co Leisure group's bars), however it still seems to hold a special place in his heart.
Hyde has recently launched a new menu of bespoke cocktails: a selection of drinks described by flavour foremost and paired with dark, bewitching poems. The latest menu, with its Gothic enchanted theme, is reflective of the charmingly clandestine nature of the venue, a bar that's perfect for a quieter date night or for picking away at Dan's dusty stash of whisky.
It's been a pretty full-on trip so far, so I'm going to take you for a swift pick-me-up before the real carnage breaks out. Continuing back towards the centre of town – again a walkable distance or a lazy Uber ride (we've probably drunk too much to scoot) – head for St Nicholas Street where we'll be getting yet more ice cream… kind of.
Brozen is a cocktail bar with a difference and that difference is liquid nitrogen. While Brozen does offer classically made drinks, its real niche and expertise lies in mixing sorbet and ice cream-based cocktails. The novel processing of the cocktails makes for a refreshing break in an evening of drinking, but remember that they still pack a punch. A Hanky Panky sorbet will definitely still get ya.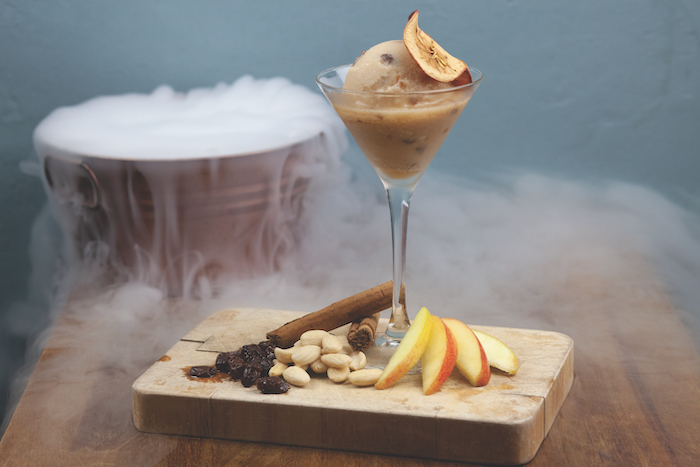 Das Strudel at Brozen
I'm going to leave you with one last destination and from here you are on your own… though at The Mothers' Ruin you won't be on your own for long. One of my favourite bars ever, this is a through-and-through dive that simply could not be replicated. Open until 2am, order some J-Bombs, and from then on, question nothing.