When things start to return to normal, why not visit that UK cocktail scene you'd always meant to? The Watermark's Dariush Haghighi writes our guide to Leeds
---
If there is one area that deserves your attention when planning a trip in the UK, it is Leeds. Situated in West Yorkshire, it boasts beautiful landscapes, a plethora of walks in rich and wild countryside on its doorstep, centuries-old pubs and a thriving independent bar scene. Enough to fill a to-do list for at least a weekend break.
When many of the world's best bars and brands have been created or developed by Leeds bar alumni, there's clearly something special happening here. Bar culture in Leeds has slowly evolved its DNA from party bar institutions such as Mojo, Jake's Bar and Oporto, into more refined, conceptual bars where table dancing is swapped out for table service. Those late-night institutions are still rocking the city but the addition of neighbourhood bars and polished cocktail dens bring a warmth and depth to the scene.
Before anything you'll want to book a hotel. There are options for every budget, but do check out the Dakota Hotel – it oozes luxury but doesn't necessarily carry the price tag if you book ahead. It's centrally located and the bar on the ground floor is a great place to rendezvous. There is no bar strip as such, so you'll want to work your way from one end of the city to the other – you'll circle back eventually. And let's face it, you'll inevitably find yourself propping up the bar under a swinging lampshade in Oporto at 3am, regardless of any plans – something to keep in mind when picking your hotel. So, let's get down to it – the bars a weekend in Leeds would be wanting without.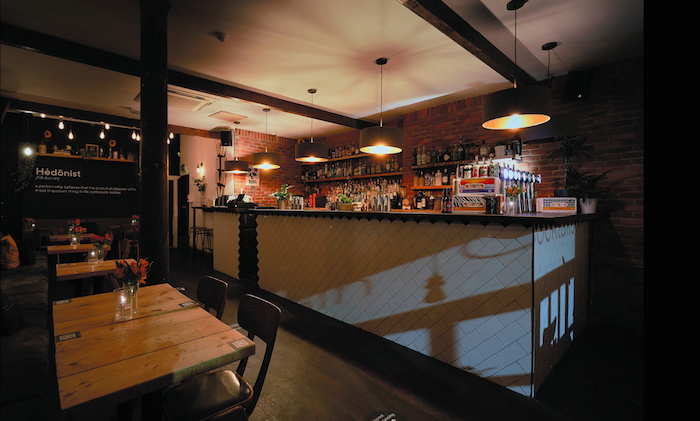 Hedonist 
Hedonist is a cosy neighbourhood bar opened by Dan Crowther and Bruce Lerman in 2015 around the idea of a permanently fixed pop up that changes its personality every three months. The concept has developed and now the menu is the rotating theme taking you around the world, city to city with each edition. Everything this team does is a gold ticket to flavour town. Above the Hedonist bar is their Liquor Studio where you can book a masterclass and make personalised gin by blending homemade distillates with co-owner Jon Lee before taking your creation home. Nearer than nearby is Smokestack for a swift Sazerac. A candle-lit, New Orleans-inspired cocktail bar and a pillar of the Leeds bartending community.
Hidden gems
One of the beautiful things about a walking tour through Leeds is the network of alleyways that lead to the traditional-style pubs and hidden gems. If you walk up the main high street you will see walkways leading to pubs such as Whitelocks, The Ship and The Angel. Decent for a swift half of Yorkshire ale while you check off your itinerary.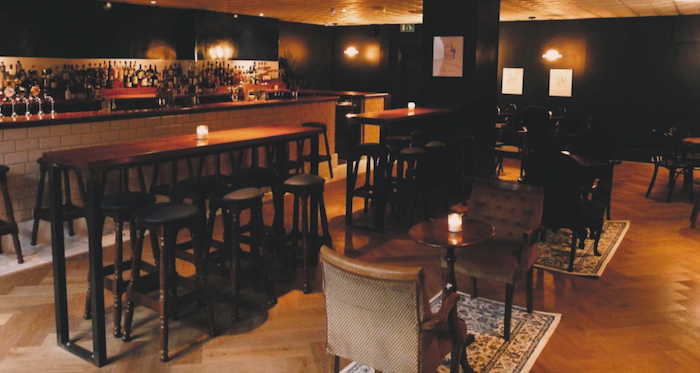 Below Stairs 
Below Stairs, opened by Manacháin (Mannie) Monaghan in late 2017, took absolutely no time getting itself on the map. The team have made a habit of collecting prizes at cocktail competitions they enter and Mannie was recently nominated In the Class Bar Awards for Bartender of the Year. So, you know you are in good hands if you manage to get a seat here. Every detail of the décor, furniture, the tactility of the menu, even the colour of the font, is meticulously chosen to transport you from the humdrum of working life into escapism. The current menu is designed around storytelling, with each drink taking you to a specific memory or place.
A short walk up towards the top end of town is Leeds's 'northern quarter'. You need to get a table at one of two places here. Stuzzi is where you find Italian small plates and fresh-made daily pasta, a banging wine list and casual, class service. The other is Thai A Roy Dee, the most "don't judge a book by its cover" restaurant around. It serves authentic Thai food in what feels like a canteen, but it's BYOB, the food is spot on and it is always, always full.
Cutting edge
Back on the bar trail, Domino Club is one of the worst-kept secrets in Leeds. It opened in 2017 as a hidden basement cocktail bar beneath a barber shop with live music every night of the week. It is like entering Narnia when you make it through the back of the barber's and down the stairs. A huge room with back-to-back booths on one side and a red-lit stage on the other separated by a beautiful bar along the back wall. A cherry-picked team of the finest bartenders in black turtle necks smash out high- volume cocktails with impeccable consistency and presentation. It's up to you whether you grab a seat at the bar with a view of the stage, get in among the crowd or grab table service in a booth. Either way, this bar is in capital letters on your to-do list. If you time it right, they often have a limited-release bottle on the back bar, selling one shot a guest at cost price.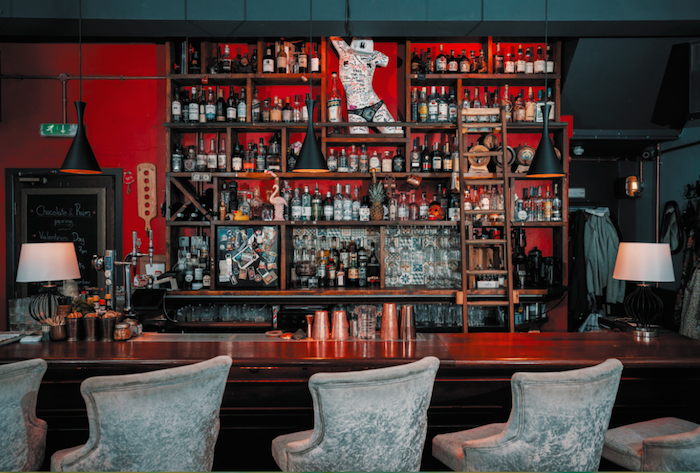 The Watermark Bar 
For the next stop on your list you might want to find The Watermark Bar, which, in the spirit of full disclosure, I co-own. This bar started life as mine and Filippos Filippopoulos's old house bar. The parties and events thrown there had almost cult status in the industry, which eventually paved the way for the real thing: our own bar. This is where you go if you want that home away from home feeling, whether its 5pm or 3am. Simplicity is the main ingredient, with the cocktail menu etched on the blackboard and the wooden library ladder sliding across the back bar of spirits at the guest's request. We've always felt it's the little touches that make you feel like you're at home among friends – friends you've just met. True to the original home bar shenanigans, we don't hold back on parties. Last year bartenders from three tiki bars worked the stations and we filled the place with five tonnes of sand for a beach party in mid-October.
If you've still got the appetite, there are many more to tick off. A friendly bar stool and a glass of wine? Roland's. An underground party bar? Jake's Bar & Still (thank Jake Burger for that one). Tequila and tacos? Neon Cactus. Even better, these three are neighbours too. That's the thing about Leeds, everything is a walk away, with a great spot in between.