Hamish Smith visits one of the big London launches of 2022, Sweeties at The Standard hotel, to see if the 1970s can ever be grounds for (good) cocktail inspiration. 
---
It was in 2015 that David Wondrich wrote the Esquire article: The Misguided Return of the Crappy Drink. It had me at the headline, but the article was pretty good too, encapsulating as it did the reboot and regression of cocktail trends to emulate the dark ages of drinks making. Back to blue, back to goo, but this time 'crafted'.
Wondrich, who had the dubious pleasure of actually drinking through the drudgery of the '70s, '80s and '90s and had a significant hand in dragging us out of it, made the entirely reasonable point that you can't craft a Melon Ball. There's no elevating a Harvey Wallbanger. These drinks, all lurid and synthetic, are anti-craft by design, so why would you bother improving them?
I may have only caught the back end of the dark ages, but I was there, man. I was there. And I never, not even ironically, want to go back. Thankfully, I mostly haven't had to. The disco drinks trend has mainly fizzled out. Like with the mullet and moustache, when everyone is telling the same joke, it's really not very funny. But occasionally you see a flicker, an echo of the thinking. Not full-theme, but nods and winks to that benighted era. Which brings us to Sweeties at The Standard, launched in Spring-ish 2022.
Sweeties at The Standard
Standing in front of the 1974 brutalist structure in Kings Cross that is now the hotel, it would have been difficult, thematically speaking, for its creatives to go anywhere else than the 1970s. And one foot in the warm, it's clear they've consummately captured it. From the immaculately attired bellboy at the ground floor, to the most retro (but safe) lifts you've ever ridden and the "1970s opulence" of Sweeties at the top. It all stays masterfully in character.
The problem is that when it comes to the food and drinks, this theme creatively imprisons itself in a gastronomic period that popularised instant mash and spam fritters. But that's okay, the restaurants at The Standard draw inspiration from the style, less so the food - that would be culinary hari-kari. The bar? Why not? Yeah, fuck it, the mixologists will come up with something.
Sweeties' décor takes you to a high-roller's high-rise apartment. It's all velvet sofas, mirrored tables, and floor-to-ceiling windows that bring the skyline inside. And in any room, a six-foot phallic sculpture has a way of setting the tone. The drinks being served around the lounge by a team of friendly and efficient hosts have an arresting, traffic-light glare, illuminating the otherwise dark space. The drinks also, I later read, include "a blend of feel-good ingredients and energising adaptogens and nootropics". Put away the cocaine party people, we now have mood-boosting vitamins in our drinks.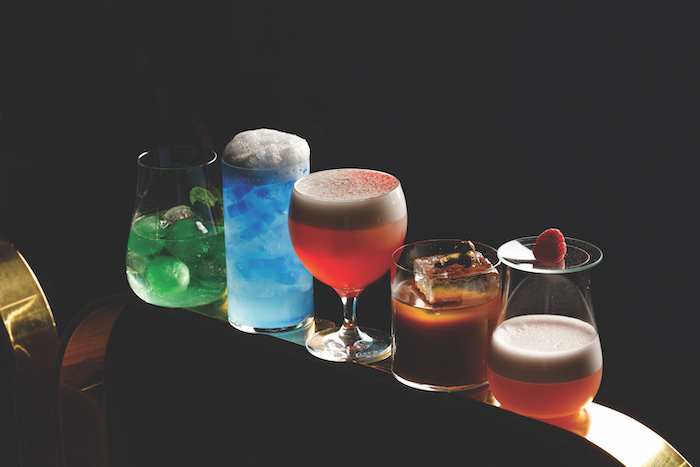 So how do they taste? Frothy Boi (Chase GB extra-dry gin, lacto-raspberry, bayleaf, pink salt, fermented fluffy oats/£18), is a tuliped, thick-set glass of deep red-raspberry liquid with a frothy head that plays with your senses, but not in a good way. You see full, round and sweet, but what you taste is thin, sharp and tart – it's raspberry through the prism of austerity and just as unpleasant.
Alongside it is Shocking Blue (Chase GB extra-dry gin, seaweed distillate, citrus, spirulina, soda/£18), which it certainly is, and not something you would think to pair with human consumption. It tastes marginally better than it looks, but for a drink described as bubbly, it's flat. For a long drink, it has the concentration of something much shorter. And for a liquid that's not a sauce, it's far too salty.
For Round Two we opt for drinks that might muster a revival. The Payback (Hennessy VS cognac, roasted chestnut, apple & hay ferment, rosemary, bonfire tincture/£17) is unfortunately a false prophet. Warming and fulsome to the ear, it tastes empty, over-diluted and insipid; I've fished out better from the dregs of a punch bowl. But wait, Purple Rain (Johnnie Walker Black Label whisky, salted plum, amazake, cherry bark, blossom wine/£19) lands and it is what it says, "complex and aromatic". I'd add in "balanced" too, which, against our first three drinks, feels a revelation.
We venture deeper, in search of answers, maybe some meaning. Pick Me Up (Ciroc vodka, Eminente rum, coffee, mushroom, caramel, burnt butter/£19) has green coffee notes balanced with earthy, umami flavours – a boringly brown drink and – surprise, surprise – it works very well. But if we thought we were on a roll, we soon slow up. The Martini (Ketel One vodka, fino sherry, white tea, cucumber/£14) feels like a matter for trading standards. Overwrought through tinkering, it's all soapy cucumber – more wet wipe than Dry Martini. And most unforgivably, it's not very cold.
That's six drinks, so let's check the scores. We make it two hits and four misses – and misses that were ballooned over the crossbar. Brief hit, I suppose. Sweeties really is like being in the 1970s.
ON THE SCORE BOARD
Hospitality 8/10
Drinks 3/10
Atmosphere 7/10
Décor 7/10
Value 3/10
TOTAL 5/10

The Standard Hotel, 10th Floor, 10 Argyle Street, London, WC1H 8EG