Michele Zonin, seventh-generation family member and vice-president of Zonin1821, looks at the history and modernity of a classic Italian wine.
---
Gambellara is the home of Zonin and a site where wine has been produced since Roman times. Tell us about the history of this area.
Gambellara is located just before the foothills of the Lessini mountains, in the heart of Veneto, between Verona and Vicenza, an area renowned for centuries for its wine production. In a Roman villa dating back to the 1st century AD, traces of an ancient harvest date the tradition of vine cultivation in this area to more than 2,000 years ago.
An historical link exists, therefore, between the village of Gambellara and wine, intertwining later with the epoch-making story of my family: if the history of wine is linked to this land, the history of the family is interwoven into both, since various historic documents date the earliest traces of the Zonin family in this area to the 16th century. Moreover, taxation maps dating to 1821 cite Giovanni Battista and Girolamo Antonio as the owners of a vineyard, marking the spot in which
the Zonin family's venture into the world of wine began and has continued up to the present day.
Zonin is a brand with 200 years of tradition and heritage but is also positioned as an inclusive, accessible wine. Tell us more about the brand.
We are delighted that Zonin is considered one of the symbols of Made in Italy in the world due to the fact that, for many years, our wines have been exported to more than 100 countries.
Thanks to the support of all employees, for seven generations, my family has passed down a unique heritage with a progressive look to the future: care for the territory, respect for biodiversity, enhancement of local winemaking traditions, technical experimentation, innovation in production processes and sustainable development are all key elements that express the company's DNA.
After so many years, Zonin wines are still found on the tables of numerous families around the world, to celebrate moments of authentic beauty and daily conviviality. Inclusive, welcoming and accessible, we can say the brand Zonin, thanks to its products, celebrates the lightness and positivity that distinguishes daily life made up of shared pleasures and joys to which we toast with our family, friends and all the people we love most.
The brand is composed of different product categories that satisfy the needs of different and eclectic consumers.
The Jewels range (which includes Lugana, Valpolicella Ripasso and Amarone della Valpolicella) embodies great-quality wines of noble lineage, born and bred of Veneto's finest wine-producing traditions.
The Classic range is composed of superior-quality wines with a designation of origin, including some Classico zone-designated wines that further embellish the range. Particularly appreciated are our Chardonnay, Pinot Bianco, Pinot Grigio and Cabernet. These nationally and internationally recogniaed and renowned wines enjoy the added lustre conferred by the contemporary profile of the Zonin brand, its history, and its ability to anticipate and interpret future trends.
Last but not least, our Zonin Prosecco – one of our true icons.
We are very proud of all Zonin wines because they continue to receive celebrated international awards and coveted trophies that underscore their authority and excellence. These include the Decanter World Wine Awards, the Berliner Wine Trophy, the China Wine & Spirits Awards, Falstaff, Gilbert & Gillard, Mundus Vini and the International Wine Challenge.
Zonin is a DOC prosecco – can you explain what this classification means?
Named after the former village of Prosecco, now part of the Italian city of Trieste, Prosecco DOC is exclusively produced in a limited area of north eastern Italy. According to EU law, Prosecco can come from just nine provinces in two Italian regions, Veneto and Friuli-Venezia Giulia. The Prosecco-producing area is defined by its setting between the blue Adriatic Sea and the soaring Dolomite mountains.
In 2009, to stop imitators around the world from using the Prosecco designation, Italy has regulated and protected the Prosecco name under its DOC and DOCG regulations. As part of its efforts, the Italian government also officially changed the name of the grape from Prosecco to Glera. Glera must account for at least 85% of all Proseccos. Other grapes commonly added to Glera include native varieties Verdiso, Bianchetta Trevigiana, Perera, Glera Lunga and international grapes Chardonnay, Pinot Bianco and Pinot Grigio.
The unique regional geography and microclimate help produce Prosecco's characteristic fruit flavorus. In addition, the grape-growing practices for Prosecco include highly traditional vine-training methods, using historic forms like the double-arched cane, the Sylvos or Sylvoz system, also known as the hanging cane, as well as Burgundy's traditional Guyot vine-training method. These traditional forms help to create extremely aromatic fruit, often with rich notes of fresh apples, peaches, pears, and melon, as well as jasmine flowers, acacia blossoms, nuts, and fresh-baked bread.
Cuvée 1821 Prosecco DOC Brut is your most famous style – how would you describe its taste profile?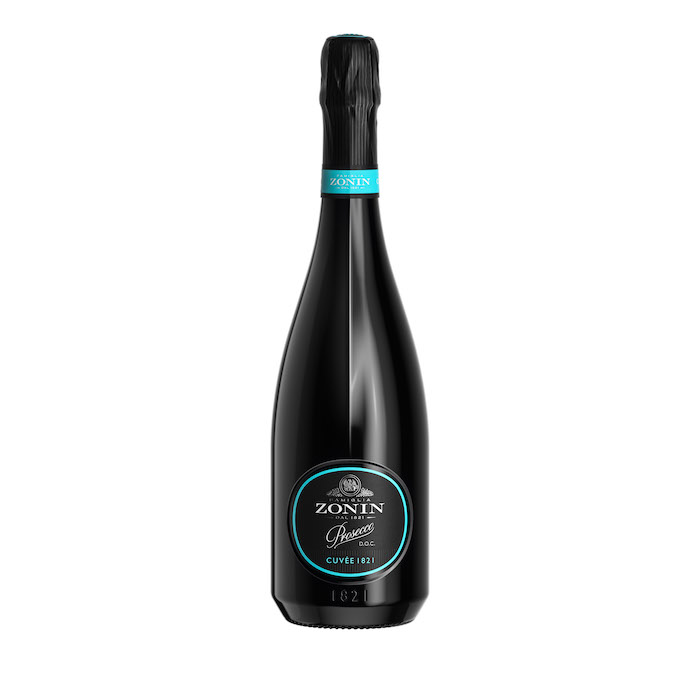 Typical Proseccos have aromas and flavours of white spring flowers, citrus fruits, green apples and pears: they are balanced with lively acidity and an elegant mousse.
Cuvée 1821 represents the symbol of a success story founded in 1821, it depicts the contemporary attitude of quality drinking. Cuvée 1821 is a combination of different souls: here the human touch meets cutting-edge technology and the sensitivity of the winemaker finds virtue in precision. In this Cuvée, creativity becomes a concrete reality.
An excellent aperitif, it can also be served throughout the meal – including dessert – as long as the dishes are not too strongly flavoured.
The bouquet is attractively intense; very fruity and aromatic, with hints of wisteria flowers and Rennet apples. The flavour is very well balanced and appealing, with the extremely delicate almond note that is typical of Glera grapes.