A speakeasy in the UK's largest pub? Hamish Smith stops by one of this year's big launches, Brewdog and Rich Woods' Lost Property Office.
---
Growing up not far from the sprawling south London terminal Waterloo, it felt rather cosmopolitan to be four stops from Paris. And without ever bothering to find out, I'd always wondered what had happened to the great blue-framed glass canopy of Eurostar, our one-time window to continental Europe.  
It was only this summer that I found out – very little, it turns out. Until very recently at least. Since August, in the bowels of the station beneath the old platforms, is now the UK's largest pub – a 27,500sq ft theme park of beer. Who else could be responsible but our favourite craft evangelists, Brewdog? 
This, of course, wasn't our final destination dear readers, for within Brewdog Waterloo is something else that had its heyday in the mid 2000s – a speakeasy. It's daring on the part of Brewdog HQ; for a brand that has so much baggage, it has opened a speakeasy named Lost Property Office. 
But for a pub that has a slide and a coffee shop, a hidden bar isn't the most surprising feature. That the bar has Rich Woods' name alongside it, is. You rarely see the mainstream and upstream of hospitality converge – to the point I can't think of an example. To hop the fence  into the restaurant world, it's hard to imagine Claire Smith carving out a space in a Wagamama.
The experience starts, as all respectable speakeasies modelled on the PDT blueprint should, with a door you can't find. That's not normally too much of a complication, but this pub is big enough to house a couple of Boeing 747s and still have room for a helicopter. We ask at the door. "Head up the stairs to the ice cream van, find the phone booth, pick up the phone…", the woman at the desk says, as if a little unsure of either the directions, or why we'd bother to follow them.   
In we go. Into an oblong space of dimmed lighting, dark timber ceilings, cushioned booths upholstered in tan leather and backlit wall prints featuring vintage films and music. The menu is themed around lost property and doesn't try to steal the show.
It directs us to The Evolution of the Martini (£12), designed to take you through the decades from the classic Dry Martini, to a fruity Vesper and a clarified Espresso Martini – or at least they would have if they'd been placed in their presentation box in the right order. Perhaps not one for the purists, this trio of tiny Martinis is an easy-going, quaffable little opener – a page-turner rather than a seminal opus.
By the end of the night, we've ordered two.
Also on the wood is Poker Face (Lone Wolf gin, Campari, blended sweet vermouth, petitgrain, neroli & blackberry infusion/£11), a harmonious little orange number in a squat glass, with clear LPO-branded ice. I mean, it's a Negroni, but with the orangey oils and a detectable smoky note, it feels an elevation.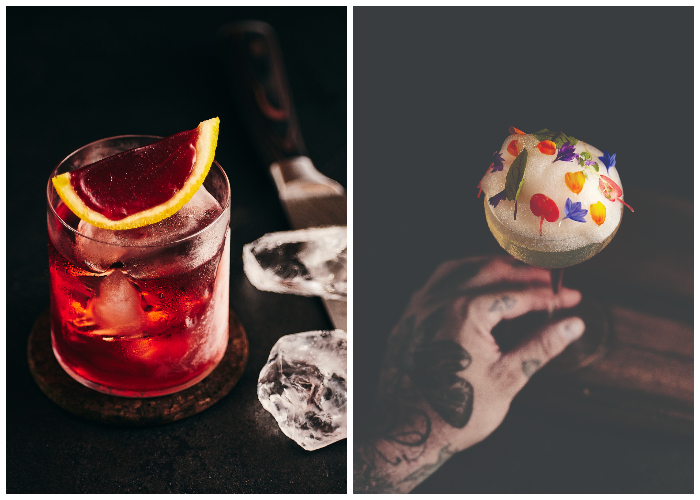 Up next the Lagerita (hopped Tapatio blanco tequila, blood orange & bergamot, clear lime, beer cloud/£13), which came by the way of a Nick & Nora bubbling over with foam and precisely dotted with delicate petals. It prevails where other Lageritas fail – it's more Margarita than lager, all grassy agave and citrus, hooded by a bitter, malty cloud. 
Amid these people pleasers my palate has softened, mollycoddled by rounded, affable liquids and is now totally unequipped for our final drink. The Hall Pass (pisco, clear raspberry & lemon, sandalwood and sparkling wine/£12), is an austere long drink with pungent sandalwood brawling it out with floral pisco, its aromatics taking me more to eau de toilette than eau de vie.
But this off-note is a barbed comment in an otherwise pleasant conversation. Whatever you think of Brewdog, its baggage and its commercialisation of all things craft, it has made good spirits and an even better friend in Rich Woods. Lost Property Office is actually quite a find. 
Address: Waterloo Station, London, SE1 7BH
Scores
Hospitality 7/10
Drinks 8/10
Atmosphere 7/10
Decor: 7/10
Value for money 5/10
TOTAL 7/10