Neil Donachie of Mother Mercy offers up his top picks of the finest from the growing crop of bars and restaurants that the 'Toon' has to offer.
---
For years, Newcastle's reputation has preceded itself. We are the party city. Leeds can try as hard as it likes, we still comfortably take the title for best night out in the UK. It's almost unheard of to come to Newcastle and say you didn't have a good time. Admittedly this comes with its drawbacks: while Geordie Shore, stag dos and the mega clubs that cater to them are an essential part of what makes Newcastle lively and fun to visit, they have tended to overshadow the vibrant independent scene of high-quality bars and restaurants that we have nestled among the madness.
This is my bartender's guide to the go-to places that are truly unique to our city.
One of the most amazing things about Newcastle is its proximity to the coast, so any trip to the 'Toon' has to start with a trip to one of our beautiful beaches. From the centre of town, you can catch a Metro straight to Tynemouth and walk to Longsands or King Edward's Bay in under 20 minutes. Although it can be unbearably freezing for anybody without a Geordie accent, those who can withstand the cold should head straight for Riley's Fish Shack.
Riley's is one of the most immersive eating experiences in the country – an opinion echoed by Jay Rayner. "Call off the search. Close down the web browser and put away the guide books. I have found the eating experience of the year," he said. Found within King Edward's Bay, an area of beach enclosed by cliffs on all sides, Riley's serves barbecued and wood-fired seafood caught less than one mile away at North Shields Fish Quay from a repurposed shipping container. Eating locally caught Lindisfarne oysters and drinking Aperol Spritz from a deckchair around a fire pit on the beach is the ultimate way to start your visit to the north east.
New ventures
From here, you can take a 20-minute walk alongside the coastline, past Tynemouth Life Brigade Watch House to North Shields Fish Quay. Here, lots of new and exciting bars and restaurants are opening. Lobo Rojo, a tequila and taco joint, is one of the stand outs. Nothing quite beats a Margarita on the coast. However, the real must-see place to visit is the Low Lights Tavern.
The Low Lights Tavern is a rustic pub serving real ales, a great selection of whiskies and proper pub food. It's an incredible pub experience in its own right – low ceilings, real fireplaces, stone floors and wonky tables (a 'proper boozer') – but in recent years it has shot to fame as the local pub of Sam Fender. The star has filmed music videos in the pub itself and in 2019 he donated his Brit Award to the venue to be repurposed as a beer pump. Following his second win at the Brits this year, there'll be another tap with a Brit Award hand pull shortly.
After a quick trip to the Low Lights Tavern, jump in an Uber and head back in the direction of town to the Ouseburn, an ex-industrial estate in Newcastle's east end that has become the haven of our creative and cultural scene.
Any visit to Newcastle wouldn't be complete without a trip to another one of our iconic pubs, the Free Trade Inn. Sat on the top of a steep bank overlooking the Ouseburn Valley, the Free Trade is a Newcastle institution. To an outsider, the pub is in urgent need of fresh coat of paint, but no one would ever allow it. There would be uproar if anything about this beloved pub ever changed. The Free Trade is nationally recognised for the quality of its beers and ciders – numerous awards are framed on the walls around the bar. But what is most special about the Free Trade is the panoramic view of Newcastle from the beer garden. Sit back with a pint and look down the River Tyne at the iconic bridges that join Newcastle and Gateshead together.
After a few pints in here, there's a short walk along the Quayside river banks to the centre of town. On the way, stop off at I Scream for Pizza – a Brooklyn-inspired pizza slice and soft serve shop.  Nothing beats a giant pizza slice.
Once you reach the town centre, there's a short walk across the river into Gateshead to visit By The River Brew Co, a huge shipping container village filled with all of the city's best independent food vendors (known as the Hawker Market), a Swedish open-fire restaurant (Träkol) and a brewery tap room. Within the Hawker Market, there's something for everyone. All the beers are made on site at the in-house brewery, there's a cocktail bar (Ragtag & Cocktail) serving super-fresh, well-made seasonal cocktails, and the number of different street food vendors mean there's an option for everyone. Once the DJs start later in the evening, By The River is somewhere you could spend your whole night. The place is buzzing with big groups of people but the atmosphere always feels relaxed and intimate. Although the whole venue is outside, heaters and fires make it even more cosy later at night. There are also always dogs to say hi to.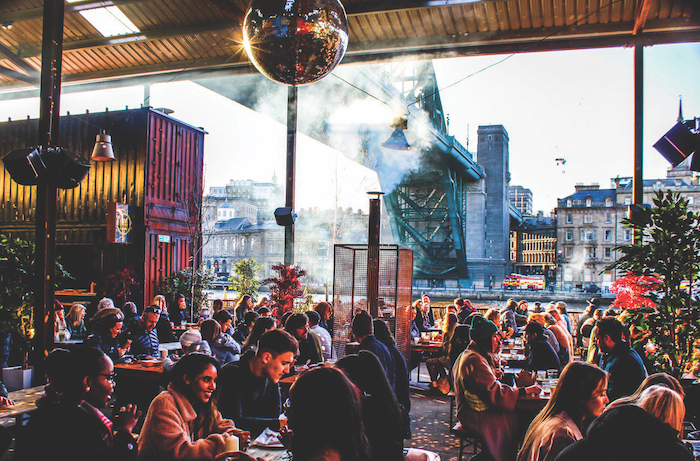 Indie innovators
Next on the list is Horticulture. Set over three levels with the cocktail bar on the first floor, Horticulture opened in early 2019 and instantly became one of the best all-round venues in the city. Horticulture has been part of a wave of new, well-executed and creative venues being led by independent operators that are really moving the city forward. The cocktail menu is modern, creative and fun, with a focus on seasonality. There's also a focus on the Espresso Martini, with more than 50 variations (every indulgent, nostalgic flavour you can think of) – claimed to be the world's biggest selection. Biscoff has to be the absolute favourite.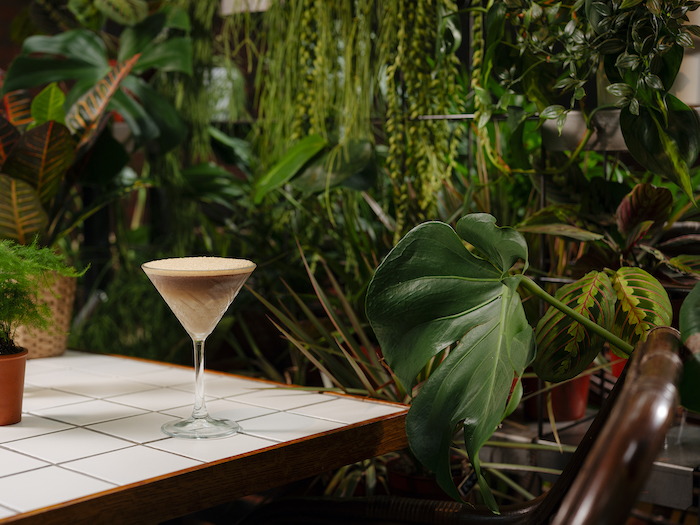 Now it's time for cocktails at my own venue, Mother Mercy. Hidden in a basement among the party chaos of Newcastle's Cloth Market, Mother Mercy focuses on modern classic cocktails backed by an old school R 'n' B soundtrack (we play Return of the Mack way too much). For those visiting for the first time, order the East 8 Hold Up (vodka, Aperol, fresh lime, passion fruit syrup, fresh pineapple juice) or Spicy Flamingo (tequila, fresh lime, agave, fresh watermelon juice and chilli salt), two drinks that embody the style of drinks and the venue itself. It's table service every night of the week, so it's easy to spend so long drinking cocktails that heading back up the stairs to the outside world can become too daunting to ever leave. We've seen it first hand.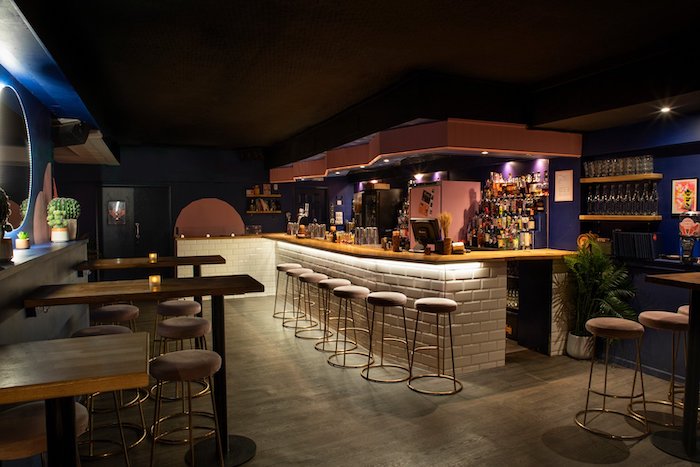 If you manage to make it out of Mother Mercy by 1am, it's time to head to the city's best late-night venue, Zerox. Drenched in pink and splatters of paint, Zerox is an effortlessly cool punk and disco-inspired bar that could easily feel at home in New York City. Zerox is a music lover's dream, coming  into its own late at night. It has one of those rare special atmospheres that so many bars try to purposefully create and end up looking phony. It's the one bar in Newcastle you can be certain no other city has anything like.
If you're still on the go by 3am, the options narrow. But you can always count on Spot White pool hall. Open until 6am and teeming with industry workers, it's not an unsuitable last stop on this busman's holiday.