After an 18-month absence, Class' reviews are back. First up, Hamish Smith charts the rise - and democratisation - of the high-rise bar.
---
| | |
| --- | --- |
| Hospitality |  7/10 |
| Drinks | 6/10 |
| Food | 7/10 |
| Atmosphere | 7/10 |
| Decor | 6/10 |
| Value for money | 5/10 |
| TOTAL | 6/10 |
---
Call it prejudice, or just an impression formed of a succession of underwhelming experiences, but to me, rooftop bars aren't exactly the height of bar culture. More often than not, a bar that has a view is blind to almost everything else.
The rooftop bar crowd fit into two camps. There is the holidaymaker who is so relieved to have made it up to the 50th floor in time for the sunset they will drink anything put in their hand. Then, there are the suits. That a rooftop bar normally requires a tall building, and tall buildings, in London at least, tend to mean the financial district, does by unfortunate corollary narrow the audience. It's probably just a coincidence that the high-rise bar allows you to look down on people.
But change is in the air – the rooftop bar is democratising. When gardens and pavements were liberated to their fullest during the pandemic, it seems operators of buildings of all sizes looked up in wonder at the virgin land they might colonise. Terraces have been springing up anywhere with a load-bearing roof.
SKYLIGHT PECKHAM
Somewhere along the winding line you find Skylight – a rooftop bar perched atop a community arts school in Peckham, a south London neighbourhood which once had a bad name, but is now where hipsters go to retire. The bar, modestly for a rooftop space, is on the fourth floor, with sight lines of high rises no one knows the names of, ahead of taller ones in the distance people do.
Skylight Peckham is a sizeable, glass-framed restaurant-bar, with an outside space running two lengths of its perimeter. Outside, the décor falls somewhere between Ibiza beach bar and a middle class garden in Kent. There's soft outdoor seating, over which small heaters strain to cow the chilly early evening air. Perhaps with the right amount of sunshine, the terrace will be as busy as its Tobacco Dock sister venue, but on this cloudy late-August day, it's deserted. With a brisk breeze, the prospect of a sensible game of table tennis seem ambitious.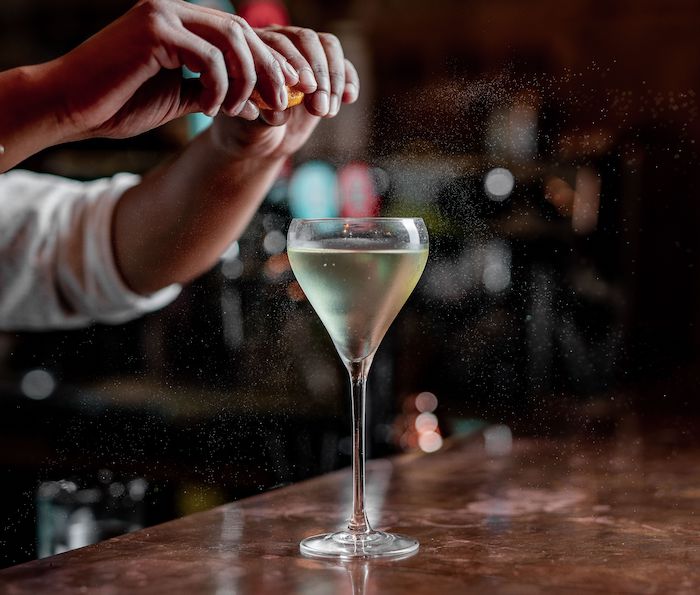 The menu reads as a pick 'n' mix of trends, as if a start-up PR firm of 20-somethings had brainstormed their favourite things and pressed print. Yet, conversely, there is something for everyone. I plump for the Clarified Bee's Knees (£13/ Belvedere vodka, Peckham honey mix) which is pale yellow-tinged and served Martini style. Barely a few degrees colder than room temperature, under-diluted and medicinally sweet, it is one of the least appealing liquids I've shared a table with. Out here on the terrace, it's colder than inside the glass, so I persist in the hope it chills.
When Brenda, my review wife, arrives, she scans the view, takes a photo of me in front of a crane, shivers and sends us inside. Here in the warm, predictably botanically punctuated surrounds, the floor staff are everywhere you look but our table. It's clear they aren't long on the job but once we have their attention they are smiley, warm and engaging. After the 18 months hospitality has had, it almost brings a tear to the eye.
Brenda orders the Skylight 75 (£11), made with Beefeater 24, Cointreau, lemon and topped with... prosecco. Without the biscuity, brioche notes of champagne, it isn't much more than a sparkling lemon cocktail, but setting aside the classical associations, it is balanced, and unremarkably pleasant. Up next, the Skylight Sour (£10.50), with Monkey Shoulder, Dubonnet Rouge, lemon and aquafaba. An arranged marriage between a Paris and Scotch Sour, it's respectable, if missing a spark.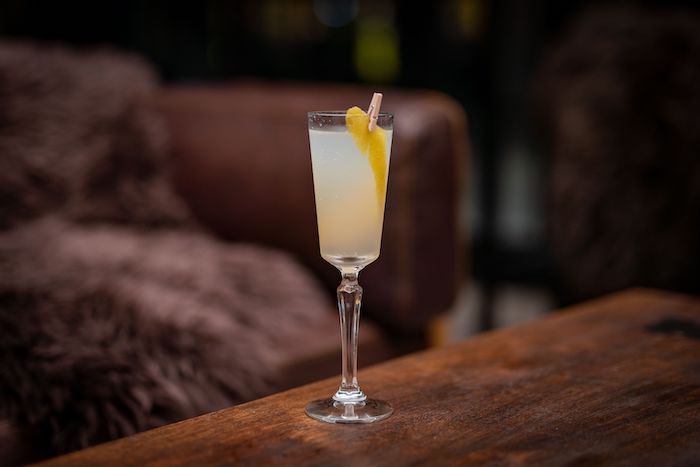 In name at least, Glen X to Gen Z (£12), isn't far from summing up my experience. It features Glenmorangie X, house honey mix, lemon and soda, and is a mellow long drink of the sort you might recommend to the Highball-unsure. The Old Cuban (£15), with Havana Club Especial, lime, mint and topped with Moët, is a passable rendition of Audrey Saunders' Pegu Club classic, but if memory serves, inexplicably more expensive.
The food menu is as eclectic as the drinks, jumping from one cuisine and dietary requirement to another – no bad thing, now Brenda has turned pesce-pollotarian. Plates of heaped mixed vegetables dressed in all manner of European and Middle Eastern sauces arrive, in a ritual sacrifice to Yotam Ottolenghi. Rarely is bar food so vibrant and nutritious, nor so incapable of standing up to the cocktails. For a food and drink offering so underpinned by buzz phrases – sustainable cocktails, small and sharing plates, locally sourced food – there is a lack of joined-up thinking.
Yet, Skylight is a rooftop bar which feels a lot like progress. Inside, there's a whir and a hum, as the bar, kitchen and floor staff start to find their rhythm. The team, young and bounding with enthusiasm, are likely more local than the ingredients. If this – the neighbourhood rooftop bar – is the new face of high-rise drinking, I think, everything considered, I prefer it.
120 Peckham Hill Street, London SE15 5JT