At Maker's Mark we have a unique single barrel programme, instead of picking a single barrel and bottling it as-is or to a specific proof. 
---
Our Private Select programme allows hand-selected partners to create their own version of Maker's Mark by selecting a unique combination from five different toasted wood finishing staves to achieve their desired taste and flavour vision.
A combination of 10 of the chosen staves is then added to a barrel of fully matured Maker's Mark Cask Strength for 9 weeks of additional finishing to create something completely new. An expression that is undeniably Maker's Mark, with a flavour and finish that belongs solely to those who made the Private Selection.
---
Nicole Sykes, UK Brand Diplomat for Maker's Mark interviews Daniel and Joe Schofield, of Schofield's Bar, to find out all about their Private Select experience.
Nicole: This is the most anticipated bar of the last few years! How would you describe  Schofield's to anyone that hasn't managed a visit yet?
Daniel & Joe: Schofield's Bar is a classic cocktail bar that has a focus on exceptional drinks, great music and hospitality, located in the Art Deco and historic; Sunlight House.
Nicole: You are the first bar in the UK outside of London to have your own Private Select, what does that mean to you?
Daniel & Joe: We are thrilled to be able to offer something completely unique to our guests. Over the last couple of months, the Private Select has been very popular in the Gold Rush and served as a neat spirit.
Nicole: You were both lucky enough to visit the distillery right before the pandemic to take part in our invite only Private Select Programme, to create your own version of Maker's Mark. What was the experience in Loretto, Kentucky like?
Daniel & Joe: We were very fortunate to be able to be shown around the distillery. It was great to see the attention to detail and craftsmanship that goes into Maker's Mark.
Nicole: What did you look for when creating your own version of Maker's Mark?
Daniel & Joe: We wanted to create something incredibly approachable for both consumers and the on-trade. Bourbon has seen a huge increase in popularity in the UK in more recent years due to classic cocktails such as the Old Fashioned. Our thought process was to create something that worked beautifully in stirred drinks like this, but also stand up well in citrus driven drinks too!
Nicole: How did you land on your perfect stave selection and what was the make up?
Daniel & Joe: After hours of trying different blends, we landed on 7 French Cuvee and 3 Makers 46 Staves. We love the complexity and balance of the blend, which created an incredibly more-ish bourbon.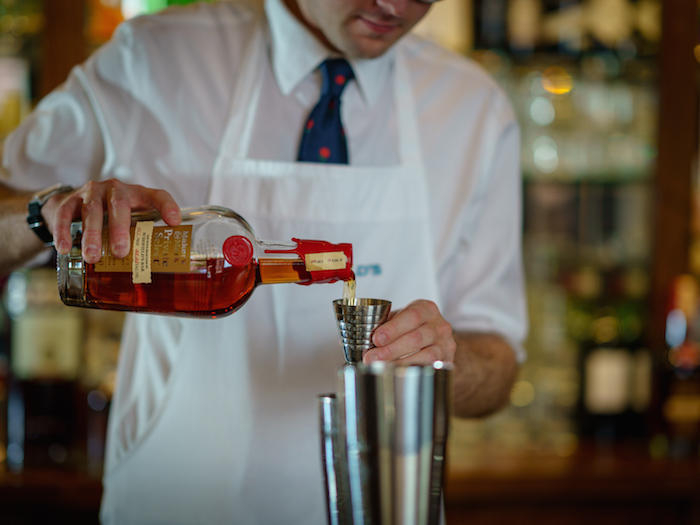 Nicole: You have chosen to showcase your unique stave select on your cocktail menu in (my favourite classic) the Gold Rush. Is there any reason why you chose this particular drink? And how do you plan to highlight it in the future?
Daniel & Joe: The Gold Rush is a drink that really resonates well with us both. When we were first starting out in the industry, we took a trip down to London to visit some of the best bars at the time including Milk & Honey, it was there that we first tried the drink and arguably that was the bar that made us want to pursue hospitality as a career. It had to go on our first menu!