The Nomad – the US' pre-eminent food and beverage hotel - has opened in London, four years after taking the keys to its Covent Garden site.
---
Set in the former Bow Street Magistrates' Court, the opening represents the first international outpost for Sydell Group's Nomad Hotel brand, which launched in New York in 2012 and went on to add further sites in Los Angeles and Las Vegas.
Under the leadership of Leo Robitschek, VP food and beverage for Sydell, and Pietro Collina, the new bar director of Nomad London, Nomad New York has appeared in the last seven editions of The World's 50 Best Bars, taking the title of North America's Best Bar in 2017 and 2018.
The site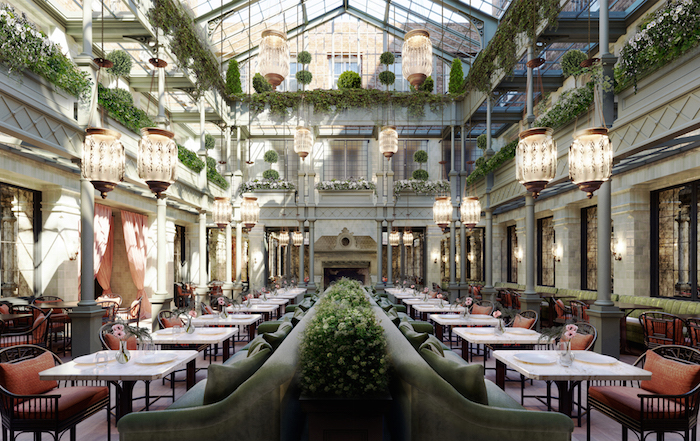 The Nomad Restaurant has been built within the site's courtyard
Nomad London comes eight years after the group first started looking for hotel sites in the UK capital. 
Robitschek told CLASS the journey to find and refurbish the Grade II-listed former magistrates' court, was a long wait but worth it for a "beautiful building with Victorian history", right next to the Royal Opera House.
He said: "In New York Nomad is at the intersection of uptown and downtown and we brought the two styles together - we redefined the area, which took on the name Nomad. With its east and west ends, London has a similar duality and we're inspired by this synergy. We want to bridge New York and London and offer our brand of luxury, style, design and fun."
A magistrates' court until 2006 and once a police station, the building has its own spiritous history, being founded at the peak of the Gin Craze in 1740 and having processed some of the period's offenders. It was also where Oscar Wilde and Emmeline Pankhurst once stood trial, all of which is documented in the hotel's new museum.
The Nomad Bar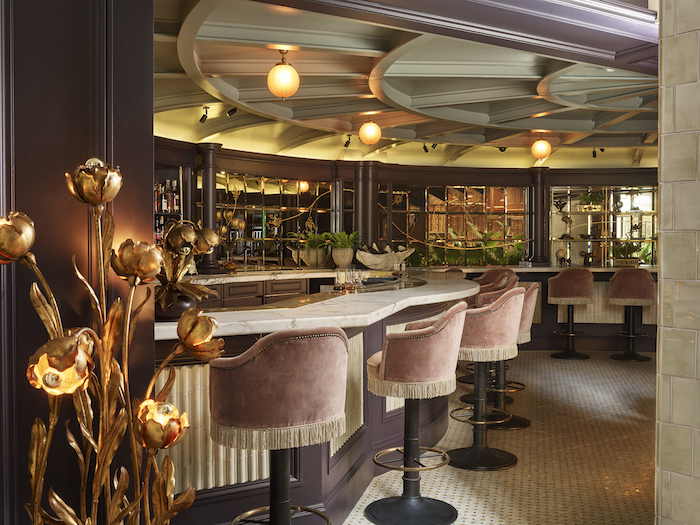 The Nomad Bar
This week, Nomad London opened two bars: the Nomad Bar, a restaurant-bar in the three-story atrium built in what was until recently the site's courtyard, and the more informal Side Hustle, which has its own Bow Street entrance. A third venue – a lower-ground lounge bar called Common Decency - will launch in November.
Davide Segat, formerly of The London Edition, has been installed as bar manager for the hotel, predominantly working at the Nomad Bar, which sees textured stools surround a curving glitzy bar. The venue supports the large, naturally-lit atrium restaurant (with food by chef Ashley Abodeely), serving its full menu from the bar, but is also a destination in its own right.
The Nomad Bar picks up on its sister sites' "playful and whimsical" cocktail style, with an extensive menu of mixed drinks, from Nomad classics, to twists on the familiar and its own line of signature cocktails. The Martini-based En Pointe - with Plymouth gin, Manzanilla sherry, Lillet Blanc, kirschwasser and dill – is a case in point.
Side Hustle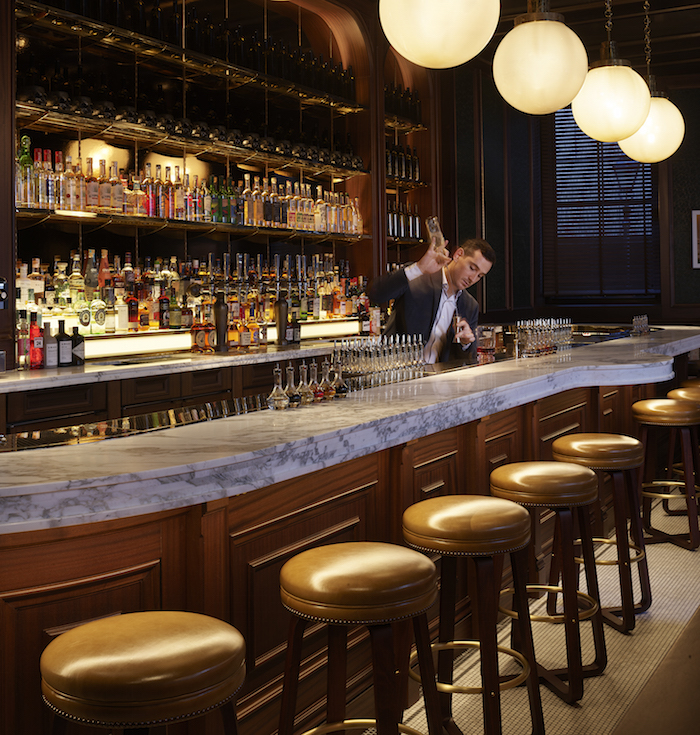 Pietro Collina at Side Hustle

To one side of the building's entrance, overlooking Bow Street, is Side Hustle, predominantly managed by Liana Oster, formerly of Dante in New York. Less formal, with room for standing, it has a capacity for 60, once restrictions are relaxed. It sees a pub's dark wood panelling meeting the booth-style seating format of a New York bar.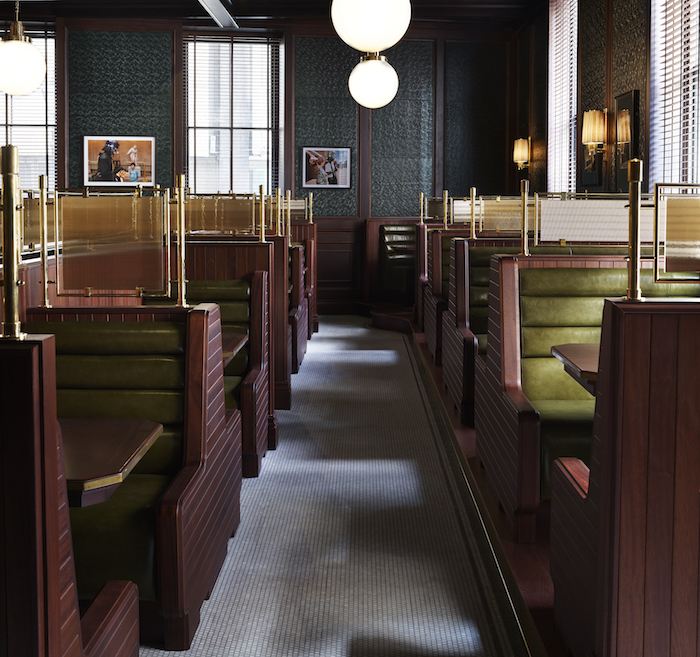 Side Hustle

Representing the first concept bar from the Nomad, satirical British photography by Martin Parr lines the walls and, while not an immediately detectible theme, there is leaning to Mexican fare.
Drawing on Chef Abodeely's interest in Mexican and Cal-Mex food – in other words, her side hustle – the bar serves eight Latin-influenced small plates, such as Tacos, Black Truffle Tlayuda and Tosadas.
The cocktail menu, which continues to tread a Mexican path, weaves from Nomad Hotel favourites and Side Hustle Classics (spins on the likes of the Margarita, Michelada and Paloma) to Refreshing cocktails (The Hustle Magic sees a mix of Fino sherry, Muyu Vetiver liqueur, Fino sherry, Green Chartreuse, lime, cucumber and London Essence Soda) and Spirit Forward drinks, where the Pandan Negroni makes an appearance.
London and beyond
Asked if London had reached hotel bar saturation point, Robitschek said there was "room for everyone" and that "a rising tide lifts all boats". He added that each London hotel offered distinct experiences, from "classic" to "whimsical" and "technique driven" but that Nomad's bars are "a combination of all those things", with an added emphasis on "seasonality", always in tune with the hotel's kitchen.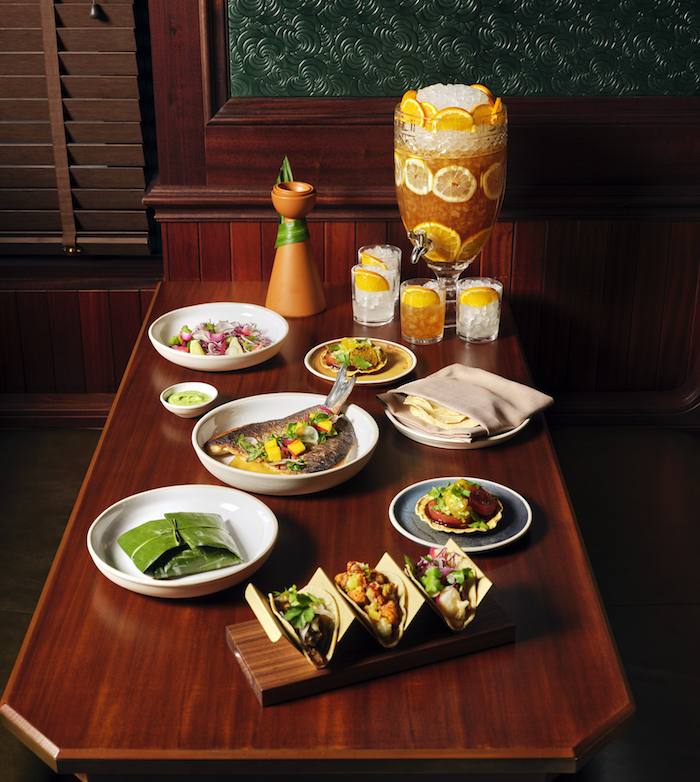 The Nomad's famed 'Cocktail Explosion', alongside Side Hustle's Mexican-themed food

The Nomad has long had aspirations for an international roll out and with the London site now open, more could follow in Europe. Robitschek said: "We definitely want to grow and we plan to continue [our expansion] in more cities in Europe and America in a thoughtful, organic way."