Few London hotels don't aspire to have 'destination bars'. Hamish Smith reviews one of the latest hospitality venues with grand ambitions.
---
» The Trafalgar St James, 2 Spring Gardens, London SW1A 2T
SCORES
Hospitality 5/10
Value for money 7/10
Total 7/10

"When a man is tired of London, he is tired of life," so goes the quote of 18th-century journalist Samuel Johnston. Some 250 years later, his words have lost little resonance. London is a city where something is always happening. Its bar scene is vital – blink and new openings can easily pass you by. Which is precisely what might have happened with Rockwell – one of the capital's latest hospitality-world extravagances – had I not happened to pass it by first.
Just off Trafalgar Square in the grand building of The Trafalgar St James Hotel, Rockwell is billed as a destination bar. One wonders in a city of destination bars, if all can fit the description. But, judging by the 30-40 guests present at 7pm on an inconsequential Monday evening, Rockwell, just six months old, has already found an audience. A few steps in and you can see why.
Longifolia cabana trees arch around the entrance, exotic vegetation festoons the bar and columns are covered in muraled floral drapes. It's an exotic, historical take on the pervasive and mostly predictable botanically themed bar. The theme segues into the book-like menu, which tells of a dozen cocktails and the story of the fictitious adventurer named Rockwell.
Brenda, my long-suffering review wife, isn't one for stories before fortification and dives straight in. British Boxwood (£13) comprised Plymouth gin, raspberry wine, Chelsea garden tea syrup, citric acid and orgeat syrup, which arrived in a small, self-pour bottle, delivering a deep pink liquid, harnessing sweet red berry flavours and floral notes with judicious acidity.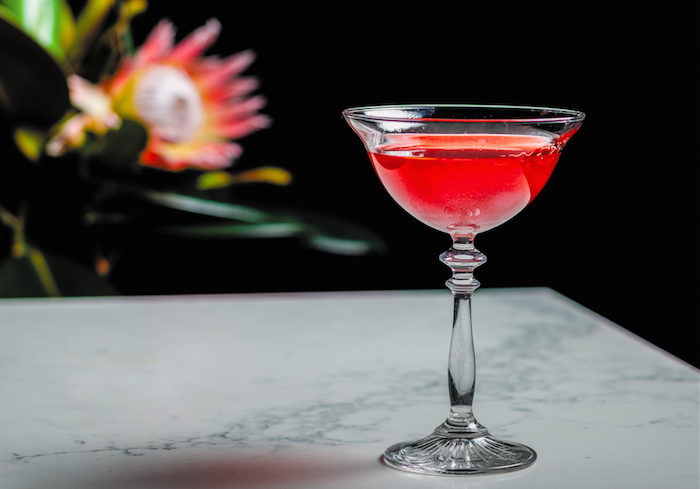 Bear's Breeches (£13) was a cocktail of Ocho tequila, Kamm & Sons, grape juice, carob syrup, lime juice and sparkling aloe vera in a squat glass brimming with bright vegetal character. Two in and a promising start.
CHASING THE INTERLUDE
A short appetiser interlude followed (tuna ceviche tacos, £12, and burrata with heirloom tomatoes and basil, £12 – both good, if not lasting in the memory) before we explored the cocktail list once more. Fish in Flight (£12) – Strawberry Rinomato, citrus sherbert, lemon juice, Apple & Rhubarb Franklin & Sons – was a tulip glass of arresting red liquid, its fruit notes tamed by citrus and lengthened by mixer. Meanwhile, the long drink Wolf's Foxglove (£15) – Chivas Regal 12 Years, Compass Box whisky, chamomile syrup, palo santo-infused Mancino Rosso vermouth, lemon juice, ginger ale – borrowed from a harmonising pallette and, while easily rectified, was a touch too diluted. Then came Tangerine Capybara (£13), made with cocoa butter Embargo rum, Ron de Jeremy Spiced rum, lime juice, papaya & mango purée, and apple & elderflower juice. A spicy, sweet tiki drink but balanced within its context.
Brenda likes to close play with a classic. Her Old Fashioned was the most straightforward drink of the night – and the worst. In a hotel bar you would expect block ice, but as it was, the three or four cubes bobbed rather than anchoring the drink, as if coming up for air.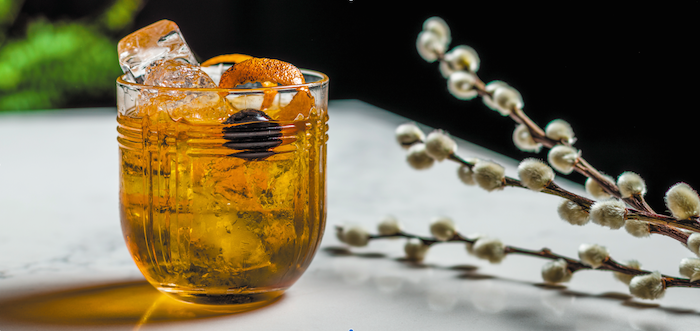 The drinks at Rockwell are not without faults, should you want to find them. But panning out to a broader perspective, this is solid drinks-making delivered in palatial surrounds at a reasonable price. So why the less than exemplary score? Service. From start to finish, it was a slow, stuttering, uncoordinated dance. Drinks were 15 minutes in our imaginations before lodged as an order. No one was checking back, no one was touching tables. Empty glasses were not cleared, water glasses lay unreplenished. Who was in charge, who was hosting? If that wasn't clear, the answer is no one.
Destination bar or not, everything starts with good service.