English whisky is emerging from the shadows of its neighbour. Oli Dodd speaks to some early adopters about which expressions to try first.
---
This history of whisky-making in England is a spotty one. There were a handful of distilleries producing single malt, predominantly in the port cities of Bristol and Liverpool, dating back to the 17th century, but really, the English were always more comfortable drinking scotch and taxing the Irish than producing their own.
When Lea Valley Distillery in Stratford in East London called it a day in 1903, England's dalliance with native whisky was over. And that's how it remained for a century until a tiny distillery in Cornwall, called Hicks & Healey, fired up its stills in 2003 and started to lay down new make in ex-bourbon barrels.
In 2006, St George's Distillery, owned by the Nelstrop family in Norfolk, became the first dedicated English single malt distillery built since the 19th century. Then, seemingly everyone got to it. York's Cooper King Distillery releases a map of every active English whisky distillery each St George's Day. In its most recent edition, there are 49 at some stage of production.
England may not have a rich history in whisky-making, but that history is being written now. Twenty years on from its resurrection and English whisky has matured as a category. With experience and investment, liquids have improved, prices have become more accessible, and clear identities have formed.
Now English whisky isn't just a common sight on back bars but in cocktails too. The English Whisky Guild recently forecast that the volume of English whisky will grow by 178% between 2019 and 2024 and there will be 50,000 maturing casks by next year, a remarkable rate of growth but worth putting into context – that's about a quarter of a per cent of the 22 million casks that are currently maturing north of the border.
English whisky has never been more abundant, and that statement will be true again year on year, so we asked some of those in the know for some standout whiskies that exemplify the category best.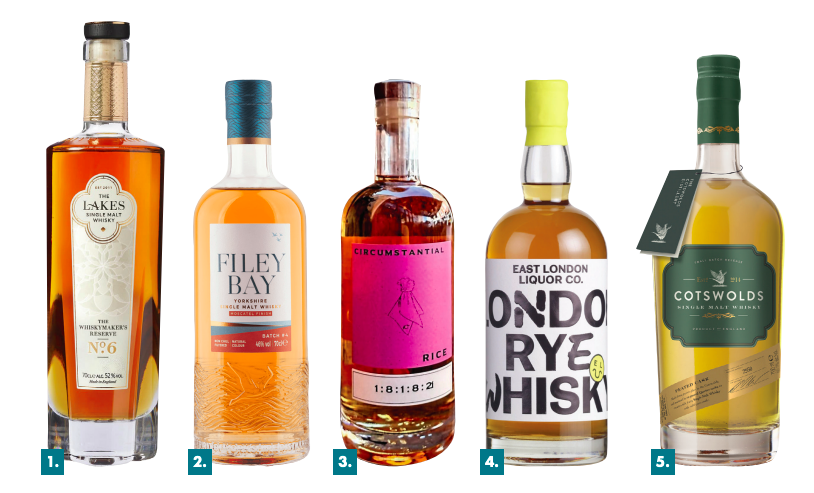 1 SOPHIE BRATT, NOBU BAR, LONDON
The Lakes Distillery's The Whiskymaker's Reserve No.6
It's fantastic to see English whisky leading the way with exploratory casks such as The Lakes. The new Whiskymaker's Reserve No.6 is currently one of my favourites – the red wine and sherry casks soften the higher abv. I love a PX cask and feel the rich spices warmth can transport me to the Lake District where my Dad will always barbecue, even as the snow falls, but it's never an issue while wrapped in blankets with a whisky. Aside from the Reserve No.6, I also love Iris from the distillery's Whiskymaker's Editions. It lends really well to a summery Highball, either topped with classic soda or Appletiser which brings out the fruit and floral notes of this expression.
» Available from Speciality Drinks
2 MANACHAIN MONAGHAN, BELOW STAIRS, LEEDS
Filey Bay Moscatel Finish
The palate on Filey Bay's Moscatel Finish expresses everything I want from a Moscatel finish. There's lots of brown sugar and candied peels on the nose and palate, some tropical fruit, but also with the peach and floral jasmine notes I'd associate with Moscatel, with baking spice and ginger on the finish. It's a young whisky so there's some heat, but it's obviously spent a bit of time in the Moscatel hogsheads – it's a clear flavour, and not ephemeral as is often the case in wine cask-finished spirits. And it's affordable – an English single malt with a wine cask finish for around £55 is pretty great.
» Available from Latitude Wine & Spirits
3 BEN ALCOCK, FILTHY XIII, BRISTOL
Circumstance Distillery's Circumstantial Rice
Circumstance started with some 'whiskies' coming from wheat, rice, mixed grain, rye and barley. These were all super-interesting, small batch, organic and completely in-house but were released before they were old enough to qualify as whiskies. Since coming of age, two actual whiskies have launched and sold. These are small batch and tend to sell out fast.
I really like the Rice. It's fairly sweet in its profile, which I don't usually love in whisky, but it works here. It's fresh and sits nicely within cocktails with just some subtle seasoning. I keep it pretty simple when mixing with it; an old Fashioned or a Rob Roy, or anything from the Manhattan family would be great for both showcasing the product as a shining star but also presenting in familiar form, so that guests can compare against whiskies they have had before. What I really like about Circumstance is its clarity – it lists all of the details of its processes online, and that it isn't scared to break the rules.
» Available from Circumstance Distillery
4 ALEXANDER TAYLOR, CARDIFF
East London Liquor Company London Rye
I've been following East London Liquor Company since early on, so I've been able to see its whiskies evolve, starting with the very limited first releases in the heavy blue bottles. The repackaging into a consistent product not only looks great, but it's really competitively priced for what you're getting – tiny runs, small barrelling, and the blending of interesting casks. The London Rye is delicious straight or in a Manhattan, but it also has a good hit behind it that keeps longer mixed drinks whisky-forward.
» Available from Master of Malt
5 JOSH LINFITT, ADAM HANDLING GROUP, LONDON
Cotswolds Peated Cask Single Malt 
Due to the lack of peat bogs in the Cotswolds, they found that the most efficient way of peating their whisky is to use ex-peated barrels which they use for full term maturation. By not actually influencing the barley with peat, it gives Cotswolds more control over the flavour but also mitigates waste. The nose and the palate is peat heavy, sweet with lots of malic acid, stewed apple notes. It's vegetal with some salinity, like green peppers, woodfire and sea salt.
Importantly, the whisky itself is affordable, which is great considering English whisky can be pricey, and this stuff is mixable. It's great in a Last Word. Punching against Chartreuse can be a ballsy move, but it's not just gin that can do it and, because it's cask strength, this stuff can pour through anything. We even whacked it in a Negroni and it was delicious. And it pairs incredibly with any food that's rich in salinity such as oysters or barbecued seafood. This is kind of whisky that you want to sit around a campfire on the beach with your mates with, someone's playing Wonderwall badly but there is some amazing food.
» Available from Speciality Drinks